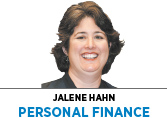 As we age, we slow down physically and cognitively. The physical aspects of aging are more noticeable than the cognitive. My family has watched my mother-in-law slowly lose her cognitive ability, and she now suffers from advanced dementia.
According to the Centers for Disease Control and Prevention, "Cognitive impairment is when a person has trouble remembering, learning new things, concentrating, or making decisions that affect their everyday life." It is a normal part of aging, but the depth and severity can vary greatly.
"With mild impairment, people may begin to notice changes in cognitive functions, but still be able to do their everyday activities," the CDC says. "Severe levels of impairment can lead to losing the ability to understand the meaning or importance of something and the ability to talk or write, resulting in the inability to live independently."
One of the first skills lost is financial capacity, which makes it easier to exploit this vulnerable population. According to the Elder Investment Fraud and Financial Exploitation Program, "Investment fraud can take many forms, including unsuitable investments, fraudulent offerings, unregistered products, unlicensed advisers/brokers, or theft or misappropriation of funds." The depth of the problem is not known because of the shame associated with being a victim. The National Adult Protective Services Association reports that one in 20 seniors indicates some form of perceived financial mistreatment.
As a financial services professional, I'm concerned with protecting my elderly clients. Being well-informed and alert to changes is often key to preventing financial exploitation. I have found "A Pocket Guide on Elder Investment Fraud and Financial Exploitation," developed for medical professionals, to be a valuable resource for anyone who works with the elderly on an ongoing basis. You can find a copy of this and other resources on the Indiana Secretary of State's Office website.
Common warning signs for potential exploitation include isolation, dependency on others, loss of a loved one, discomfort around a primary caregiver, dependency or substance abuse of an adult child, or a new best friend. Financial concerns cover topics such as becoming confused paying bills, discomfort making financial decisions, pressure from children, or making loans they can't afford. Referral resources might include a deeper health assessment, protective services, legal advice or making a report to police.
Ideally, taking steps while you are still mentally sharp and planning for an eventual decline might decrease or prevent financial exploitation. Steps include executing health care directives and designating power-of-attorney documents, designating trusted contacts for financial accounts, and discussing your aging plan with children or others you trust.
The other factor is to proactively take steps to physically care for your brain. The recommendations for general physical and heart health also apply to brain health, with the addition of a few extra actions. In addition to not smoking, getting adequate exercise, reducing stress, eating a quality diet in moderation and getting sufficient sleep, individuals might be able to maintain healthy brain function by participating in activities that stimulate the brain or by volunteering.
A recent Swedish study examined the positive effects of volunteer work. That makes sense in that it gives you a connection with others, promotes physical activity and provides mental stimulation. One caveat the paper noted was that "getting the cognitive benefits from volunteer work will depend, in part, on 'a feeling that one's work is being appreciated' and vital."
Bette Davis said, "Getting old is not for sissies." Taking care of yourself now will improve your physical and mental outlook as you age. Learn about elder abuse and be proactive in protecting loved ones.•
__________
Hahn is a certified financial planner with WWA Planning and Investments. She can be reached at 812-379-1120 or jalene@wwafp.com.
Please enable JavaScript to view this content.