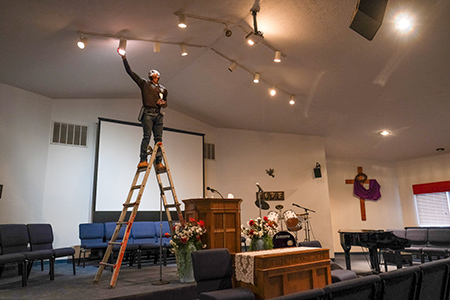 It seemed a curious proclamation from Gov. Eric Holcomb's office.
In a little-noticed move a few weeks ago, Holcomb declared Oct. 5 as "energy efficiency day," and pointed out that cutting energy use saves money for customers while "continuing to move toward a sustainable future."
"Smart energy use reduces the amount of electricity we need to power our lives, which helps avoid power plant emissions that can harm our health, pollute our air and warm our climate," Holcomb's proclamation read.
Yet Indiana, one of the largest per-capita energy consumers in the nation, ranks 40th among states for energy efficiency, according to the American Council for an Energy-Efficient Economy. That's down 13 spots from just five years ago.
Unlike many other states, Indiana doesn't have appliance-efficiency standards beyond those required by federal law. The state has no mandate on residential insulation, although it does offer a residential tax credit. Likewise, Indiana offers no incentives for high-efficiency vehicles or creation of low-income housing near transit facilities.
And in a notable move in 2014, the Republican-controlled General Assembly shut down a state program designed to promote energy efficiency, called Energizing Indiana.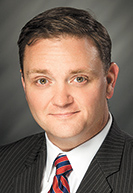 Dvorak
Under the program, set up just two years earlier, energy auditors visited more than 200,000 households, schools and businesses and recommended ways to reduce energy consumption. Typical recommendations included switching to energy-efficient lightbulbs; wrapping pipes in insulation; turning down temperatures on water heaters; and getting rid of old, energy-gobbling refrigerators.
In sum, many environmentalists and even some business leaders say Indiana lags the nation on energy efficiency, while many other states are pushing hard into efficiency programs.
"This is one of those issues that is just incredibly disheartening," said state Rep. Ryan Dvorak, D-South Bend, a leading advocate on energy efficiency and renewable energy. "We've gone backward completely. We're one of the worst states in the country on things like energy efficiency."
Other states, such as Massachusetts and California, offer a variety of tax incentives and grant, rebate and bond programs to encourage consumer investments in energy efficiency. They also set ambitious energy-savings targets and introduced appliance-efficiency standards that are often more stringent than federal standards.

There are no clear signs that Indiana has any interest in following suit, or in climbing higher on the state rankings for energy efficiency.
Some business leaders say the issue is better left to the private sector and in offering incentives rather than mandates.
"Most businesses are doing everything they can to save money [on energy] anyhow," said Greg Ellis, vice president for energy and environmental policy for the Indiana Chamber of Commerce. "If they can incorporate LED lighting or something else that's more energy efficient, I think they'll continue to do that."
Indiana ranks ninth in the nation in the use of energy on a per-capita basis, according to the U.S. Energy Information Administration.
Its outsized energy use comes from leading the nation in manufacturing as a percentage of the state economy. It needs vast amounts of energy to power auto-assembly plants, oil refineries, chemical plants, hospitals, printing plants, schools and millions of households.
And the state could move even closer to the top of the per-capita-consumption list. Many Indiana manufacturers are expanding, installing new assembly lines or manufacturing equipment, and buying even more energy.
"Ultimately, if you're expanding, and a lot of manufacturers are expanding in Indiana, it's going to take more energy to run the equipment," said Andrew Berger, vice president of the Indiana Manufacturers Association.
Yet manufacturers here, as a group, are heavily opposed to government-mandated efficiency programs, preferring instead to look for ways on their own to become as efficient and competitive as possible.
Four years ago, manufacturers were among the leading opponents of Energizing Indiana.
The program had been set up in 2012 under then-Gov. Mitch Daniels as a way to take a bite out of energy consumption.
The state mandate was to produce energy savings of 2 percent a year by 2019, which would help customers save money and reduce the need to build additional power-generating plants.
Electricity-efficiency programs cost one-third to one-half that of building a power plant, according to the American Council for an Energy-Efficient Economy.
But some lawmakers were upset that they didn't have a say in setting up the program or overseeing it. Instead, it was administered by the Indiana Utility Regulatory Commission.
Manufacturers complained that the program was too costly. It required some big industrial users, such as steel mills, to pay more than $10 million a year, or about 2 percent of their energy costs. Households paid much less—about $24 to $36 a year.
Some manufacturers said they got little in return, because their factories were specially designed, and the state's efficiency programs were of little use to them.
They also said it was already in their best interest to keep energy costs down, without the need to pay millions of dollars a year into a state program. The money was used to hire energy auditors and private contractors to give efficiency tips.
"I don't know what role the state really has, or if they need to play a role, because it's good economic sense for companies to be as energy efficient as possible," said Berger at the manufacturing association.
Taking action
The manufacturers found a supporter in state Sen. Jim Merritt, R-Indianapolis, chairman of the Senate Utilities Committee.
He introduced a bill that would excuse factories and other large electricity users from paying fees that supported the program.
Merritt said in a recent interview that, once customers took some basic steps to reduce energy consumption, it would be harder each year for the state to achieve an additional 2 percent energy savings. Many utilities and customers captured the "low-hanging fruit" early on, he said.
"You can replace only so many lightbulbs and wrap so many pipes," Merritt said.
His legislation, Senate Bill 340, won the support of numerous business groups, including the Indiana Chamber of Commerce, the Indiana Manufacturers Association and the Indiana Cast Metals Association.
It was opposed by numerous environmental and consumer groups, including Citizens Action Coalition of Indiana, Hoosier Interfaith Power & Light and the Sierra Club.
Several large companies also opposed the bill, including Honeywell, which makes products that help industrial motors power up and down more efficiently, and Ingersoll Rand, which sells energy-saving heating and air-conditioning systems. Both benefited from rebates under Indiana's program.
The bill passed the Indiana Senate 37-11, but when it got to the House, it took an unforeseen bounce. Rep. Heath VanNatter, R-Kokomo, introduced an amendment that would shut down the program altogether. He said the money raised and spent on the program—a projected $1.9 billion through 2019—needed more study.
Energy advocates countered that the program would save twice as much money in energy costs.
The House passed the bill and sent it back to the Senate, which accepted VanNatter's amendment and passed the measure again.
Then-Gov. Mike Pence allowed the bill to become law without his signature.
In one swoop, the new law removed Indiana from the ranks of 26 states that required utilities to offer programs that reduce energy use. The decision made Indiana the first state in the nation to roll back its energy-savings goals.
Utilities step in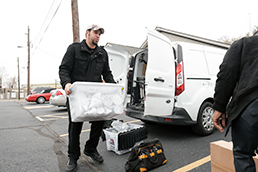 Darius Mazdai, a contractor with Clearesult, carries a tub of LED bulbs into Community Lifeline Christian Church. (IBJ photo/Eric Learned)
A year later, the General Assembly passed a bill that would allow major utility companies to develop their own energy-efficiency programs and charge customers to implement them. Today, several Indiana electric utilities, including Indianapolis Power and Light Co., provide energy audits, install weatherization, and provide rebates on LED bulbs and smart thermostats, among other services.
IPL said customers pay for those services through a monthly charge.
Duke Energy of Indiana said it has been offering energy-efficiency programs since 1991.
"We were an early mover on energy efficiency and have been working with customers, including large power customers, for a long time and captured significant energy savings long ago—the proverbial low-hanging fruit," the company said in a statement.
The Indiana Energy Association, which represents investor-owned utilities, said it applauds the state's new approach, with voluntary programs launched by the utilities. The association pointed out that programs include rebates, incentives to upgrade heating and cooling systems, discounts for energy-efficient lightbulbs and other money-saving tips that it says reduce demand on the electric grid and save Hoosiers money.
"The programs are going strong," said Tim Rushenberg, the association's vice president.
The association said that, in 2016, utility-funded electric-efficiency programs helped customers cut electricity use by more than 670 kilowatt hours—enough to power 70,000 homes for a year.
Meanwhile, businesses are also taking advantage of outside programs. The Industrial Assessment Center at IUPUI provides free energy assessments to small and medium-size industrial facilities, through U.S. Department of Energy funding.
Since launching seven years ago, it has offered 111 assessments and made nearly 1,000 recommendations to businesses, worth more than $10 billion in savings, said Jie Chen, the center's director.
"There's still a lot of potential for manufacturing companies to reduce energy consumption," he said.
'A dark day'
But some think Indiana has missed a huge opportunity to achieve additional energy savings. A report issued in June from the Applied Economics Clinic, an energy think tank housed at Tufts University in Somerville, Massachusetts, concluded that the state's decision to do away with its energy-efficiency requirements cost consumers more than $140 million in lost savings.
The study, commissioned by Citizens Action Coalition, concluded that utilities could have saved an additional 135 gigawatt hours of generation from 2015 to 2019. "For consumers, the programs would have meant millions in steadily increasing savings: from $16 million in 2015 to an estimated $44 million in 2019," the report said.
That study followed one in 2015 by independent analyst GoodCents that found Energizing Indiana resulted in energy savings of 11 million megawatt hours, resulting in "significant" financial savings.
Kerwin Olson, CAC's executive director, said the program's rollback was a "dark day" for Indiana utility customers.
"It's clear that, since the repeal of Mitch Daniels' energy-efficiency targets and the cancellation of Energizing Indiana, the amount actually invested in delivering energy-efficiency programs and services to the public has decreased, along with the total amount of energy savings realized," Olson said.
As for Holcomb's proclamation, there are no immediate plans to roll out any new energy efficiency programs, according to several state agencies that oversee energy programs and policy.
And Merritt, who won re-election this month and will continue to chair the Senate Utilities Committee, said he has no plans to resurrect the Energizing Indiana plan or anything like it.
"There are a lot of people that have been critical of me and the Legislature regarding termination of Energizing Indiana," Merritt said. "But the ratepayers were going to be saddled in those four years with almost $2 billion. And I believe the utilities are saving energy through their efficiency programs."•
Please enable JavaScript to view this content.