One of the best things our government ever did was to set aside land for national parks and to keep each in pristine condition
while making them accessible for people to visit. Each is different and has its own unique setting and breathtaking beauty.
To date, my wife Katrina and I have visited 36 of the 58 of them.
Apparently, we're not their
only fans, as is made clear in Ken Burns' documentary film for PBS titled "The National Parks, America's
Best Idea," which recently premiered on PBS (more information at www.pbs.org/nationalparks). The title came from writer
Wallace Stegner, who called the national parks "the best idea we ever had." No activity of the federal government
engenders such universal support and public loyalty.
As with other places of interest to Katrina and me, such
as presidential libraries, world heritage sites, other countries and Frank Lloyd Wright buildings, we
maintain a list of the parks and visit them as we travel to other places or, in some cases, we plan the
trip around visiting one or more of them.
Besides the obvious benefit of keeping track
of where we have been and where we plan to visit, maintaining a checklist has the side benefit of providing
a sense of accomplishment as each one visited is checked off. But the primary benefit is the fun of visiting,
seeing and experiencing places that are of interest to us.
It's difficult to say which
is our favorite national park. Like traveling in general, we feel the place we just visited was the best, which is probably
a good thing. When I am researching the next park or other place we are going to visit, I start thinking my favorite is the
next one! So the answer is that we liked them all.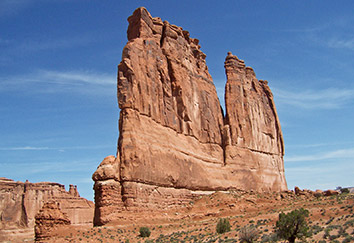 Arches National Park in Utah features more than 2,000 natural sandstone arches. (Photo/Frank Basile)
I'm
not sure what Burns would answer, but pressed in a recent USA Weekend article to name the "10 National
Parks You Wouldn't Want to Miss," he listed Yosemite, Yellowstone, Grand Canyon, Denali,
Glacier, Great Smoky Mountains (which is the most visited of the national parks), Acadia (first national
park east of the Mississippi), Everglades, Zion and Shenandoah. We have seen all but Denali on this list and
it is hard to argue with his selection.
Other than those listed by Burns, our favorites include Crater Lake
National Park in Oregon. The national parks Web site describes the park as follows: "Crater Lake
has inspired people for hundreds of years. No place else on earth combines a deep, pure lake, so blue
in color; sheer surrounding cliffs, almost 2,000 feet high; two picturesque islands; and a violent volcanic
past. It is a place of immeasurable beauty, and an outstanding outdoor laboratory and classroom."
Our first view of Crater Lake was at sunrise and to say it was like a spiritual experience is not an
exaggeration.
Another favorite on our list would include Big Bend National Park in southwest Texas,
where you can so clearly see thousands of stars at night while in the vicinity of a mountain, desert and the Rio Grande River.
It's a place of magnificent beauty.
We had Thanksgiving dinner in the Inn in Sequoia National Park in 2005
and were mesmerized by the stunning scenery as we dined in the glass-enclosed dining room overlooking a section of the park.
It's adjacent to Kings Canyon National Park in the southern Sierra Nevada, east of the San Joaquin Valley. The Web site
describes these two parks as follows: This landscape testifies to nature's size, beauty and diversity – huge mountains,
rugged foothills, deep canyons, vast caverns and the world's largest trees!
Our list would include Arches
National Park in Utah. It's Web site says: "It preserves over 2,000 natural sandstone arches, like the world-famous
Delicate Arch, as well as many other unusual rock formations. In some areas, the forces of nature have exposed millions of
years of geologic history. The extraordinary features of the park create a landscape of contrasting colors, landforms and
textures that is unlike any other in the world."
Mesa Verde National Park would be on our list. "It
offers a spectacular look into the lives of the ancestral Pueblo people who made it their home for over 700 years, from A.D.
600 to A.D. 1300," the park's Web site reports. "Today, the park protects over 4,000 known archeological
sites, including 600 cliff dwellings. These sites are some of the most notable and best-preserved in the United States."
The final favorite is Rocky Mountains National Park. The park Web site describes it: "From lush valleys to
craggy peaks, this living showcase of the grandeur of the Rocky Mountains, with elevations ranging from
8,000 feet in the wet, grassy valleys to 14,259 feet at the weather-ravaged top of Longs Peak, provides
visitors with opportunities for countless breathtaking experiences and adventures."
For further research into the national parks prior to your visit, the official Web site is http://www.nps.gov.•
__________
Basile is an author, professional speaker, philanthropist, community volunteer and retired
executive of Gene B. Glick Co. His column appears occasionally. Basile can be reached at Frank_Basile@sbcglobal.net.
Please enable JavaScript to view this content.