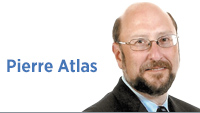 We have all heard the saying, "It's not whether you win or lose, it's how you play the game." This cliche actually applies more to democracy than it does to sports. The rule of law is predictable and applies to everyone, including those in power. Free and fair elections. Trusting that the winner will not seek personal vengeance on the loser.
The only normative (or values) statement in the Constitution is the preamble; the document itself is all about process, not outcomes. The Constitution establishes a set of rules for how our republican form of government is to work; from those rules developed a set of long-standing democratic norms.
As a comparative political scientist who has examined both democratic and authoritarian regimes, I am well aware of the dangers of undermining the rules, norms and institutions of democracy. Democracy is a delicate fabric. If you start pulling at its threads, it could soon unravel.
Donald Trump is deliberately pulling at the threads. President Trump does not respect the rights of people who disagree with him or the Constitution he has sworn an oath to protect. He publicly insults federal judges and the independent judiciary. He demonizes the free press as the "enemy of the people"—a term one expects to hear in a totalitarian regime, not the world's oldest democracy.
From the moment he took office, he has tried to politicize the military, suggesting people in uniform should be loyal to him personally. He expects his attorney general to act as his private attorney rather than the nation's chief law enforcement officer. He shuts down the government in a fit of pique when he can't get his way, creating tremendous financial hardship for hundreds of thousands of federal workers and their families while putting public safety in peril.
He intentionally stokes fear and division, scapegoats minorities, and turns a blind eye to political violence committed by extremists who hear—and take seriously—his white-nationalist dog whistles.
Trump might be the first president in history whose loyalty to the United States has been openly questioned. On too many instances to count, the president has publicly taken Russia's side. He disrespects and undermines America's traditional democratic allies while praising brutal dictators.
His egocentric approach to international relations is transactional, not strategic. Rather than formulating policy in accordance with America's national-security interests, he seems to ask of nations and leaders: "What have you done for me lately? How have you treated me personally?"
This is not how to run a superpower, nor is it even a good business model.
In the face of these unprecedented challenges to the rules of the game, congressional members of the party Trump now leads have largely abdicated their duty to protect our constitutional system.
In 1787, James Madison explained in Federalist 51 how the Constitution's separation of powers would provide an institutional defense against tyranny. "Ambition must be made to counteract ambition," he said. Sadly, rather than using their legislative independence and oversight powers to check executive branch abuses, Republicans in Congress have become a rubber stamp, displaying a higher loyalty to the president than to the Constitution's separation of powers. Only now that the Democrats control the House might some constitutional balance be restored.
Donald Trump cares only about winning—at any cost, including the undermining of our democratic norms and institutions. If the system the founders designed over 200 years ago is to remain intact, how we play the game should always be more important than who wins.•
Click here for more Forefront columns.
__________
Atlas is a professor of political science and director of The Richard G. Lugar Franciscan Center for Global Studies at Marian University. Send comments on this column to ibjedit@ibj.com.
Please enable JavaScript to view this content.