This week, Eiteljorg's "Quest for the West" and a primitive musical at Theatre on the Square.
__________
The Eiteljorg Museum's
annual Quest for the West Art Show & Sale is up and running (through Oct. 11),
and once again the selections offer an accessible trip through contemporary Western art.
Familiar names return. Newcomers emerge. An artist with an unexpected history fascinates. And once again
I find myself contemplating what this talented collection of artists from around the country do with
familiar (sometimes overly familiar) subject matter, forms and ideas.
Brian Blood, for instance, connects the land to water, offering a yellow-tinted "Wetlands
Twilight" and tiny figures lost in the rocky shores of "Treasure Hunting."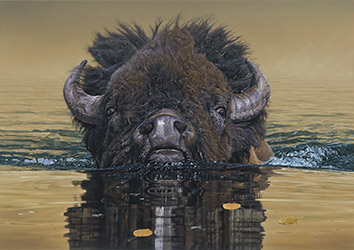 Staring contest: Artist Daniel Smith specializes in hyperrealistic animal painting. This year's fest includes "Stillwater
Crossing." (IBJ Photo/Robin Jerstad)
Daniel Smith returns with "Stillwater Crossing,"
a head-barely-above-water bison (or is it buffalo?) that's a picture of determination.
Oddly, it's both comical and moving.
The show isn't all nature. People
have their place as well. Williams Matthews captures the focus of an old time cowboy—the
glasses and unseen eyes help—in "Spring Shoe" and charms with
a simple arrangement of buildings and muted landscape in "Nevada Cow Camp. (If only he could restrain
from marring the work with his excessive signature. We get it. You painted it. Back off.) Jacob Pfeiffer understands the weariness
that comes with constant alertness, lending gravitas to "Within Earshot." And Brenda Murphy amazes yet again with
her graphite pencil drawings, including the horse-and-rider-about-to-change-directions "Hard and Fast," with its
remarkable motion-capture detail.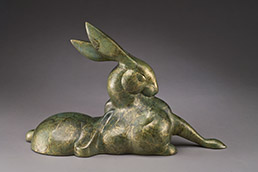 Tim Cherry's "Bodacious Bunny"
bronze, is featured in the "Quest for the West." (Photos Courtesy Eiteljorg Museum)
Sometimes
a light touch wins out. Curt Mattson's bronze sculptures often verge on the absurdly
precarious. But his "Just for Her" is simpler and more effective, with a cowboy riding with
one hand on the reins and another evocatively carrying a package. Simplicity wins out, too, in both George Hallmark's
"Hernando," featuring a burro with his own crosses to bear, and Jacob Pfeiffer's "Re-enactors at Play,"
one of the few works whose title helps a viewer appreciate its content.
Others have
a tendency to play too cutesy. Tim Cherry's bronze animal sculptures are characterized
by intense, unexpected lines. But they deserve better monikers than "Bodacious Bunny" and
"Happy Goat Lucky," which could even make a Hallmark store employee shake her head. And Sherry
Salari Sander's "A Whiff of Salmon" sculpture looks like its two bears are up to something
besides fish hunting.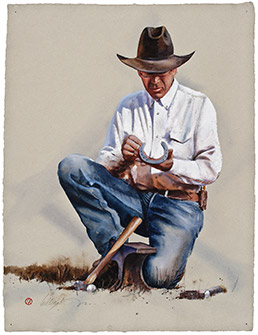 William Matthew's "Spring Shoe," is also featured in the "Quest for the West." (Photos
Courtesy Eiteljorg Museum)
Earlier I mentioned unexpected history. Well, artist Robert McGinnis
spent most of his career illustrating paperback book covers and movie posters. You might have seen his
work on "Live and Let Die," "Barbarella" and, more appropriate
to this show, "The Hallelujah Trail" and "A Fistful of Dynamite."
Here, his "A Friendly Game of Poker" tips too far into cartoonery (what's with the
horse's eyes?), but "Tonight in Laredo" has a great read-it-and-toss it paperback feel. I'm
glad Quest for the West has room for him.
And, in case anyone has
a copy lying around, I'd love to see the documentary about his work, "Robert
McGinnis: Painting the Last Rose of Summer."
__________
"Ug!: The Caveman Musical" is the latest in a line of not-to-be-taken-seriously shows
that, at their best, have the insane energy of the current off-Broadway hit "Toxic Avenger:
The Musical."
This one works better than
Theatre on the Square's previous effort in the genre, "Evil Dead: The Musical" because
of the heart brought to it by some of the first-act writing, including the fun naïve "These
are Incredible Times" and the what's-a-sweet-song-like-you-doing-in-a-show-like-this?
"Tingle."
The latter number is brought
home by the expressive, warm Sarah Hoffman, in good voice. She plays cave woman Oolooki, who is introduced
to the potentials of monogamy by her buddy Ug (Dane Rogers, gamely performing in
an outfit that looks like it came from the back of Wilma Flintstone's closet).
Ug, though, is soon lured by the alleged charms of Tatata (a seemingly bored
Erin Cohenour) but, in the process, invents theater.
Despite its flaws and the act-two dropoff, it's a silly good time. And it's remarkable that
book writer Jim Googan somehow manages to extricate new laughs from a thin genre that has already been
stripmined by Hanna-Barbara, Ringo Starr, Jack Black, Will Farrell and others.•
__________
Visit ibj.com/arts for additional reviews, previews
and arts discussion. Twitter: IBJarts
Please enable JavaScript to view this content.