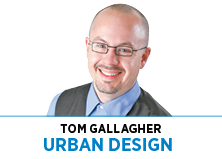 Recently, while traveling to Milwaukee, I spent some time in the city's historic Third Ward, a late 1800s warehouse district that has become one of the city's most celebrated 21st century mixed-use neighborhoods. Even amid the piles of snow and the cold winds off the lake, it lived up to its place among the "coolest" urban districts identified by Cushman & Wakefield in 2016. The superb public market, local food scene and mix of original stores with national brands was as expected.
What has stayed with me the most since my visit, however, was something unexpected: the constant presence of folks walking around with strollers.
A few years ago, I became aware of the idea of the "Stroller Index" when it came into popular use after Mark Funkhouser, the former mayor of Kansas City, wrote about it in an article for Governing magazine. His point was that the willingness of parents to raise children in an urban area says something special about its safety, accessibility and affordability.
What's more, he goes on to say, "A city that's a good place to raise children is generally just a good place, period. Parents want to raise their children in places that are safe, clean and attractive, that enjoy a sense of charm and place, and that have lots of fun and interesting stuff going on. Who doesn't want that? It sounds like the very definition of livability."
In recent years, the prevailing conversation regarding improving cities has been about attracting talent. I have pointed out previously, citing Cushman & Wakefield, that more companies are moving their operations to walkable urban areas. The company noted in one of its reports that "as companies compete for new hires and the best talent, being located in a vibrant neighborhood is considered a crucial selling point." What cities talk about much less is how to hold on to those folks as they age.
According to Funkhouser, when he was running for mayor, "I was ready to talk about the arts and culture and the cool factor. I was stunned to find that what they wanted to talk about was kids. They loved the city and dreaded the thought of moving to the suburbs, but they worried about safety and schools. I was there to talk about making the city artist-friendly, and they wanted to hear about how I was going to make it kid-friendly."
Many have wondered if the generation of millennials that drove revitalization of urban living in their younger years would follow the expected pattern of previous generations, retreating to suburbia when they are ready to have children. Early indicators are that they will. The reality is that most cities are made, as Gil Penalosa, the founder of 8-80 Cities, points out, "as if everyone was 30 years old and athletic."
This hints, however, at the things cities can do to be attractive to families, beyond solving for high-performing schools, that are far simpler in comparison but just as far-reaching.
In its recent report, "Cities Alive: Designing for Urban Childhoods," Arup, an international design and planning consultancy, puts forth a powerful message with the modest notion of the "popsicle test." Simply, is a child able to safely walk from his or her home to a store, buy a popsicle, and return home before it melts?
What this speaks to is "a more inclusive, equitable, healthy and resilient public realm" that can facilitate such "everyday freedoms" and experiences our youth can explore on their own. More specifically, it speaks to mixed-income and mixed-use neighborhoods with parks and opportunities for play within walking distance, all connected by streets that give priority to pedestrians, bikes and, yes, strollers.
Those cities that are or can make themselves family-friendly will be among the best-positioned, not just for the current moment but for a vital and resilient future. By doing so, we make better places for us all.•
__________
Gallagher is a principal and urban designer with Ratio and a professor-in-practice of urban design at Ball State University. Send correspondence to TGallagher@ratiodesign.com.
Please enable JavaScript to view this content.