Whether as manager of Mitch Daniels' first gubernatorial campaign or CEO of Angie's List, Bill Oesterle has always chased ambitious goals.
But his most recent endeavor might be his loftiest pursuit—and some would say his most difficult.
Oesterle founded tech firm TMap last May and this month announced he raised $1 million in seed funding for the company. He said all the investors "are local folks involved in the entrepreneurial community."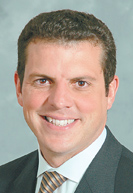 Oesterle
The company's goal is to find talented people who live out of state but have a connection to Indiana—then lure them here to live and work. That might not sound complicated, but the effort is about far more than checking resumes and making calls.
Oesterle describes it like this: "We index and engage talent at scale using big data and machine learning."
In other words, Oesterle's small company is taking dead aim at one of the state's biggest economic development problems: brain drain.
Using big data tools and machine-learning algorithms, TMap has built a database of nearly 3 million people who went to school in Indiana in the last 25 years but don't currently live here. Oesterle aims to expand that pool to 5 million within two years.
TMap put together much of the database on its own, but has more recently received a sizable assist by signing partnership deals with Indiana University, Purdue University, the University of Notre Dame and, just this month, Ball State University.
Huber
"We're enabling schools, not just relying on them," Oesterle told IBJ. "What's exciting is that our universities are working together to engage their graduates on behalf of employers statewide in a way that no other state or college is. We're leading the nation in this right now."
Daniels, now president of Purdue, has been a strong TMap advocate from its founding. Purdue was quick to partner with TMap, and Daniels headlined the company's first public event. Daniels, too, has a keen interest in bringing workers with state connections back home. Purdue launched its own brain gain initiative in November.
Indy Chamber CEO Michael Huber said TMap is a "key part of the chamber's emerging talent strategy." The chamber is a TMap customer.
"We're growing in many of the right metrics, including tech job growth, but we're still losing too many of our college graduates," Huber said. "We have to stop that bleeding and we think TMap is a critical part of the solution to reverse that trend."

Elizabeth Abram was one of the lost ones. Thanks to TMap, the Noblesville native came home last fall. After graduating from Hamilton Southeastern High School, Abram departed to attend the University of Dayton. After college, Abram, 34, took a job and moved to Boston with her husband.
"One year turned to two years and two years turned into eight years," Abram told IBJ.
When TMap contacted Abram last fall, she was intrigued, though she wasn't considering coming back to Indiana at the time. "TMap is not a recruiter," she said. "They are so different. They didn't just throw a job my way. TMap was very specific."
Abram, a marketing executive, said the job opening TMap presented her was so good, it took only one phone interview and one in-person visit—both in October—to seal the deal with Covideo, a video email company in Broad Ripple.
"Moving back just felt right. All my family is here," Abram said. "TMap found an employer that was such a good fit, and that took away the biggest barrier to coming back."
Abram has Hoosier-born friends working on both coasts. And while she said many of those friends intended to return to Indiana, "the longer you're in a place, the harder it is to come back."
Defining the problem
Oesterle believes there are a lot of Elizabeth Abrams.
He started thinking about the workforce problem—and how to launch a company to tackle it—in earnest two years ago, after reading some ominous statewide workforce data compiled by Indiana University.
That's when something struck him.
"Amazon and Facebook build profiles on consumers, but no one has built a psychographic on us as a member of the workforce," Oesterle said, "which is interesting because we're more valuable as a member of the labor force than as a consumer—presumably."

The problem is fairly simple. Indiana's workforce—which doubled between 1950 and 2000, from 1.57 million to 3.12 million—is not expected to continue growing over the next few decades. With the retirement of large numbers of baby boomers and nearly peak levels of women in the workforce, growth will slow to nearly zero—if not fall into negative territory—during the 2020s before growing slowly again in the 2030s and 2040s, IU researchers project.
"There's no doubt, TMap is tackling a big challenge," said Indy Chamber's Huber.
Adding to the workforce problem is a slowdown in migration to Indiana. In the 1990s, about 17,500 more people moved to Indiana per year than left, a number that dropped to 9,200 residents per year in the 2000s.
But the numbers dropped even further during and after the Great Recession, to a net migration of just 1,900 per year, IU researchers said.
Indiana is not alone. The U.S. Bureau of Labor Statistics projects a similar trend nationally. But Matt Kinghorn, senior demographic analyst at IU's Indiana Business Research Center, wrote last fall that the "U.S. labor force growth has outpaced Indiana's for some time and will likely do so in the future."
How it works
In the simplest terms, TMap's software locates ex-pat Hoosiers and scores them based on a number of factors: Did they attend high school in Indiana? Did they attend college here? Do they have family here? Do they subscribe to an alumni publication? Do they attend the Indianapolis 500 or buy Colts or Pacers tickets? Are they married? Do they have kids and, if so, how old they are? And so on.
Until the schools got involved, much of the data was scanned from the web, Oesterle said.
Once the information is collected, TMap goes into action, watching and engaging people with higher potential for an Indiana match.
"That's where our technology comes in," Oesterle said. "We're marketing to them and grading them based on their response on the likelihood they would come back."
Oesterle enlisted help from one of his best engineers and product experts at Angie's List, which built extensive databases to provide ratings for home service providers. And by July, he said, TMap will have identified 10,000 college graduates who have Indiana ties and work outside the state but are willing to move back for the right opportunity.
TMap already has 2,000 of these "self-identified" folks located, he said.
He realizes it will take time to reach that mountaintop. Still, his goals are bold.
TMap made its first placement in mid-2018 and to date has made "dozens" of placements, Oesterle said. Within five years, he projected, TMap will be making up to 1,500 placements annually, and long term, he hopes to double that.
By year's end, TMap will have made its first 100 placements, Oesterle said.
For-profit by design
TMap gets paid per placement. "If we don't do what we promise, we don't get paid," Oesterle said.
It already has 20 corporate clients, and Oesterle said some are large, well-known local companies, although he declined to list them due to confidentiality agreements.
Indianapolis-based SupplyKick—which helps companies that sell products online with storage, marketing and shipments—has used TMap for several key hires, said the firm's CEO, Josh Owens.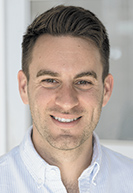 Owens
"TMap has helped us tap into a quality pool of candidates we would not have talked to otherwise," Owens said. "There's a lot of talent in this region, but there's also a lot of talent with an affinity for Indy, and that's where TMap comes in. Anything that can broaden the quality labor pool is going to be immensely helpful to companies and the overall growth of the state's business climate."
TMap, Owens added, has been especially helpful for difficult-to-fill positions, especially in areas in which the Indy market is not particularly strong. For instance, he said, TMap helped SupplyKick find a "key senior leader" with strong retail experience.
But although the goal—to strengthen the Indiana economy— is largely altruistic, TMap is a for-profit company. That's by design.
"I don't think it can be scaled up big enough—to have a big enough impact on the state—unless the unit economics work," said Oesterle, who earned an MBA from the Harvard Business School. "Our solution has to be good enough for someone to pay us for each [placement]. If that's true, then we can do as many transactions as we can find customers."
TMap is working with companies in various sectors, but Oesterle said there's an especially strong demand for technology and data talent, both areas where the state economy is growing.
"We have to do something," he said emphatically. "There's almost nothing you can do from an economic development standpoint if your workforce is declining."•
Please enable JavaScript to view this content.