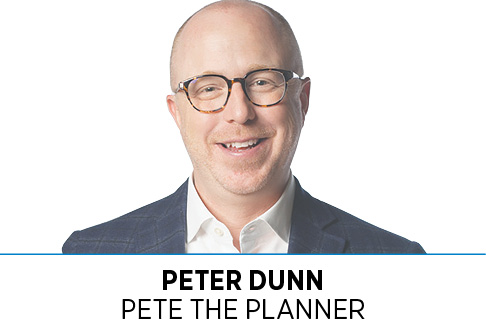 I'm familiar with about 60 percent of the functionality of my iPhone. Yet I paid full sticker price to acquire it, and I still have to pay for service each month. I don't lose sleep over my ineptitude with my pocket computer, and I'm rather confident I'm not missing out on much. Low stakes. Who cares?
But I guarantee, you utilize less than 60 percent of the functionality of your financial adviser, and you suffer for it. The stakes are high. It matters.
To begin to understand how you underutilize your adviser, you must first deeply understand the two primary service categories in the financial community: wealth management and financial planning.
You're not alone if you conflate wealth management with financial planning and use the terms interchangeably. And while the two processes are certainly related, they're not the same.
I like to think of it this way: Wealth management deals with growing the money you've already accumulated, and financial planning encompasses everything else. I absolutely believe wealth management is vitally important, but I believe your success will come via financial planning.
It's incredibly easy to get distracted by your investments in good times and in bad, especially in light of the fees you pay your adviser to make the good times make you forget about the bad times. Your investments are the latest workout regimen: a Peloton, OrangeTheory, Bar Method, or CrossFit. They're exciting, sexy and a distraction from what really matters more than anything—your food intake and nutrition.
Investing is to working out as financial planning is to nutrition.
You might think working out is the basis of your relationship with your body, but it's not. Just as an effective relationship with your adviser is based on planning, not your investments. Most people don't realize this, and some advisers don't either.
The most important part of your time with your financial adviser is not the investment update they give you. It's the life updates you give them. This is the primary way you're underutilizing your adviser.
Thinking about switching jobs? Email your financial adviser and have them run an analysis on how the change of income and benefits affects your plan. And by God, if you lose your job, call them as security is escorting you out of the building.
Did you just get a raise or bonus? Before you call and let your spouse know, call your adviser. Most people don't do this because they don't want their adviser to know. Yep, self-sabotage. Don't wait until your next scheduled update to tell your adviser your income change. That's ludicrous. The ship will have sailed by then.
Want to move? Call your adviser. I've witnessed, I don't know, thousands of people purchase a house. And nearly every one of them begins their affordability conversation with an online calculator or a mortgage lender. I can't think of a more misguided, pointless beginning. Talk to your adviser. A house is the biggest financial decision you will make, over the longest period of time, with the most interest. Don't you think you should run that by your CFO?
Think of it that way: Your financial adviser is your chief financial officer. You're the CEO. You have a vision of what you want to happen, and the CFO's job is to help determine the feasibility and the prudence of the plan. Most of the advisers I know would prefer the type of relationship I'm suggesting. You might not know this, but of course you know this, they hate when you leave their office with a perfectly good plan, make a giant financial decision without consulting them, then show up a year later with the viability of the plan in shambles.
Show me an established business that operates like this, and I'll show you a failing business with a revolving door in the CFO's office. Unfortunately, the tired "the client is always right" trope works against you. If your adviser can't kick you in the pants about your financial decisions, then who can?
It's also worth noting your financial planner and your investment adviser may not end up being the same person. And if you don't think your adviser is up for the job, find a new one. Distilled down to its essence, your relationship with your adviser is about the intersection between your finite career earnings, life's way of laying waste to your plans and the ability to create stability in spite of this.•
__________
Dunn is CEO of Your Money Line powered by Pete the Planner, an employee-benefit organization focused on solving employees' financial challenges. Email your financial questions to askpete@petetheplanner.com.
Please enable JavaScript to view this content.