Want to build a factory in Indiana? It will cost you just $50 to get a state permit that tells you how much pollution you can dump into the wastewater system. In Ohio, a similar permit would cost you $7,500. In Illinois, you might shell out up to $20,000.
Or maybe you're thinking about building a solid-waste landfill. In Indiana, you can get a permit to build one for a flat fee of $31,300. In Ohio, it will cost you up to $80,000, depending on the size. In Illinois, the price tag can soar as high as $142,000.
These prices might seem like a bargain in Indiana, where the cost of environmental permits on everything from incinerators to wastewater-treatment plants is just a fraction of what nearby states charge. But in an odd turn of events, business leaders are supporting a move to raise the fees and are about to get their wish.
On May 5, Gov. Eric Holcomb signed a bill supported by the Indiana Chamber, the Indiana Manufacturers Association, and other business and environmental groups that will allow the state to raise permit fees after an extensive rulemaking process that could last more than a year.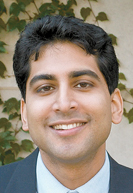 Kharbanda
It's not clear how much fees will increase. Indiana issues thousands of environmental permits a year on every type of business activity that discharges pollutants into the air, water or land. Most of the permit fees have remained unchanged since 1994.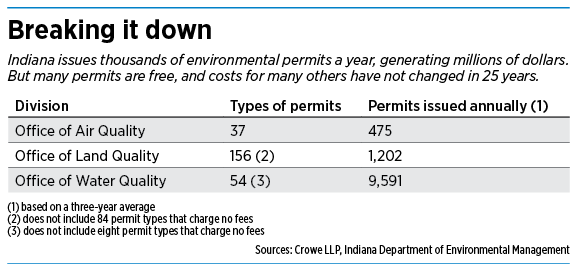 The supporters say the current setup is losing money and they worry that, if that continues, the state might cut workers at the Indiana Department of Environmental Management, thus slowing the permitting process to a crawl. That could delay projects that affect a sweeping array of businesses, from strip-mall developers and metal shops to landfill operators and factory farmers.
IDEM officials have warned that they will face budget shortfalls if the fees do not go up to cover expenses. At a Feb. 13 meeting of the state's Environmental Rules Board, Brian Rockensuess, IDEM's chief of staff, said that, while the agency is fully funded through the current state budget, the financial picture will likely deteriorate in coming years.
"We are going to have some financial struggles making ends meet with the current staffing and current level of activity that we have had," he said.
IDEM says it expects to post a $5.2 million deficit in its permitting process in 2021 unless the state raises fees. The agency has about 800 employees, down about 12% from a decade ago.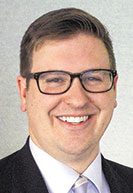 Berger
A report prepared last year by consulting firm Crowe LLP painted a somber picture as well. It said more than half of IDEM's land-quality permits do not require a fee at all.
The Office of Water Quality, meanwhile, has an "inability to complete many tasks due to the workload outpacing employee count, particularly as more-stringent water quality rules are promulgated," the report said.
How much the various permit fees will increase will be hashed out by the Environmental Rules Board—a coalition of business, labor, government, health officials and environmentalists, with public notices and hearings, in a process likely to take about 18 months.
But under the new law, the state will be allowed to raise fees by a total of $5.2 million a year in the first wave of increases. After that, it can raise fees only once every five years, with a 10% cap during each five-year cycle.
Business groups say they support a reasonable price increase. They say the alternative—possible IDEM staff cuts—would slow the permitting process and delay business projects.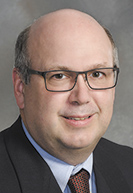 Ellis
"It's an unusual position for the chamber to take, to support any increase in fees by the government," said Greg Ellis, vice president of energy and environmental policy for the Indiana Chamber. "But in this case, we are very supportive."
He said a slowdown in the permitting process was unacceptable. "If it slowed things down, it was going to create problems and cost money," he said.
The Indiana Manufacturers Association said it also supports higher fees, although not all members were in favor.
"We debated this within our membership very robustly," said Andrew Berger, the association's senior vice president for governmental affairs.
In the end, he said, manufacturers want the state to continue handling permit applications smoothly, and keeping projects on track.
"We're in favor of IDEM being able to keep their level of service, meaning turning over permits in a timely manner and employing people who know what they're talking about," Berger said.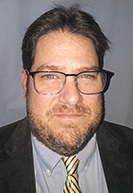 Olson
Indiana is hardly alone in taking steps to raise permit fees. A wide variety of other states, from Pennsylvania to Tennessee, have raised or are in the process of raising fees. Some states point out they haven't raised some permit fees since the 1970s.
Environmentalists in Indiana, for their part, say they support the increases, but for a different reason. They say IDEM is underfunded and understaffed, and any further cuts would hurt the agency's ability to protect the environment. The agency has seen its funding decrease by more than one-third since 2007, according to a study by the Hoosier Environmental Council.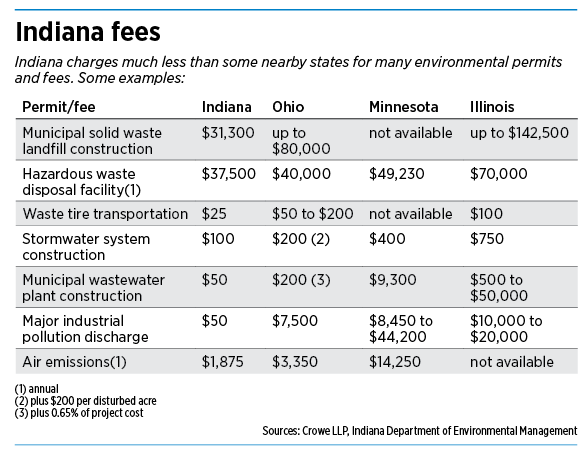 "We believe the agency's oversight of the environmental behavior of factories, electric utilities, water utilities, wastewater utilities, landfills and other entities is important to helping to safeguard Hoosier health from air, soil and water pollution," said Jesse Kharbanda, executive director of the Hoosier Environmental Council.
The Sierra Club's Hoosier Chapter said IDEM was under "severe financial constraints" and didn't have the funding to carry out its duties. It, too, has called for an increase in permit fees.
Citizens Action Coalition, a grassroots consumer and environmental group, said IDEM needs more resources to do its job. But it said the agency should not have to depend on permit fees to support operations.
"We would prefer a model where the agency was fully funded through the budget and did not have to rely on money from the polluters," said Kerwin Olson, the group's executive director. "Environmental agencies should be independent agencies, funded by general funds, so there's no question about the independence or objectivity of the agency."•
Please enable JavaScript to view this content.