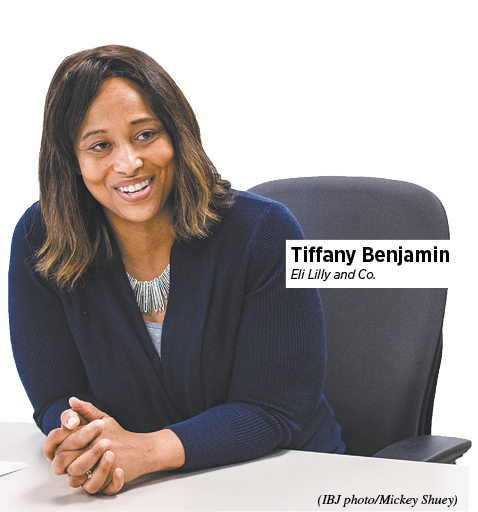 Tiffany Benjamin made what might seem like an unusual move at Eli Lilly and Co. when she went from overseeing the company's litigation team—defending class action lawsuits, tort claims and such—to heading its much more feel-good social responsibility program. The jobs "are super different," acknowledged Benjamin, who was raised in West Lafayette before earning an undergraduate degree at Indiana University and law degree at Harvard University.
But not her approach, which often has focused on public service. Among her previous jobs: Benjamin was a lead congressional investigator on issues including the Deepwater Horizon oil spill in the Gulf of Mexico, a 2012 fungal meningitis outbreak and the federal loan guarantee for the solar-panel maker Solyndra.
Even in Lilly's legal department, Benjamin oversaw the company's Wills for Heroes Program.
"My mom's a social worker, and so frankly, I don't think anybody was super-shocked to see me doing something that is focused on how I can give back to the community," she said.
Now—about one year after becoming senior director for corporate social responsibility and global health as well as president of the Lilly Foundation—helping others give back is Benjamin's primary charge. She and her team do it through dozens of projects and partnerships, including Connecting Hearts Abroad, matching employees with not-for-profits that need help and the Lilly Global Day of Service, during which employees fan out across Indianapolis and other places for service projects.
Benjamin talked to IBJ about some of those efforts.
Lilly's Day of Service gets a lot of publicity. What goes into that?
Lilly Global Day of Service was launched in 2008. It is a massive undertaking, and it's a global undertaking. So each year, the team starts planning as soon as the last one is done for the next one. If you think about it, for us in Indianapolis alone, we have over 10,000 employees, so we're trying to resource a whole host of people to participate. We usually end up with about 8,000 people in Indianapolis who participate in Lilly Global Day of Service. It's massive.
What is Indy Do Day?
There was just a lot of exposure to how much good [Global Day of Service] was doing in the community, when you see us out there with our red shirts. And it ultimately led to a catalyst for Indy Do Day, because it's not just us who has that benevolent spirit. Everybody wanted to participate. So now we've got Indy Do Day, which is three days, but sometimes kind of a week, which Lilly Global Day of Service kind of coincides with as well.
And Indy Do Day involves other companies?
It involves a lot of other companies … which is really exciting, to see something we built for our employees become part of the fiber of Indianapolis.
Tell me about encouraging employees to serve on boards.
People get nervous about sitting on a board. They wonder, "Do I have the skills to do that? What can I bring to the table?" They wonder if there are special rules about being a board member.
So my team and I spend a lot of time talking to people about how much value they add. Frankly, the skills you use in your day job are invaluable to nonprofits. If you run a budget, you can help them figure out their budget. If you help set the strategic vision for something, then you can help set the strategic vision for a nonprofit.
One of the things we're really focused on these days is making sure that our early-career professionals understand that they can get engaged in board service in a whole host of different ways. We also have a really engaged executive committee. You take Dave Ricks, our CEO, he's on the board of Riley [Children's Endowment]. You take Josh Smiley, our CFO, he's on the board of Butler [University]. So we just have people who care a lot.
How does it work?
Some of it, frankly, is organic. Then there are some boards where we know it's important for someone in Lilly to be engaged, and so in those instances, we'll try to match the person and their skills with what the board needs. … So if there's a nonprofit that really needs somebody who understands accounting, we try to find a Lilly employee who really understands accounting. So we try to match people's expertise with boards. And frankly more than anything, we try to match their energy. Because your best expertise is care, commitment, time, investment.
So you do a little bit of matchmaking.
Then also … we let them build their own thing. I don't want to control where people's hearts are at. I think my job is to help them support the community in a way that matters to them.
Another program I wanted you to talk about is Connecting Hearts Abroad.
Connecting Hearts Abroad is our volunteer service program. Basically, we have about 100 employees of Lilly a year who go to different parts of the world and do a volunteer service trip. It's two weeks long, and it varies. Last year I actually did one. I went to Ecuador, and it was a partnership with Timmy Global Health.
That's a great organization. And not very well known.
And it sits in our backyard. Amazing organization, which we've actually partnered with on a whole host of things. … What's really cool is that [the program is] so global. We work really hard to make sure the teams who do these trips are really diverse. They come from all parts of the world, and they come from all different parts of our business.
What's really amazing is to see how people work through challenges they've never seen before. Their agility when you go someplace and there's no electricity and you've still got to make it work. It builds team spirit and belief in our values, and frankly it reminds us why we do what we do every day, which is people.
We do those trips in all kinds of places, whether it's … Ecuador, whether it's Kenya, whether it's Greece, and what's really exciting is that this year, for the first time, we did one here in Indianapolis.
You must have a lot of people interested. That must be a little bit competitive.
It is competitive. We get a lot of applications. You have to have been a Lilly full-time employee for about two years before you can apply. … People have to fill out an application and there's a little essay. But we spend a lot of time figuring out what best serves the population we are going to help.
So, for example, we might have a trip that's focused on medical issues, so we're picking the people who are physicians, or nurses or pharmacists. And in other places, if we have a general skills trip, we're picking people from all over the world who bring special values.
We have our people who apply over and over again. When I did a trip last year, there was a woman who had applied nine times, and she was just so happy to get in.
One of the destinations is here?
This is the first time we have ever done this. Last year we, Lilly, in partnership with Eskenazi Health and IU Fairbanks, announced what we call DIP-In Initiative, which is the Diabetes Impact Project. We provided $7 million over five years to pilot this program to bring community health workers into these three neighborhoods in Indianapolis. So that program has been ongoing. So what we decided to do this year is for Connecting Hearts Abroad to bring a global team here to Indianapolis for a two-week trip to help with the Diabetes Impact Project here. … We had people from Egypt, from Japan, from all over the world.
I think they were all really moved by what they saw, and the fact that people were struggling in a place where they also saw that there were people who are also not struggling. And we actually heard from them how moving that was, and how much it reminded them that people are struggling everywhere.
So what are the neighborhoods?
The neighborhoods are northeast, northwest, and near-west. Diverse populations. They are all neighborhoods with high instances of diabetes. That's the one sort of thread that they pull through. But they're demographically different, and that's on purpose, because we view this as a pilot program. So if you piloted in three neighborhoods that are completely different, ultimately the hope is that you can scale it to all sorts of places with the same model.
What are some ways that all of these things help Lilly?
Our central focus as a company is always to make lives better. … It's a value that is core to every single employee who works here. So if we can have programs that reinforce that we are a company that is focused on making lives better, then we are doing something that connects to our mission and reminds our employees what really matters to us as a company
To me, one of the most important things in the business of innovation is agility. So if we send you on a volunteer trip and you've got to make it work, [you] learn to be agile. If you go do volunteer work at a nonprofit that has limited resources, you have to be agile. You just have to learn to work with different people on outside-of-the-box thinking, on creative solutions, and you have to do it from a lens that's different from your daily lens. So I think what you see is actually, it improves our workforce and makes them better employees. They're more committed to our mission, but frankly they're actually just more creative and innovative and more solution-oriented.
How does this play into recruiting?
We're finding a generational shift. There's a lot more focus when you look at younger workers or early-career professionals in [caring about what employers are] doing from a purpose standpoint. What are you doing as a global corporate citizen? So certainly our ability to talk about these programs reinforces who we are and what our values are and what we care about. And that is really important, frankly, to recruiting. It's really important to retaining people, and it's really important to cementing everybody in why they get up and come to work here.
You've got all these balls in the air in terms of being active in the community here and elsewhere. Do you have a formal process for measuring your impact?
It's a good question. Yes and no. If I talk about the Diabetes Impact Project, one of the most exciting things about that is, IU Fairbanks is involved on purpose, so we can measure outcomes. That project is designed to measure outcomes. And if you look at all of the stuff we're doing in the global health partnership space—so things in places like South Africa, where we're funding similar programs—it's about: Are we improving people's long-term health outcomes? We also, in 2016, announced this initiative called 30 by 30, with the goal of improving lives of people in resource-limited settings, 30 million people by 2030. So there you go, there's a measurement.
And the employee part, I don't measure it, because it's really in people's passion, and their commitment, and how much they care. So I'm not sure you can put a number on that part.•
Please enable JavaScript to view this content.