Nearly $18 billion is on the line for Indiana—roughly $2,710 per person.
That's how much in annual federal funding the state receives based on population data from the U.S. Census Bureau.
And those population numbers are about to change. The Census is preparing to launch its 2020 count, and the data collected will determine how much the state could receive for the next 10 years.
The fewer people counted, the less money allocated to Indiana's 6.7 million residents.

The dollars fund giant programs like Medicaid, food stamps, federal student loans and highway projects, but also things like low-income housing, school lunches, foster care and adoption support, and unemployment insurance administration.
The census affects political redistricting, congressional apportionment and even where businesses might decide to locate.
That's why—even though the first census mailings are still months from landing in mailboxes—some local and state leaders have been busy helping the Census Bureau update addresses and brainstorming ways to encourage participation.
"The challenge is, if we don't get everybody counted in Indiana, that's never good for us," said Carol Rogers, deputy director of the Indiana Business Research Center and the governor's liaison to the census. "Let's get our fair share back from Washington. Let's make sure we get our fair share of congressional seats."
Indiana historically has a high self-response rate—it tied for third place with Iowa in the 2010 census with a 79% participation rate—so it's not seen as a state at high risk for undercounting. But experts say that's no reason not to prepare.
"The census is here. It's now," said Marilyn Sanders, director of the Census Bureau's Chicago region, which includes Indiana. "It's important, and it means a lot to our communities that we get a good count in 2020."
Counting changes
A few significant changes could impact the census next year.
For the first time in the history of the census, which has been taken every 10 years since 1790 and is required by the U.S. Constitution, residents will have the option to respond to the questionnaire online. In fact, they'll be encouraged to do so.
That means, the first few pieces of mail you receive from the Census Bureau in March won't include a paper form. Instead, they'll direct you to a website or a phone number to call. The only exception will be in certain areas the bureau has already identified as unlikely to respond online; those homes will receive paper questionnaires from the start. All residents will be able to request a paper form, though, if that's their preference.
In Indiana—and across the country—focusing on web-based forms could be a problem in rural areas with a lack of broadband internet access and in low-income neighborhoods where homes might not have computing devices.
According to the Purdue University Center for Regional Development, 14.5% of homes in Indiana do not have a computing device and about 20% do not have broadband access.
The census could also ask about citizenship, but that is still uncertain. The Trump administration has requested the question be added to the form, but the matter is before the U.S. Supreme Court. A decision is expected any day.
Opponents of the question argue it could decrease census participation among immigrants and minorities who fear their answers could be used against them, but the Census Bureau is legally not allowed to share specific response data with any other government agency or the public.
The U.S. Department of Justice says the question needs to be asked to help it enforce the Voting Rights Act.
Counting dollars
Another developing trend around the 2020 census is that more states are dedicating money to support census efforts.
With $100 million appropriated for census work, California leads the pack of 14, according to the National Conference of State Legislatures. Montana brings up the rear, having set aside only $100,000.
Indiana has not dedicated any funding directly to census preparation, but that's not uncommon for the state.
The Census Bureau pays for its staff and its work, with the 2020 census expected to cost $15.6 billion, but it encourages states and local organizations to coordinate their own marketing efforts. Sometimes that work is accomplished by volunteers or within a state or local government's existing budget, rather than with specifically appropriated dollars.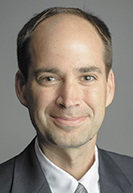 Kinghorn
Some states that have set aside census-prep money are at risk of losing a congressional district after census data is used to reapportion the seats, which could be motivating their bigger focus on census preparation. For example, Illinois, which allocated $29 million to census efforts, might lose a seat. Even if a state has a population increase, it can still lose a seat if its growth hasn't been as fast as that of other states.
Indiana is not expected to gain or lose a congressional seat. "Everything I've seen has shown that Indiana will maintain all its seats this go-around," said Matthew Kinghorn, senior demographic analyst for the Indiana Business Research Center. "It's all relative. … The other states are going to be even slower than we are."
Rogers, who will be participating in her fourth census as the governor's liaison, isn't concerned that Indiana is not appropriating money to encourage participation. She said it can be very time-consuming and bureaucratic to use state funding for census outreach, because it has to be tracked so specifically.
"Are they going to be able to spend the money on the things that are going to work the best?" Rogers said.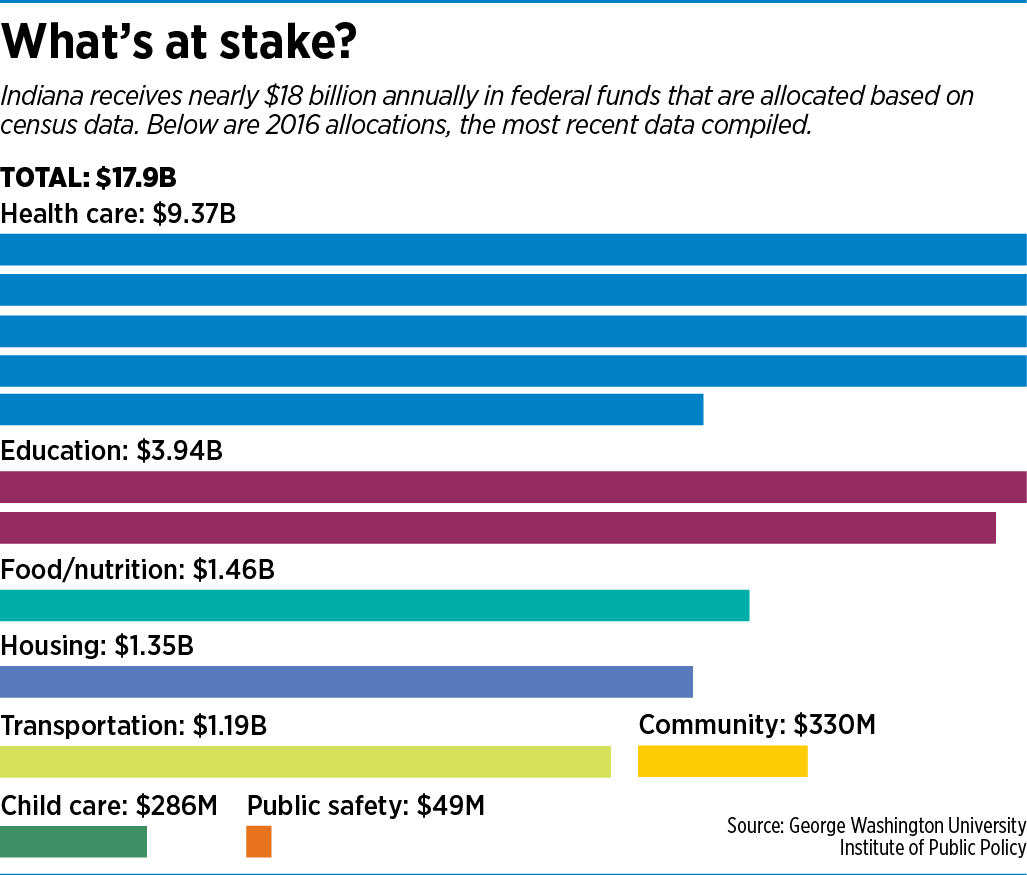 Counting committees
Census experts say the key to effectively encouraging people to respond is meeting them where they are and having the message come from someone they trust, especially in hard-to-count areas.
That's why the Census Bureau has been working with what are known as "complete count committees."
The committees register with the Census Bureau and help share information about the census—why it's important, what will be asked, how it works, etc.—with the populations they are affiliated with. Libraries, neighborhood groups, churches and other not-for-profits are often involved with these committees.
For example, the Community Foundation of Muncie and Delaware County has had three meetings for its complete count committee, gathering representatives from local not-for-profits, Ball State University, workforce boards, public libraries, the chamber of commerce and community centers.
"It made sense for us in terms of our role as a community foundation to be the one to convene a group," said Kelly Shrock, community engagement officer for the foundation.
Thirty states, plus Washington, D.C., have established a statewide complete count committee—either through executive order or by passing a law—to act as an umbrella organization for local census efforts throughout the state. Indiana has not taken that step.

Indianapolis Democratic Rep. Cherrish Pryor filed legislation this year and in 2017 that would have created a complete count committee for the state and outlined who would serve on it, but the bills did not receive a committee hearing either year.
"I think that everyone that's in the state and in the country deserves an opportunity to be counted," Pryor said. "What we lose from not having a full count has great ramifications."
But Gov. Eric Holcomb's administration has created a complete count committee, and more than 20 other local complete count committees have been set up throughout the state.
"We didn't need legislation that said, 'This is who has to be there,'" said Jill Carnell, chief administrative officer at the Indiana Department of Administration, who is tasked with leading the state government complete count committee.
Rogers said the committees created through executive order or legislation might be too prescriptive.
"We also didn't want communities to think that the state was essentially going to do everything for them," she said.
Carnell said three-fourths of all state agencies have identified someone from their department to work with the committee on census outreach. The work from the state government group could result in employees at the Bureau of Motor Vehicles reminding customers to fill out the census or Statehouse tour guides talking to groups of schoolkids about the census during their visit.
"It's really a big communication effort," Carnell said. "You'll see a big splash in the early part of 2020. We can't peak too soon."
But some of the local committees are already talking to the public.
Count Me INdy, the local group for Indianapolis, had a kick-off event in February and has started sending representatives to community events, like Indy Pride and the Far Eastside Festival.
The group has also created multiple subcommittees to focus on hard-to-count populations, including low-income and minority neighborhoods and areas with a high number of renters.
Count Me INdy, which is led by Callie Kennington, the senior planner for engagement at the Indianapolis Department of Metropolitan Development, will also hire five to seven "ambassadors" on a contract basis to help with its work. The group has $200,000 in funding from the Indianapolis Bond Bank.
Sanders, the Census Bureau regional director, said she wouldn't consider Indiana behind other states just because it didn't allocate funding or establish a statewide complete count committee.
"We want the state to do what works for them and their constituency," she said. "Indiana has been off the chart in terms of their support."
Counting jobs
While the volunteer work through the various complete count committees and associated groups is helpful, the Census Bureau will also establish a large staff nationwide. Some jobs last only a few weeks or months at a time; 25,000 positions are expected to be needed in Indiana, according to Rogers.
With unemployment at 3.6% in the state, it could be hard to find Hoosiers.
That means the work of the complete count committees is critical. The more households they get to respond, the fewer door-to-door visits will be necessary, which reduces the number of people the Census Bureau needs to hire.
Sanders said the Census Bureau is recruiting people to apply for positions online now, but peak hiring won't happen for months yet. The schedules are flexible, she said, depending on the job, and the pay averages $15-$19 per hour. "It all depends on where you're working and what you'll be working on."
Individuals who are at least 18 years old, have a valid Social Security number, and are a U.S. citizen are eligible to apply. Anyone selected will have to pass a background check.
"This is an opportunity that comes around every 10 years," Sanders said. "You get to work on something that's so important to your community."•
Please enable JavaScript to view this content.