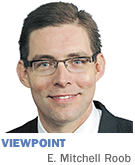 The recent slump in the domestic auto industry reminds us of the importance of innovation and creating something that will
be attractive to the consumer tomorrow. Companies that don't foresee and adapt to the changing needs of their consumers
ultimately fail.
It's with that same attitude that Indiana needs to look at its work force. We need to take
a careful look at how we are preparing the students of today to be tomorrow's workers.
Students need to
take only two years of mathematics to graduate from high school in Indiana. Unfortunately, those requirements won't
get them into many of the state's public or private universities or adequately prepare them for high-technology life
sciences and manufacturing jobs. Some suggest changing high school graduation requirements to include either the passage of
calculus or hamburger-flipping class to ensure our next generation has marketable skills. Without question, as young Hoosiers
prepare to be valuable members of tomorrow's work force, math matters most.
Proficient math skills are a
must for Indiana's existing manufacturing industry and growing life sciences sector. Indiana has become a hub for not
only life sciences research and discovery, but also manufacturing: Hoosier companies like Zimmer Inc., Biomet and the Cook
Group dominate the medical-device market, while Indianapolis-based Eli Lilly and Co., Illinois-based Baxter International
Inc. and others are major producers of lifesaving medicines.
How can we maintain this advantage in "bio-manufacturing"
and add even more of these jobs? The life sciences and manufacturing industries share a common need—a skilled work force
with proficiency in math.
Indiana's manufacturing landscape is no longer dominated by the assembly line
and use of simple tools, but is high-tech and ever-changing. More than 500,000 Hoosiers are employed in advanced manufacturing
jobs, according to Conexus Indiana. These jobs demand the mastery of new techniques and processes. As the air gun, drill press
and blowtorch give way to the computer-numerical-controlled lathe, robotic welder and microscope, increased programming and
technical knowledge will become necessary.
Unfortunately, Indiana's current educational pipeline isn't
sufficiently preparing Hoosiers for high-tech careers. One of every four students failed the math Indiana Statewide Testing
for Educational Progress test in 2008, while a third of all 10th-graders failed the Graduation Qualifying Exam's math
standard. These struggles in math persist in higher education and surely contribute to our poor educational attainment overall:
Only 7 percent of Indiana's young workers have earned an associate's degree, and we rank 44th in the percentage
of college graduates in our adult work force.
It's clear Indiana must take action today to stay competitive
in tomorrow's economy. Fortunately, several such efforts are under way to combat the negative trends:
•
The BioCrossroads life sciences initiative has led to the creation of the I-STEM (Science, Technology, Engineering and Math)
Network, a resource for K-12 teachers that unites higher education institutions with private and philanthropic partners to
offer curriculum ideas and professional development opportunities for educators.
• As I-STEM seeks to improve
the quality of education at the K-12 level, the "Dream It. Do It." campaign from Conexus Indiana is creating post-high-school
opportunities to prepare young people for manufacturing careers in growing fields like the life sciences.
These
efforts now have a valuable ally in Indiana's Superintendent of Public Instruction Tony Bennett, who has an ambitious
agenda to improve graduation rates and make Indiana's academic achievement and career preparation among the best in
the country.
Focusing on mathematics education must be the cornerstone to those efforts. A dedication to higher
standards for Hoosier students is imperative and, more than ever, this starts in math class. When we combine our heritage
of manufacturing excellence with a commitment to the academic requirements of tomorrow's careers, we have a formula
for success that keeps Indiana on the cutting edge of the future economy.•
__________
Roob
is Indiana's secretary of commerce and CEO of the Indiana Economic Development Corp.
Please enable JavaScript to view this content.