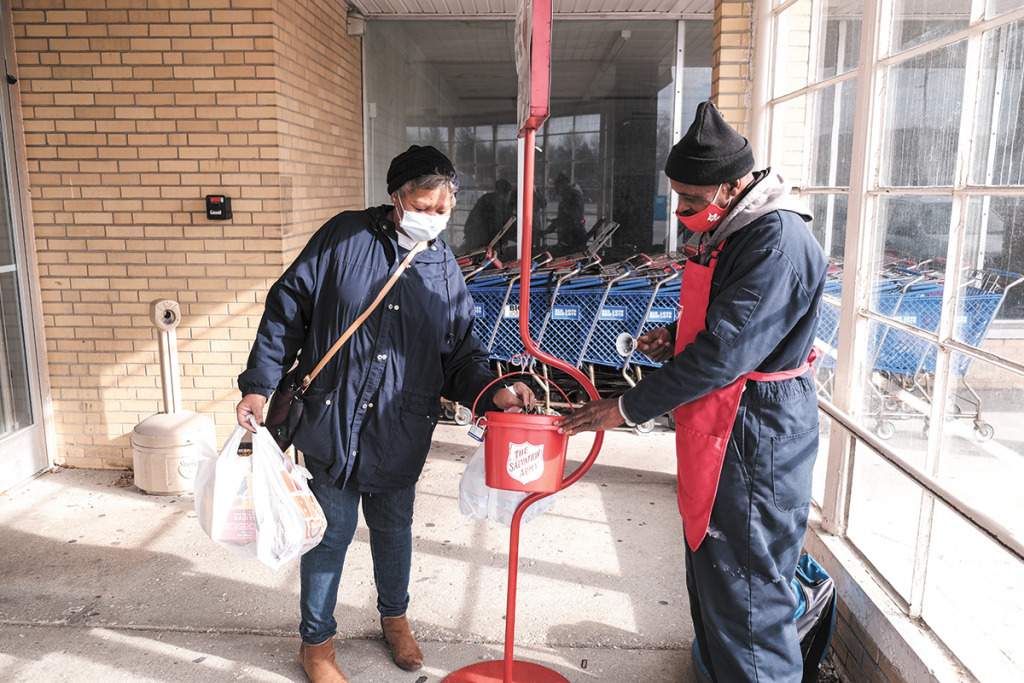 The holiday season for Jason Glenn usually means spending hours outside stores next to an iconic red kettle.
He started volunteering for the Salvation Army of Central Indiana in 2012 and, in his first year, raised $258. That wasn't enough to him.
"I was like, 'This isn't going to make a real impact,'" Glenn said. "My goal was to always do more and more and more."
So, he's been outside with a red kettle every year since then. Last year, he collected $1,737. But he still thinks he could do better.
"If you do the math, that's not really that much per hour," Glenn said.
But this year, Glenn won't be ringing a bell and courting shoppers as they pass by the bucket. With COVID-19 cases at the highest level since the beginning of the pandemic in the spring, Glenn—who is considered high-risk—decided to prioritize his health and safety.
"It's not because I don't want to," he said. "I would love to be out there with them."
The red kettle campaign—which is key to funding the social services programs the Christian organization provides—is moving full steam ahead, despite the ongoing pandemic.
This year could be tougher than ever, as already-existing hurdles, such as a decrease in foot traffic and steady decline in how many people carry cash, are exacerbated by COVID-19.
The red kettles started deploying to shopping malls, grocery stores and other high-traffic areas this month. Volunteers and staff are going through extra training and being given personal protective equipment if they don't have their own. And equipment is being sanitized.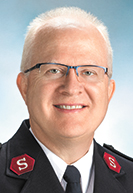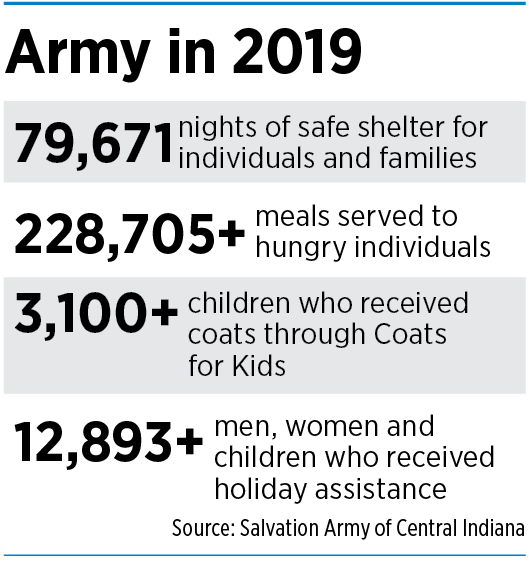 "Our number one priority and concern was safety for everyone," said Major Marc Johnson, the divisional commander of the Salvation Army Indiana Division.
But Glenn isn't the only volunteer making the tough decision to stay home this year. Johnson said Salvation Army is struggling to recruit volunteers—or even paid employees—to man the kettles.
"Many of our volunteers have health situations that would limit their ability to come out," he said. "And I think some people are just very nervous."
Facing headwinds
Salvation Army officials are most worried this year about collecting the money that goes directly into the buckets.
Nationally, the group estimates it could see a 50% decrease in cash raised through the red kettles as people avoid being out in public. That's on top of trends like online shopping and credit card usage that already have cut into cash contributions.
In 2019, the Salvation Army raised $126 million nationally through 30,000 red kettles. The Indiana chapter raised $2.7 million through the kettles.
But over the past five years, cash donations to the red kettles in central Indiana have dropped nearly 32%. This year, the group aims to collect $726,000 in just the buckets. That would be an increase from the $636,075 it raised last year from the kettles.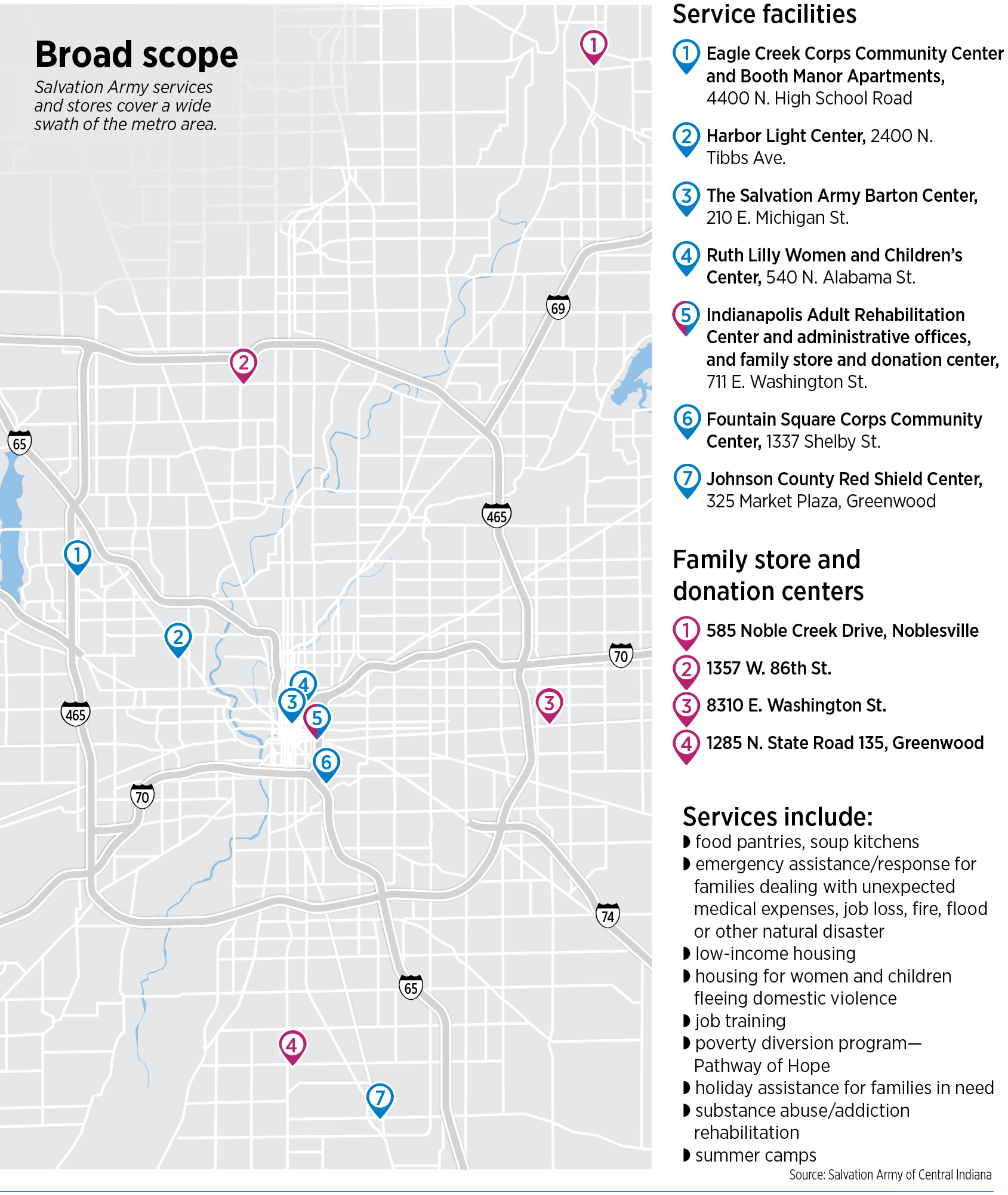 Combined with mail and online donations over the next month, the organization is trying to raise $3.2 million through the campaign.
The red kettle campaign supports all of the Salvation Army's programs and services, which focus on providing food, housing, job training, substance abuse rehabilitation, and emergency and holiday assistance.
Of the nearly $13 million in revenue the Salvation Army of Central Indiana received last year, more than 60% came from public contributions over the course of the year.
And it wasn't enough. The group finished 2019 with a budget deficit of more than $280,000. This budget crunch comes as the pandemic and resulting economic downturn have driven up demand for Salvation Army services.
Last Christmas, the group served 68,000 people in Indiana by helping put food on the table and gifts under the tree, paying bills or providing shelter. In September, the organization estimated it would see a 155% increase in the need for services by the end of the year.
"There are many people who find themselves in need of some help who previously had not been in that situation," Johnson said.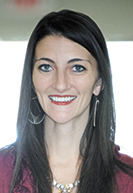 Carolyn Kaflik is the withdrawal management lead intake counselor at the Salvation Army Harbor Light Center. But she was once a client. In 2011, she turned to one of the detox programs for a substance abuse problem.

Kaflik credits the red kettle campaign, which pays in part for addiction programs, for saving lives.
"If it wasn't for the Salvation Army, I don't know if I'd be here today," she said.
In her role at Harbor Light Center, she has noticed that the pandemic has led to an increase in mental health problems and more people turning to substance abuse to deal with their emotions.
"Those are exactly the services that the Salvation Army provides," Kaflik said.
But at the same time, the safety precautions the organization has had to take have limited how many people they can serve.
"It's unfortunate. … The pandemic has just put a halt on everything," Kaflik said. "And if anything, it's just made the need greater."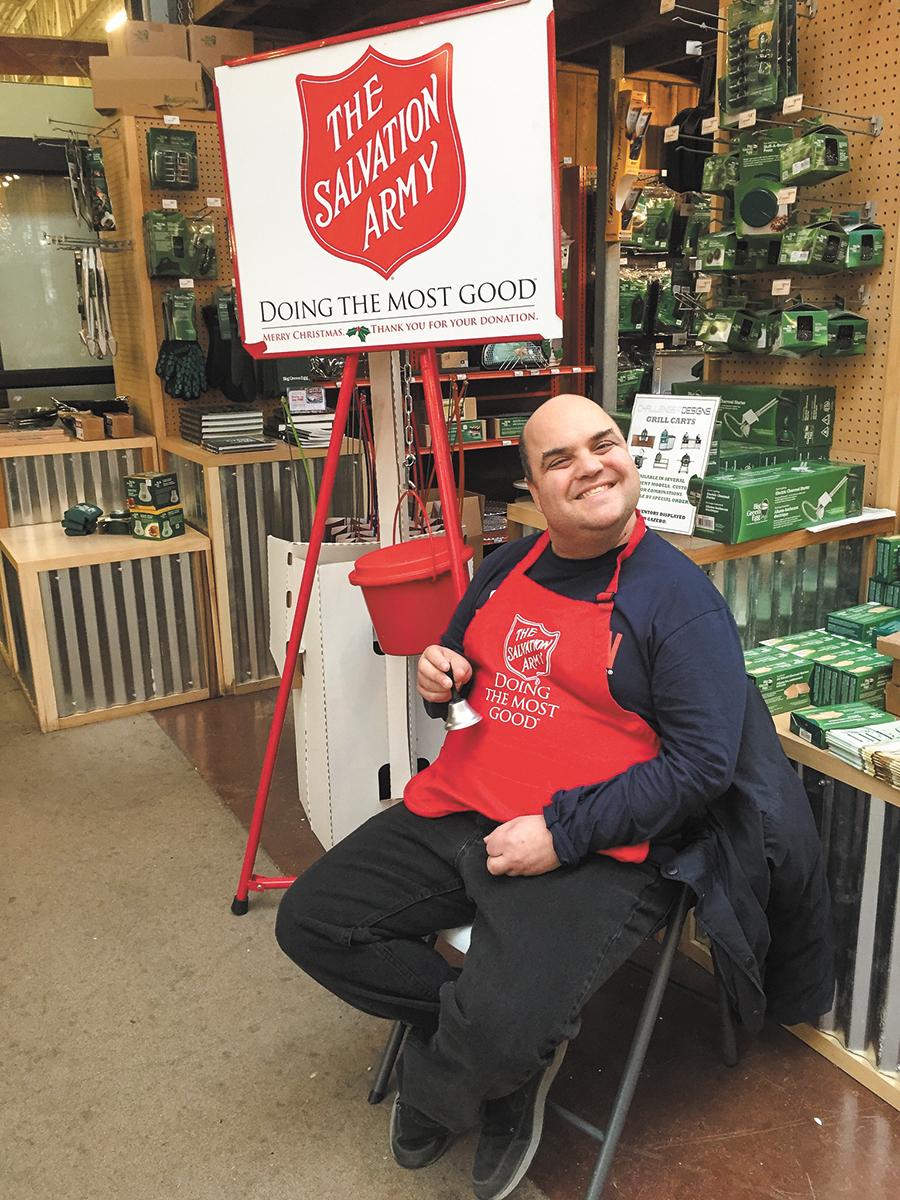 Other options
More so than ever before, the Salvation Army is doing everything it can to reach donors and collect money any way possible.
QR codes (black squares you scan with your phone's camera to be directed to a website) and electronic tags to donate through Apple Pay or Google Pay are on the kettles. The group launched a virtual red kettle campaign online in September. Officials also hope mail-in donations will be strong, as they usually are.
Some stores, such as Walmart, are also partnering with the Salvation Army to allow customers to round up their totals to donate the difference to the organization.
"That's the spare change we used to have in our pocket," Johnson said. "Every donation, no matter the size, is very, very important."
The local Salvation Army also had an anonymous donor offer to match every dollar of cash donations made from Nov. 21-25, up to $50,000.
Johnson said some of the technology-focused tactics have been used in previous years, but the pandemic caused officials to accelerate plans to offer alternative ways of giving. For example, the QR codes were available last year but weren't promoted well. And this year, giving that way is tracked to the specific red kettle, so it acts the same as if someone dropped coins or dollar bills into the bucket.
"We're seeking to be very flexible," Johnson said.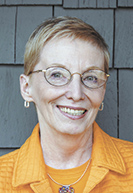 Jessica White, president of fundraising consulting firm Jessica White Associates, said even with the extra ways to give, the Salvation Army might struggle to meet its fundraising goals.
"I do think it's going to be terribly tough on them this year," White said. "There's not much virtually you can do to replace the red kettles."
She said it's smart that the Salvation Army is offering so many options for how people can give, though, because some donors probably still prefer to drop coins in the bucket, while others might want to give only through their phones.
"Unless you know your audience is all in one group … you can't make a judgment about how people want to give," White said. "I think that's just part of fundraising in general, pandemic or not."
She said it also might help that more people are familiar with QR codes now, as many restaurants have switched to offering menus that way.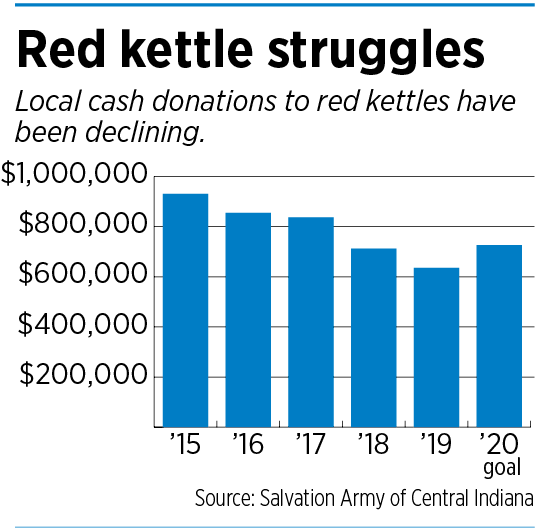 In general, White said, not-for-profit fundraisers have been doing well, but the problem for organizations in the social service sector is that those donations aren't keeping pace with the increase in demand for services.
"I just don't think it's possible for the contributions to keep up with that," she said.
Guarded optimism
Johnson said he has "guarded optimism" about how the campaign will go this year.
"I know the people of central Indiana are generous people," he said. "Yet, I'm realistic. I know there are concerns."
With direct giving to the red kettles already on a downward trend, Johnson isn't sure what the future holds for the holiday fundraising staple.
He said if someone had told him 35 years ago, when he started working for the Salvation Army, that the red kettles wouldn't exist someday, he would have said, "That's crazy."
"Today, I would say, 'Hmm … maybe that could happen," Johnson said. "But do I see it totally going away in the near future? I don't think so."•
Please enable JavaScript to view this content.