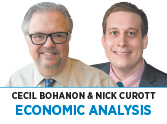 Having worked in professional capacities with Afghan academics in both Muncie and Kabul, we are saddened by the unfolding tragedy in Afghanistan. We have friends who are in danger from the emerging radical Taliban regime. We enthusiastically support American efforts to evacuate our Afghan friends and resettle them to the United States. These immigrants will make awesome contributions to our nation, economy and culture.
There are an endless number of takes on what went wrong with America's 20-year involvement in Afghanistan. Why did the American-backed Kabul regime fail? One intriguing answer is from our colleague and friend at the University of Washington, professor Anthony Gill. He argues it was a failure in the basic economics of governance.
A bit of background: Afghanistan is a tribal society dominated by tribal leaders and subject to tribal conflicts. This makes establishing an effective national government difficult. After the Soviet exit from Afghanistan in 1989, economic activity came to a crashing halt as the national government collapsed and tribal warlords jockeyed for power. Gill reports that, at a key artery of commerce—the Kandahar-Herat highway—"different tribal organizations would take sections of this highway, stop all transit, and tax the commercial merchants. With so many taxing organizations taking money from truckers every few miles, it became too expensive for anybody to run their goods along this road."
Enter the Taliban. Yes, its members are religious fanatics willing to die and kill for their own twisted and perverted version of the Islamic faith. Yes, they impose barbaric rules oppressive to women, LGBT individuals and religious minorities. However, just as numerous European theocrats historically imposed strict and effective discipline on their followers, the Taliban's fanaticism keeps its adherents in line. Such organizations can effectively wage war and administer basic public functions like tax collection and road repairs. Under Taliban rule, commerce started flowing again.
This is in sharp contrast to the American-backed Kabul government, which tried to build (impose) a regime based on vague notions of Afghan nationalism, liberal democracy and modernism. Or, more to Gill's point, the American-backed Kabul government could never build any sense of solidarity, loyalty and purpose in its own ranks, either administrative or military. Despite good-faith efforts, it was mired in corruption and incompetence and fell like a house of cards when challenged.
Afghanistan has been a fiasco. Our point is not to assign blame but to try to understand what happened. Professor Gill's insights help.•
__________
Bohanon and Curott are professors of economics at Ball State University. Send comments to ibjedit@ibj.com.
Please enable JavaScript to view this content.