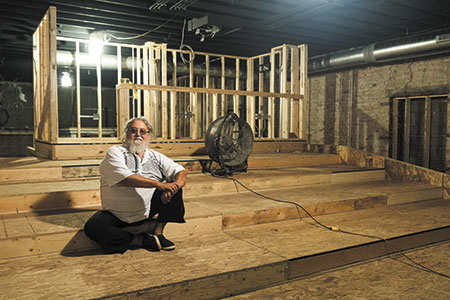 It was a tumultuous 2018 for Bryan Fonseca. 
A series of celebrations for the launch of the new home for the Phoenix Theatre—a company he co-founded and for which he served as producing director—was quickly followed by his departure from the company. As the theater community played "Which side are you on?" and drew dividing lines, Fonseca stayed out of the fray, turning his attention instead to creating a new theater on Indy's west side. 
Fonseca Theatre jumped headlong into a full season of plays focused on diversity and issue-driven theater, using Indy Convergence and other existing spaces. At the same time, Fonseca and his team purchased and began renovating a new theater.    
Targeted for completion in time for this season, the space will house such plays as "Salt Pepper Ketchup," which concerns a Chinese restaurant in a gentrifying neighborhood, and "The Brothers Paranormal," about a pair of Thai ghostbusters. (As of press time, Fonseca hadn't announced his full second season.)
It's been just over a year since you announced the creation of Fonseca Theatre. What have you learned?
That the neighborhood is not only happy that we are producing plays as a professional company, but also that they want to perform in a community theater environment. That was born out of their response to our acting classes.
Will that change your programming?
No, not our regular season. But we plan on adding something—something not issue-oriented and more family-friendly using community talent. We also learned that folks from Hawthorne don't jump the tracks and come to Haughville. So why not have some old-fashioned parties that bring people together? We're working on a Latino music series.
That's all in response to the neighborhood.
What about the content of your mainstage shows?
Quite frankly, we'll be a little more cautious than people who know me might expect. The community is a lot more conservative than Chatham Arch was, especially dealing with LGBTQ issues. Our material won't be as in your face as it is about looking at issues of the day. We wouldn't produce "Naked Boys Singing," for instance, or other shows I produced because they were outrageous. But there are other materials to start with and still represent the members of the community who want us to explore LGBTQ.
You had a strong response to Fonseca Theatre's production of "Lady Day at Emerson's Bar & Grill" (a play with music about Billie Holiday, which was performed in a local bar) and "Miss You Like Hell" (which was staged in a warehouse—although the run was cut short because of summer heat). Site-specific work—plays produced outside of a traditional theater—isn't something you were known for at the Phoenix. 
The idea of working in the community and collaborating with our neighboring businesses has been very positive. We'll probably continue to do one play a season off-site. There's something really exciting and fun about being in a non-conventional space. In all my years of running the Phoenix, I never had the opportunity. 
Statistically, white male playwrights have long dominated theater here and elsewhere. You've been a champion of greater diversity, and this season seems to have a wider range of representation. The Indiana Repertory Theatre has a greater range of playwrights on its lineup for 2019-2020. We now have Summit Performance, a theater focused on plays by women. The District Theatre is housing the LGBTQ-focused Bolt Theatre. And the Phoenix continues to showcase diverse subjects. Do you think some of your past statements have had an impact on what we're seeing?
I just came out and said that this is a shame. There are all these Equity companies and there was one playwright of color last season. I pushed really hard in my curtain speeches and on social media, and I think people have picked up on that. And perhaps they were getting feedback from their own audiences as well.
Established theaters sometimes have tried to make the case that non-traditional—meaning younger and less white—audiences are more difficult to reach.
I firmly believe that the audience is there. We as producers will say it's hard to get people, consistently, to see a play by a playwright of color, but, well, we've never consistently presented them. I think that that's the point we have to make. The more we do it, the more we are going to realize this audience is there. 
Are you worried about competition?
Good theater supports other good theater. And good theater with a wider range of cultural stories and communities will support more of the same. And employment opportunities for artists of color increase.•
Check out more A&E content.
Please enable JavaScript to view this content.