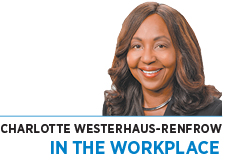 If your boss constantly hovers over you or your fellow employees, watches your every move, demands unnecessary progress reports and criticizes the slightest mistakes, he or she might just be a micromanager.
The ill-effects of micromanagement
According to a recent survey commissioned by Robert Half, 59% of workers said they had been micromanaged at some point in their career. In a 2018 study by career site Comparably, 39% of respondents said being a micromanager was the worst trait a supervisor could have. A Trinity Solutions survey published in Harry Chambers' book "My Way or the Highway, revealed that 79% of respondents had or were currently experiencing micromanagement in the workplace.
While the traits of a micromanager are easily recognizable, unfortunately, the negative forces can have a chilling effect within a business setting. Of those who identified as managers themselves in that survey, 77% said their morale was impacted negatively by micromanagement and 62% considered changing jobs because of it. A 2017 Accountemps survey found 55% of employees who were micromanaged reported it hurt their productivity.
Moreover, the Journal of Experimental Psychology published a study showing people who believe they are constantly under scrutiny don't perform as well as they could. Moreover, other studies have shown micromanaging bosses increase employee stress, which can lead to health issues like increased risk of a heart attack, high blood pressure and sleep problems.
The signs of a micromanager
Let's look at some additional symptoms of micromanagers:
◗ They resist delegating work. Micromanagers believe that they are the only ones who can do the job right. Micromanagers don't trust others to do quality work.
◗ They dictate, rather than direct. Micromanagers tend to jump right into giving detailed steps on how to carry out a task. In some cases, it takes longer to explain the steps than complete the task.
◗ They need to feel in control. Micromanagement is the ultimate controlling management style. For example, they send countless emails asking for a status update on a task or project.
◗ They rarely delegate interesting or important work. Most of it is trivial and boring work, which aggravates their people. But If they do delegate, they tend to pull back the assignment at the first hint of trouble. Instead of seeing the delegation process as an opportunity to develop others, they rush in to save the day.
◗ They discourage others from making decisions. Micromanagers get irritated when employees take the initiative to complete a project or job.
Advice to micromanagers
Bear in mind that micromanagers are not bad people and are often well-intentioned. Chambers revealed in his book that 91% of micromanagers have no idea that their behaviors were causing people to quit. However, micromanaging is a very hard habit to break.
Perhaps upon reading the above list of micromanaging behaviors, you realize that you routinely exhibit some of these behaviors at work. Fear not—the vital first step in changing your micromanagement tendencies is to recognize that they exist and that your current management might not be as effective as it could be.
Here is a five-step recovery program for micromanagers who need to learn new habits.
1. Hold fewer meetings and send fewer emails.
2. Learn to delegate. It is one of the best ways to develop your people.
3. Trust your employees. Hire the right people and leave them alone.
4. Give your employees the autonomy to make decisions. Be a facilitator and not a taskmaster.
5. Get some coaching! Do not attempt to correct your micromanaging behaviors by yourself. With a good coach, you will be able to create a realistic game plan to minimize your micromanagement.
The following quote attributed from William Powell, the retired U.S. four-star general, may offer the best advice to a recovering micromanager: "Trust is the glue that holds people together and is the lubricant that keeps an organization moving forward." In the long run, trust is the best way to go about diminishing micromanagement and enhancing employee engagement and productivity.
In sum, micromanagers diminish employee retention and drive away the most productive and creative employees. If you are a micromanager, you're conveying that you do not trust that your employees can work on their own and still produce good results. Moreover, if your employees don't believe you genuinely trust them, they will return the favor, and there's a good chance they will distrust you even more.•
__________
Westerhaus-Renfrow is a clinical assistant professor of business law and management at IU Kelley School of Business at IUPUI.
Please enable JavaScript to view this content.