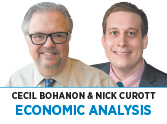 No one can help but notice that the cost of living has exploded over the last year. The inflation rate, as measured by the consumer price index, is currently 8.5%—the highest rate in 40 years. And the inflationary pain is likely to get worse before it gets better.
The primary cause of all this inflation is that the Federal Reserve has printed too much money. So what are they going to do about it? The simple fact is that the United States has never brought inflation down from a rate this high without triggering a recession. So how did we get here?
One little heralded change was when the Fed moved in 2019 from a two percent inflation target to a two percent average inflation target. This might sound innocuous, but it had big ramifications.
Inflation had consistently been below 2% for some time before the move. But instead of re-committing to a 2% percent rate as a goal, the Fed told the world it would like to see inflation exceed 2% for an unspecified time frame to "make up" for previously deficient inflation. We argued in fall of 2020:
"The move is easily seen as nothing more than a fig leaf for the Fed to increase its own discretion. It can allow inflation to run over or under 2% for an indefinite amount of time and claim to be following its policy. But this is, as our British friends say, 'too clever by half.' Increased discretion sows (the) seeds of uncertainty."
In retrospect, we were right. Expected inflation is now well above two percent. And the Fed has lost much of its credibility. Average inflation targeting was doomed from the beginning because it fell prey to the classic time inconsistency problem with monetary policy.
Easy money is always nice in the short run, because lower unemployment and higher GDP growth come first, while higher inflation comes later. But lowering inflation is painful because it slows economic growth and raises unemployment in the short run.
Average inflation targeting is never a good idea in a world where central bankers are real people subject to the political temptation to inflate. Sure, the Federal Reserve gave a pinky promise they'd bring inflation down again to 2%—but we were never told when.
When the time comes to lower inflation, it's never the right time. That is until it is too late.•
__________
Bohanon and Curott are professors of economics at Ball State University. Send comments to ibjedit@ibj.com.
Please enable JavaScript to view this content.