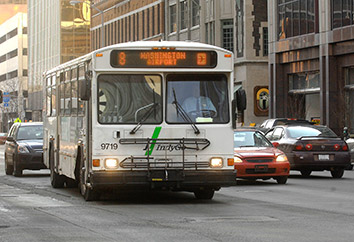 A controversial Indiana Senate bill that could have stripped funding from IndyGo and prevented two new bus rapid-transit lines from moving forward has hit a major roadblock in the House.
Rep. Jim Pressel, R-Rolling Prairie, who chairs the House Roads and Transportation Committee, will not schedule the measure for a vote by Thursday's deadline for passing bills out of committee, his spokesman said Wednesday.
Senate Bill 141 passed the Senate 32-17 on Feb. 23 with seven Republicans joining Democrats in opposition. Pressel conducted a hearing on March 24 during which two hours of testimony were presented, but a vote wasn't taken. Other people who wanted to testify didn't get a chance to speak.
"Senate Bill 141 is complex legislation with passionate voices on all sides,," Pressel said in a written statement. "Despite meaningful conversations among stakeholder groups and legislators, it's obvious that consensus won't be reached before the committee report deadline."
Senate Bill 141, authored by Sen. Aaron Freeman, R-Indianapolis, would withhold 10% of local income tax revenue from IndyGo until it meets a private fundraising threshold established in a 2014 law. It also would prevent IndyGo from moving forward with expansion projects, like the Blue and Purple lines, until it secures private funding.
Pressel said last week he wasn't sure whether he would put the bill on the calendar, as he wasn't comfortable with the bill as it stood and wasn't in favor of an amendment proposed by House sponsor Rep. Bob Behning, R-Indianapolis.
Lawmakers were working toward a compromise on the issue, and Pressel said he wanted concerned parties to find common ground. Supporters of the bill wanted to see IndyGo prohibited from using dedicated lanes along the Blue Line route. Opponents argued that change could cause a ripple effect that significantly reduces federal funding for the project.
Freeman was not available for immediate comment. Freeman has said IndyGo is not meeting state law's current requirements and he filed the bill to hold the system accountable.
While SB 141 won't proceed without Pressel's cooperation, there is a chance lawmakers could put similar provisions in other bills before the end of the session later this month.
Please enable JavaScript to view this content.