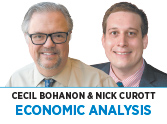 The "labor shortage" is a major economic topic of the day. The current focus is on how much of the shortage is a byproduct of generous federal unemployment compensation and how much is attributable to other factors. We'll note economists and labor-market experts cannot really say until all the data is in, and even then, they will debate the importance of the various causes.
It's a basic economic principle that, if there is a shortage of something, its price is too low. Economic theory says a shortage will lead to a rise in price that, over time, will reduce the quantity demanded and increase the quantity supplied, eliminating the shortage. We see this all around us—who hasn't observed signboards where employers offer bonuses and higher wages? It's also in recent government employment reports.
Nevertheless, we think today's labor shortage is just a sideshow to what is going to come over the next few decades. The one major fact that will shape labor markets: the underlying change in age demographics in the United States, which has little to do with either ideology or government policy.
Imagine a facility that caters to retirees over 65 years old: a restaurant, a health center or a retirement community. The services are overwhelmingly provided by employees under the age of 65. The U.S. Census Bureau tells us that, in 2016, there were 49.3 million U.S. residents age 65 or older and 210.3 million age 18 to 64. It also estimates that, in 2030, there will be a 49% increase in the number over 65, but just a 3% increase of those age 18 to 64. For every 100 customers of old-folks' services in 2016, there will be 149 in 2030; for every 100 potential providers of those services in 2016, there will be only 103 in 2030.
One need not have a doctorate in economics to figure out the implications. Wages of workers will rise. Prices paid by consumers will also rise. The under-65 workers will be better off, the over-65 retirees will be worse off. Retirees will feel shortchanged and angry. Younger workers will be irritated at grumpy old folks.
And the data suggests this will go on for decades. Sometime in the 2040s, expect a cranky 90-something Bohanon to give a rattly, gaspy cry of, "These kids today don't want to work!" as he collapses face-first into his lukewarm bowl of oatmeal.•
__________
Bohanon and Curott are professors of economics at Ball State University. Send comments to ibjedit@ibj.com.
Please enable JavaScript to view this content.