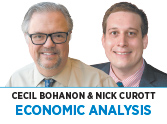 The government says Google is a monopoly and will sue the company for alleged anticompetitive practices. As usual, what the Department of Justice is doing will probably promote harm in the name of doing good.
Antitrust law is based on a static model of an economic market. In the static model, the market is characterized by perfect competition or pure monopoly. In perfect competition, numerous identical sellers provide an identical product. Think of hot dog stands in a large downtown. Competition ensures consumers get hot dogs at the lowest sustainable price and sellers earn zero economic profits. This is contrasted to a pure monopoly where a single seller controls all the hot dog stands, gets a higher price for the hot dogs and earns an economic profit.
Although this static model may be an appropriate starting point for a "principles of economics" class, it bears little resemblance to the actual economy. Entrepreneurs are constantly innovating by devising new products, cutting costs, offering greater variety, and finding other ways to satisfy consumers. Highly creative entrepreneurs revolutionize entire industries and earn monopoly status temporarily. In stark contrast to static monopolies, these "creative monopolies" are beneficial.
We know of no major downtown where lunch-fare is relegated to identical hot dog stands. There are gyro stands, sit-down restaurants, delicatessens, fast food chains and food delivery services. To have monopoly on hot dog stands is frankly irrelevant.
Government officials certainly don't know the countless and ever-changing details of the market. Nor are they likely to intervene in ways that make markets more efficient. Antitrust legislation sings an irresistible siren's song for sour grapes firms who want to tie up their more successful rivals in court.
Pointing to Google's 86% market share is a poor indication of monopolization because it glosses over rivalrous competition through time. Twenty years ago, Yahoo and AOL dominated internet search and traffic. As recently as 2006, MySpace drove more daily traffic than Google. And defining a market so narrowly as to encompass only search engines is misleading. Sure, consumers like Google's search engine, but no way are they abandoning Zoom for Google Meet.
While government bureaucrats lose sleep over Google's large market share, investment capital is flowing to the competitor that will likely put Google out of business. Looking ahead 20 years it is impossible to predict who will dominate cyberspace, but we'll bet a dollar to a dime it won't be Google.•
__________
Bohanon and Curott are professors of economics at Ball State University. Send comments to ibjedit@ibj.com.
Please enable JavaScript to view this content.