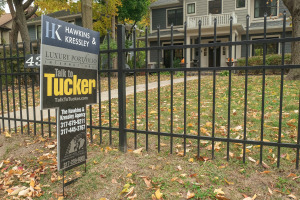 Contemplating the current residential real estate market makes Lynn Wheeler, agent and team leader for Berkshire Hathaway Home Services, feel old. Her 17 years of experience makes the 42-year-old agent something of an elder statesman.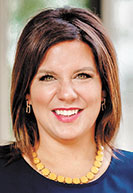 Many of her younger colleagues have known nothing but extremely low mortgage rates, high demand, low inventory and quick sales. The current landscape—pocked with climbing mortgage rates, inflation angst and recession fears—is unfamiliar territory.
"For someone who went through 2008 and 2009 [otherwise known as the Great Recession, when the housing market cratered], this is nothing," Wheeler said. "But a lot of agents don't know how to react when they see properties that don't sell within hours or days."
They and their clients will likely have many such experiences this winter.
The cold months pretty much always herald a drop in residential real estate sales. It just isn't a great time to schlep around looking at houses. This season, however, is expected to bring a  lower dip than in recent years.
In September, mortgage rates edged above 6%, dropping statewide home sales 13% from the same month in 2021. Home prices have also declined for three straight months, with the typical Hoosier abode going for $235,000 last month—down from $240,000 in August.
This month, mortgage rates went even higher, nearing 7%.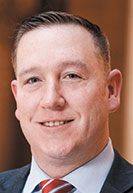 "We expect the seasonal slowdown to look sharper this year," said Mark Fisher, CEO of Indiana Association of Realtors. "Obviously, higher mortgage rates will cause more buyers to pull back from the market, and we don't expect major movement in interest rates before the next inflation report and the Federal Reserve meeting in November."
So, has the advantage swung from sellers to buyers? Not quite, though the playing field has started to level.
Sellers likely won't see as many offers or quick sales. And buyers probably won't have to contend with quite so many competitors for each listing.
Still a seller's market
According to a recent survey of economists and housing experts by the real estate marketplace company Zillow, most believe a persistent inventory shortage means we won't see a true buyer's market until the end of next year—provided inventory returns to pre-pandemic levels, which is by no means a certainty.
"While nationally it's not yet a buyer's market, it is a better time to buy than at any time during the pandemic," said Orphe Divounguy, senior economist at Zillow. "Buyers who can afford it will have a less stressful experience than they've had over the past couple of years, with more time to consider their options, more options to choose from and more bargaining power."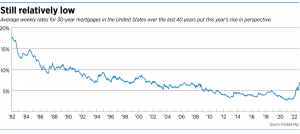 According to Divounguy, affordability (or the lack thereof) is the biggest factor driving the winter housing market. Higher mortgage rates could sideline potential buyers priced out by higher monthly payments, while sellers might find themselves reducing their price. Some of those sellers might take their property off the market, figuring it's worth enduring their not-big-enough yard or not-quite-perfect location in order to hang onto a 3% mortgage.
"Demand has cooled," Divounguy said. "Not because buyers don't want to buy, but because they can no longer afford to buy at today's prices and mortgage rates. When homeownership becomes more affordable, either through lower prices or lower mortgage rates, more aspiring buyers will jump off the sidelines."
But demand hasn't cooled everywhere. If you have a really good listing, it still might sell quickly and for full price—or close to it.
"In some ways, it's a seller's market, given the [low] inventory," said Connor Simonson, F.C. Tucker corporate marketing manager. "And if you have a home in a very desirable neighborhood, that's up to date and ready to go, you still have a fair amount of power. … But six or seven months ago, [the down-market] homes were flying off the shelves, too."
Sellers in that category are slowly working their way from grief to acceptance over the precipitous decline in their formerly lordly ability to select from numerous offers and forgo home inspections.
"A decrease in newly listed properties is natural as sellers rethink their options," Fisher said. "But fewer listings also exacerbate a longer-term, decades-long decline in inventory that [agents] see as the number one threat to the health of Indiana's housing market."
Waiting for direction
That may be, but for now, the days when bringing any halfway decent listing to market was like tossing a piece of bread into a koi pond are (for the most part) gone.
"This reshuffling of the deck has at the very least put a lot of people on pause to see what's going to happen," Simonson said. "I think that the biggest challenge for the market, moving forward, is uncertainty. People can adjust to any sort of scenario as long as they're certain about the direction."
He predicted that the market will start to stabilize after the Nov. 2 Fed meeting, when people will have a better idea of what might happen next.
"If you look back even as recently as 2016 and 2017, rates were in the fives and sixes and it wasn't a problem for anybody," Simonson said.
"I think once people get into the mindset that this is where we are now, things will improve. Also, while the last few years were great, they probably aren't going to come back, barring some tragic set of circumstances."
For anyone who was alive during the last decades of the 20th century, the red-hot market today's younger agents grew up in seems like an anomaly, not the natural way of things.
"There are maybe 1-1/2 generations' worth of people who are out there on the market who have never seen anything like this," Wheeler said. "It's a massive shock to the system. They didn't even know it could happen like this."
According to stats compiled by Freddie Mac, a 30-year fixed-rate mortgage rose to 6.94% last week. That sounds catastrophic compared with 2021's 2.96% average. But during the last decades of the 20th century, rates lingered in either the high single digits or the low double digits. For instance, in 1982, the average annual rate was 16.04%.
This winter, rates are expected to rise more, then possibly stabilize.
"It's likely going to be a mixed bag going forward," Specchio said. "With cooling demand, there is likely to be less competition for those in a strong position to buy and unafraid of higher rates."
Could be worse
In many places around the country, home sales are weaker than they are here. For instance, from June through September, U.S. home sales dropped an average of 20% from the same four months last year. But in Indiana during that period, sales dropped slightly less than 10%.
"Home sales will look slower compared to 2021, because there wasn't a 'normal' season last year," Fisher said. "Surging demand extended well into November before starting to dip. So last month's sales figures finished 13% below September of 2021, and we're likely to see a bigger year-over-year gap in October."
"It's difficult to say whether recession fears have crept into the market," said Shelley Specchio, CEO of MIBOR Realtor Association. "While closed sales were down in September, year over year, they were still above pre-pandemic levels. Despite all the headwinds, demand is still relatively strong."
Which means the seller's market continues, though in a less overheated state.
"Inventory levels are likely to remain low, and homeowners who are enjoying lower interest rates, who don't have to move, are still in a relatively strong position," Specchio said. "We did see the percent of list price received decline to 98.7%, down from 100.6%, year over year."
"On the listing side," Simonson said, "agents are having to relearn what price reductions are and what to do if a home doesn't sell in a week. Those were things that were cast aside during the bidding wars over the last several years."
One of agents' biggest tasks is adjusting the expectations of buyers and sellers to the new normal. And keeping everybody calm.
"A lot of sellers are still operating as though this were six months ago, when they could set a price and get that plus $50,000," Simonson said.  "A lot of buyers obviously are a lot more attuned to the market changes. They're the ones noticing higher interest rates, price reductions and those kinds of things. Having that divergence of expectations can create a lot of problems in what's already often an emotionally charged process."•
Please enable JavaScript to view this content.