Should Indiana create an independent commission to draw districts after the 2020 census?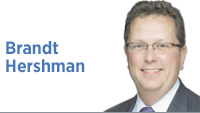 The U.S. Supreme Court recently threw a wet blanket over the smoldering arguments put forth largely by liberal special interests about the process of drawing legislative district boundaries and whether they can be significantly manipulated for partisan gain. Spoiler alert: They can't, at least in any meaningful way.
Exploring the reason for my answer can get complicated quickly, but the shortest answer is that election outcomes are driven by various factors that matter far more than district boundary lines. And I can prove it.
Hoosier Democrats have complained the supermajorities of Republicans in the House and the Senate, and the majority of Indiana congressional seats being held by the GOP, are the result of some map-drawing voodoo. However, Republicans have traditionally dominated those races that don't have district lines—races for president, U.S. Senate, and statewide offices like treasurer. And, yes, they dominate in the Legislature.
Many factors account for this, the greatest of which is that Indiana voters tend to be fairly conservative. Add to this good candidates, campaigns based on topical issues, and the ability of candidates to raise funds to communicate their messages. Those are the integral factors to victory, not a line on a map.
The argument for changes in redistricting conveniently ignores court-mandated rules, including drawing compact districts, keeping communities of interest together, maintaining the voting power of minorities, and keeping the number of voters in each district nearly identical. These mandates restrict the opportunity for political games.
Detractors also fail to recall the circumstances under which the GOP gained its supermajority. It occurred in the election after Democratic legislators fled the state for Illinois, after refusing to debate and vote on right-to-work legislation. District lines had nothing to do with a meaningful rebuke from the voters for a dereliction of duty.
Since then, I think most Hoosiers have been pretty happy with the economic growth, personal income growth, job creation and road investments that have occurred under GOP leadership—all accomplished while maintaining strong reserves and a balanced budget. I trust Hoosiers to elect those who best represent their interests. And they have.
As I've said before, redistricting-reform proponents appear to believe voters are somehow mindless robots with unshakable party affiliation. Prior election results prove otherwise.
And of states that have attempted reform, the results have been mixed. Creating a "nonpartisan" commission is unlikely. The U.S. Supreme Court is nonpartisan, but it would appear individual members' positions on the political spectrum are pretty clear. In California, the supposedly nonpartisan effort was found to be stacked with partisan plants. In Indiana, the primary "citizens" group pushing for reform is aligned with liberals and refuses to disclose the names of its members or board, or funding sources. That lack of transparency creates serious questions about its true agenda.
Indiana was recognized by The Washington Post as having among the least gerrymandered districts in the United States. I'd say let's not attempt a cynical, politically driven fix to solve a problem that doesn't really exist.•
__________
Hershman, a Republican, previously served in the Indiana Senate. He currently serves of counsel in the federal practice group of Barnes and Thornburg LLP in Washington, D.C. Send comments on this column to ibjedit@ibj.com.

Click here for more Forefront columns.
Please enable JavaScript to view this content.