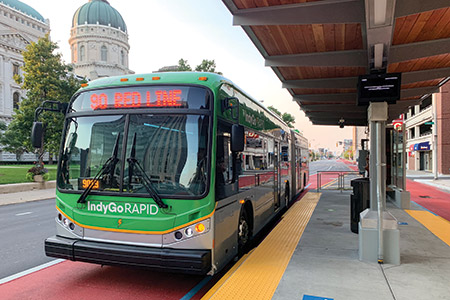 The city's first bus rapid-transit line is up and running, but public-transportation advocates are just getting started—and they're hoping the next mayor of Indianapolis is on board.
"Ultimately, the goal is that we become the most connected community," said Mark Fisher, Indy Chamber's chief policy officer and a board member of IndyGo, which runs the city's bus system.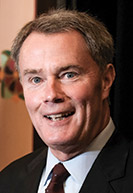 Democratic Mayor Joe Hogsett, who is seeking a second term, and Republican state Sen. Jim Merritt, who is challenging Hogsett, both say they voted for the 2015 transit tax referendum that helped fund the 13.1-mile Red Line. And both said they want to see the route succeed.
Hogsett describes bus rapid transit as a "game-changer for many of Indy's residents." And he said other IndyGo improvements, including longer hours and more frequent service on other routes, have been equally important.
"My office has been proud to encourage IndyGo to develop those rapid-transit lines," he said.
But it wasn't always clear that Hogsett's heart was in the project.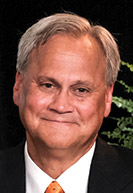 In fact, he didn't publicly endorse the referendum. And even after nearly 60% of voters said yes, Hogsett declined to take a position when the proposal came before the City-County Council, saying the decision wasn't his to make.
Now, he says he supports the buildout of the two other BRT lines IndyGo is already working on—the Purple Line, which would run through the northeast side of the city along 38th Street, and the Blue Line, which would connect downtown to both the east and west sides of the city, including a stop at the Indianapolis International Airport.
Merritt says he's a supporter of those lines as well, although he wants "to look at the lessons learned from the installation of the Red Line," which launched Sept. 1 and runs from the University of Indianapolis on the south side to Broad Ripple, before moving forward with the other routes.
And Merritt is critical of Hogsett's decision to stay out of the debate that made BRT possible.
"If you're a leader, you're no longer a citizen," he said in an Indy Chamber/IBJ debate last month. "It's called leadership."
The mayoral candidates' positions on mass transit matter. The mayor appoints three of the seven members of the IndyGo board, which oversees the agency and sets its budgets and policies; the other members are appointed by the City-County Council.
And beyond the buses, the mayor and his administration play a key role in developing rules for other transit options. Both candidates say they are open to all forms of transit that could feasibly and affordably provide connections throughout the city.
It's important for the mayor to "constantly work on ideas to help people move," Merritt said. "Mobility is a big part of our culture."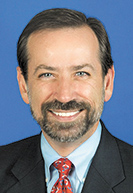 Ron Gifford, principal of RDG Strategies LLC and project manager for the Central Indiana Personal Mobility Network, said strong support for BRT from the Mayor's Office will be important for public transit over the next four years.
"It's about being that spokesperson, saying, 'This is a really important asset for our community,'" Gifford said. "There are growing pains that come with this, and it's helpful when a mayor is out front helping a community embrace these kinds of new technologies."
BRT's future
But progress has already slowed. IndyGo announced in July that construction on the Purple Line won't begin until 2021, with completion in late 2022 or early 2023; it was originally projected to open in late 2021. And the Blue Line buildout won't occur until 2023, a year later than planned.
IndyGo identified various reasons for the delays, including concerns about the viability of its right-of-way acquisition schedule, federal funding problems and the timing of other area construction projects.
Hogsett and Merritt both said they are committed to moving forward with the blue and purple lines—something transit advocates say is key because the referendum voters approved helps fund those projects.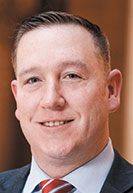 "I think denying the will of the voters is not a good precedent to set," Fisher said. "The voters spoke very clearly that they want enhanced transit options."
Hogsett said he doesn't want to see the other BRT lines "delayed any longer than is absolutely necessary." Still, he is somewhat cautious.
"I don't want to hold up our expansion of transit, but I think it's prudent that IndyGo has made the decision to at least get some kind of analysis of how people are responding to the Red Line before going full throttle in construction as it relates to purple and then blue," Hogsett said.
Merritt said his plan would be to keep the Red Line safe and clean and learn lessons that can be applied to the Purple Line and the Blue Line.
"I don't know what those lessons are yet," he said. "I'm just not at the table. But we will take the lessons learned on the Red Line, and we will improve the Red Line, should that be necessary."
Transit advocates also say the next mayor will need to support the upgrades IndyGo has made to the rest of the bus system that are talked about less often but are still important. For example, all bus routes now operate seven days a week, the frequencies on multiple lines have increased to every 15 minutes, and some routes have been adjusted to better meet demand.
Fisher described these service enhancements as "transformational."
"We are revamping our system," he said.
The 2014 state law that authorized the Marion County referendum also allowed similar votes in neighboring counties, with the idea that central Indiana could develop a regional mass transit system.
But so far, officials in other counties have not moved forward with any tax referendums—and Hogsett has not publicly pushed them to do so.
He said he's hoping the counties' reluctance will change now that the Red Line is operational. He noted that Greenwood Mayor Mark Myers attended the Red Line opening celebration at the Statehouse.
Merritt said he hasn't talked to mayors from other counties about the regional transit plan, so he doesn't know what their needs or concerns are, but said he would have those conversations if elected.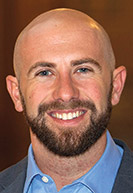 Light rail
That 2014 law also banned Marion County from installing a light rail system as part of its mass transit plan.
Since then, some transit advocates have tried unsuccessfully to overturn that restriction. In the last legislative session, a bill authored by Rep. Justin Moed, D-Indianapolis, passed the House but died in the Senate without a hearing.
"The light rail ban never made sense to me," Gifford said, describing the move as "political theater."
But the city's decision to pursue BRT instead of light rail was still "a really prudent business decision," he said. "Light rail is really, really expensive."
In Charlotte, North Carolina, for example, a 9.3-mile light-rail project cost more than $1 billion. The Red Line, in comparison, cost less than $100 million for 13.1 miles.
"If it were repealed today, no one is proposing that we build light rail today or tomorrow," Gifford said. "Currently, it doesn't make economic sense to do that."
But during an Aug. 29 mayoral debate hosted by the Indy Chamber and IBJ, Merritt said he supports allowing light rail and "should the Legislature allow light rail, we will install it in Indianapolis."
In a follow-up interview with IBJ, Merritt walked back that statement, saying he's just interested in keeping the city's options open and wouldn't necessarily install light rail.
"I think we need to be very flexible," he said. "We need to help [residents] move and be mobile around this growing downtown area."
Hogsett said the ban should be overturned to give the city more freedom, but he isn't eager to pursue a project.
"My attention would be on making our current Indy Connect transit plan as successful as we can possibly make it," he said. "I can't reasonably judge what the General Assembly would do on that matter."
Still, Moed said he will file a bill again next year to overturn the ban.
"The state law should not limit the flexibility and the options that the city of Indianapolis has," he said.
The issue is not a priority for the mayoral candidates, though—neither Merritt nor Hogsett would commit to saying they would lobby state lawmakers to overturn the ban.
If the restriction were lifted, the city could install both BRT and light rail or convert the BRT routes to light rail, according to a national transportation expert.
Art Guzzetti, vice president for policy and mobility for the American Public Transportation Association, said cities typically grow from one type of transit system to the next as they build popularity, whether that be moving from BRT to light rail or light rail to heavy rail like a subway system.
"That's very often the anticipation built in," Guzzetti said. "There's a continuum all along the way."
More options
Beyond a robust bus system, Gifford said it's critical that the mayor work with community leaders to identify, launch and expand all ways to improve transportation, whether that's through bike- or car-sharing services or electric scooters.
Gifford said the Personal Mobility Network, a group of business and community organization leaders committed to improving public transportation, is trying to increase transit options and to expand payment choices to accommodate individuals without access to debit or credit cards.
That could mean using smaller vehicles to serve on-demand routes rather than a fixed area. It could also mean tying IndyGo's new payment app that is set to launch this fall to other modes of transportation, so someone could purchase a reloadable card at a retail store that would pay for multiple forms of transportation.
"No matter who the mayor is, we would hope and expect and want them to be at the table," Gifford said. "This is one of those issues that doesn't carry a Democratic or Republican label."
Hogsett's administration has already been working with the Personal Mobility Network to pursue improvements.
"Whether it's scooters, dare I say, or any other form of personal mobility, moving from point A to point B as conveniently and as inexpensively as possible—that's the network's goal and that's what I'm happy to participate in," Hogsett said in the Aug. 29 debate.
Merritt said the key to mass-transit success is teamwork and partnerships.
"A mayor of Indy needs to coordinate, convene, collaborate, communicate, and that's what we will do," he said.•
Please enable JavaScript to view this content.