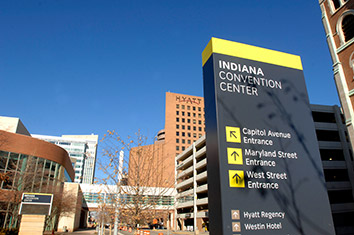 ---
The operator of the city's convention facilities was back in the black in April, marking the first positive month since the pandemic began, thanks to an uptick in tax revenue from NCAA Division I Men's Basketball Tournament and other events.
The Capital Improvement Board of Managers, which runs the Indiana Convention Center, Lucas Oil Stadium and several other downtown facilities, said Friday that April income—comprised of operational revenue from April and tax-based revenue from March—was net positive by about $588,000.
It is the board's best financial performance since the pandemic led the convention center to temporarily close down in March 2020. Every month in that span left the CIB with a deficit.
The CIB brought in about $7.9 million in tax revenue, about 35% (or $2.06 million) above budget and 25% better than 2020. Tax income, which accounts for more than two-thirds of the CIB's annual budget, is about 13.5%, or $2.68 million, above budget year-to-date. Tax revenue was off by about 30% from April 2019's pre-pandemic levels.
Most of the tax revenue—largely generated by hotels, restaurants, event admissions, and car rentals—came from visitors in town for the NCAA tournament and events in early March, including a cheerleading event and volleyball tournament.
Operating revenue was $1.05 million in April—about 53%, or $1.19 million off-budget. For the year, operating income is about $2.77 million, or 39%, below budget. 
Board President Melina Kennedy said during Friday's meeting that while figures aren't yet fully recovered, the financials indicate the CIB is heading in the right direction.
"These are certainly encouraging signs as we continue our recovery from the pandemic," she said.
The board has a deficit of $8.87 million for the year so far, and is off budget by about $16.6 million, or 187%—largely attributable to the CIB paying off early millions of dollars in debt that was set to come due in June.
Executive Director Andy Mallon said the CIB expects the deficit will be wiped out in the next few months, based on current projections.
Please enable JavaScript to view this content.