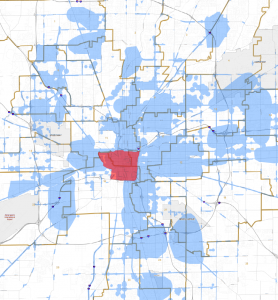 In a move to quell Indianapolis' increasing number of pedestrian deaths, the Indianapolis City-County Council on Monday approved a measure giving the Department of Public Works the authority to ban turns on red lights in certain areas of the city despite state efforts to block the ordinance.
The council approved the proposal in a 20-5 vote, with all Democrats and one independent voting in favor.
The proposal authored by downtown councilors President Vop Osili, Vice President Zach Adamson and Kristin Jones was amended Monday to identify "pedestrian safety priority areas" and create a process intended to insulate the city from a state Republican lawmaker's move to ban blanket restrictions on right turns in areas of Indianapolis.
Under the measure, Department of Public Works engineers and the fatal crash review team are authorized to restrict right turns throughout downtown, Broad Ripple, and other specified areas at intersections identified as dangerous in past city studies. Among them is East Washington Street, the corridor where a driver struck and killed seven-year-old Hannah Crutchfield in Sept. 2021.
Once turn-on-red restrictions are recommended, the Department of Public Works will be required to post an online notice 30 days prior to restricting the intersection. After that, the department will post no-turn-on-red signs.
The amendment was crafted in part to create a shield from state legislation targeting the Indianapolis ordinance.
In April, state Sen. Aaron Freeman, R-Indianapolis, persuaded the Legislature to pass a state law banning Indianapolis from passing blanket bans on right turns in certain areas. Freeman called such efforts by the city a "war on cars" and said he was in favor of local control only "when they're not stupid."
The council pulled its proposed traffic ordinance last month, thinking the legislation was already in effect. Multiple lawyers and the nonpartisan Legislative Services Agency later told the three co-sponsors that the law did not take effect until July 1, giving the council time to re-draft and pass the ordinance.
"It's rather sad to have to jump through these kinds of hoops and loops for a city to be able to do what every other city in the state of Indiana is obligated to do in the pursuit of protecting pedestrians and their community," Adamson said last week.
Freeman, an attorney and former city-county councilor, has told IBJ he would work to persuade the Legislature to retrocacively ban the city's ordinance.
"God bless them, they can do what they want," Freeman said. "Then obviously the Legislature can come back next year and do what we want… I'm firm in my position. This is an unnecessary blanket policy—it's just crazy."
Democratic councilor Ali Brown said the city's ordinance is worth any inconvenience it might cause Freeman or other drivers.
"We're in the middle of a pedestrian safety crisis, and we have to do what we can to protect people," Brown told IBJ. "And the inconvenience that Aaron Freeman is whining about, that couple of seconds to me is worth saving someone's life."
Most lights operate on on a 90-second cycle, said city staffer Nathan Sheets in an April committee meeting. This should mean that drivers arriving at a light as it changes to red should only have to wait about 45 seconds until they are able to proceed, he said.
The Republican councilors who voted against the proposal were Brian Mowery, Michael Dilk, Michael-Paul Hart, Paul Annee, and Joshua Bain.
Please enable JavaScript to view this content.