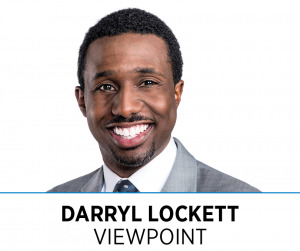 "We are caught in an inescapable network of mutuality, tied in a single garment of destiny. Whatever affects one directly, affects all indirectly."
—Martin Luther King Jr.
My passion for social change began while I was a student at North Central High School in Indianapolis. Having the opportunity to develop friendships with individuals from diverse backgrounds and equally diverse socioeconomic walks of life, I began to wrestle with the natural existential questions that challenge a teenager once he realizes that so much of who he is, when everything else is stripped away, is by no doing of his own.
I remember learning that friends from other area high schools did not attend class on some hot summer days because of extreme inequity in facilities (and subsequently, opportunities). My school had a planetarium and world-class aquatic center, while other schools did not have air-conditioning. Twenty years later, I use that story as motivation to better understand the causes of such inequities and to work to develop solutions to develop a just and equitable community.
Historian Carter G. Woodson, credited as the founder of Black History Month, hoped that the knowledge of our shared history in this country would "inspire people to live more abundantly, to learn to begin with life as they find it and make it better." Each February, we provide extra recognition to the contributions of African Americans and maximize the opportunity to understand Black history, going beyond stories of racism and slavery. We must work to understand the health-related social needs that are impacting many of our state's under-resourced communities and develop solutions that ensure all people can receive individualized care, regardless of race or ethnicity, sexual orientation, gender identity, disability, or geographic or financial access.
In my time working on health equity at Anthem Blue Cross and Blue Shield, I have embraced the philosophy that health equity is grounded in two fundamental beliefs: All Hoosiers should have a fair and equitable opportunity to be as healthy as possible, and no Hoosier should be disadvantaged from achieving full health potential because of social position or social drivers of health.
We know that as much as 80% of a person's health status is influenced by social factors—factors that disproportionately impact marginalized populations. We also know that those factors can be overcome. Health disparities are preventable, and more equitable health care is attainable.
How can an organization like ours make this commitment come to life? One example is our partnership with Mercy Housing in the Central Greens Housing Development that provides not only stable housing but also case management, peer mentorship, employment services, and health and fitness education. Other initiatives are designed to fight food insecurity, establishing school-based partnerships and staffing a network of community health workers to understand a community's unique health-related social needs.
No one entity is responsible for solving these problems alone—not health care, government or community-based organizations apart from one another. The interdependent nature of the challenges requires a collaborative bond of our communities' stakeholders to produce the systemic, cultural and behavioral changes needed to improve health outcomes.
South African Anglican bishop Desmond Tutu once said, "There comes a point where we need to stop just pulling people out of the river. We need to go upstream and find out why they're falling in." I hope we all can use Black History Month as an opportunity to gain a better understanding of the shared history, the interdependent nature of our present and all things essential to our mutual progress.•
__________
Lockett is health equity director for Anthem Blue Cross and Blue Shield's Medicaid Health Plan in Indiana.
Please enable JavaScript to view this content.