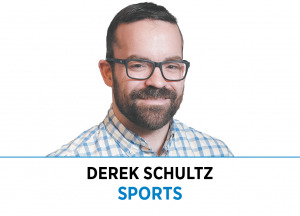 On a beautiful fall afternoon at one of the most picturesque campuses in the country, the press room at Memorial Stadium looked like a grim place to be. Indiana head football coach Tom Allen trudged to the podium after a mostly lifeless 31-14 homecoming loss to former fellow Big Ten doormat Rutgers and struggled to respond to questions he can't seem to answer.
In fairness to Allen, a predictable and one-dimensional opponent easily generating offense despite a grand total of 39 passing yards or how Indiana could suffer a blocked and muffed punt in the same half defies explanation. So, it's understandable that he was searching for answers. However, when the longtime Hoosiers head coach was bluntly asked if the season was slipping away, Allen was surprisingly candid:
"There's no question. I think it's reality."
That prompt was supposed to be about this year only, but it might as well have been about Allen's overall grip on his job. That's because his seven-season tenure, one that once seemed so promising and included two of the best football seasons in Indiana University history, is not only slipping since the magical COVID campaign of 2020; it appears to have gone into a spiral.
Following Saturday's surprisingly competitive but expected loss in Happy Valley, Allen's Hoosiers are now 2-21 in Big Ten games over the past three seasons. Indiana is just 5-23 overall in that span against FBS opponents, with those five wins coming by a combined 20 points and requiring seven overtimes to secure. This season, IU's two victories (if you want to call them that) are against teams that are a combined 1-16: winless Indiana State of the FCS and perennial MAC punching bag Akron, who recently lost to Northern Illinois by six touchdowns. The Hoosiers had to settle for a two-point triumph over the Zips in quadruple overtime.
Better to talk about the ugly wins than the losses, though, because the latter gets downright hideous. During its current skid against league foes, Indiana has been outscored 809-346, an average margin of over 20 points per game. For as much has been made of the Hoosiers' bad luck falling among Big Ten powerhouses Michigan, Ohio State and Penn State on the East side of the ledger, IU hasn't won a single game against division lightweights Maryland (0-3) or Rutgers (0-3), either. Those six setbacks included an embarrassing 38-3 home beatdown by eight-loss Rutgers in 2021 and last month's 44-17 no-show against a mediocre Terps team in College Park, a game that wasn't even as close as the one-sided score indicates.
Even for a program with the dubious distinction of owning the most losses in major college football history, 2021 to present has been a shockingly inept run. If you go digging through the bones of Indiana's head coach graveyard, you'll find that no one, not even Gerry DiNardo, had a three-year stretch as poor as the one Allen is embarking on. DiNardo was 3-21 in league games in his short-lived stay on the Hoosier sidelines and barring an unforeseen result against Wisconsin tomorrow, the 24th game of this death march, Allen will fail to reach even that astonishingly low bar.
So, how did we get here? Many chalked up the 2020 dream season as a COVID-era fluke, but there's no denying that Indiana's program was making real progress in the years leading up to that breakthrough. 2015-2019 were all seasons where the Hoosiers were in bowl contention, going 22-28 overall. That might not sound like much, but it's a much higher level than where they are now.
In the immediate wake of 2020, Allen earned universal praise from national sports media, collected AFCA and Big Ten Coach of the Year honors, and was roundly applauded for the unanimous buy-in to his "LEO" mantra. Indiana appeared on the rise, and it seemed that Allen's catch phrases and animated antics, despite some initial apprehension from media and fans, were working.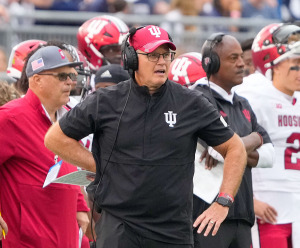 Lately, those antics are producing winces instead of wins. Referring to self-inflicted wounds as "CATs"—Crimes Against the Team—is cute for a high school team but comes off as unserious for a Big Ten one. So does a widely mocked postgame sing-song after surviving a pathetic performance against an equally pathetic Akron team.
That's one that should've stayed in the X (formerly known as Twitter) drafts. There's a distinct line between endearing and embarrassing, and even for the likable Allen, fans embrace those eccentric behaviors only when they are followed by positive results.
At some point, you can no longer call this a simple downswing, a common occurrence for non-elites in college football. Well-established programs like Iowa and Oklahoma State have hung in through several dips under Kirk Ferentz and Mike Gundy. Even successful coaches at lower-tier programs more in line with Indiana, like Northwestern under Pat Fitzgerald or Oregon State under Mike Riley, experienced occasional losing seasons mixed in with winning ones.
However, in order to accept IU's fall as a downswing, fans have to be given evidence of a looming rebound, and it's impossible to find any trace of that right now with Allen's program.
Firing coordinators, benching quarterbacks and blaming execution hasn't worked. Allen has constantly thrown things against the wall offensively, whether it be quarterbacks or overall identities, to see what sticks, with little to no positive results. Former offensive coordinator Kaleb DeBoer and star quarterback Michael Penix headed to Seattle, and the offense seemingly went with them.
But defense, Allen's supposed calling card, hasn't been up to par, either. Its 29.2 points per game surrendered this season ranks dead last in the 14-team Big Ten. Any potential recruiting momentum from those successful 2019-2020 seasons is now gone, and many prospects will be wary to sign up for a coach and staff who appear to be on thin ice. There is nothing right now in the forecast that points to a turnaround.
There's still Allen's whopping $20 million buyout to consider, and the fact that the season's finishing stretch is light. The Hoosiers close with four teams that range from beatable (Wisconsin, Illinois) to bad (Michigan State, Purdue), but Indiana has reverted to a program that makes even the most meager possibilities feel impossible.
Allen played a big role in raising IU from the basement of the Big Ten to new heights for the program, but the basement is where the Hoosiers have returned. Any positive momentum has evaporated, and the current coaching staff doesn't seem to know how to halt the program's descent, much less move things forward again.
Indiana isn't a team climbing out of a temporary ditch—it's still digging—and, unfortunately for Tom Allen, that hole can always get deeper.•
__________
From Peyton Manning's peak with the Colts to the Pacers' most recent roster makeover, Schultz has talked about it all as a sports personality in Indianapolis for more than 15 years. Besides his written work with IBJ, he's active in podcasting and show hosting. You can follow him on X, formerly Twitter, @Schultz975.
Please enable JavaScript to view this content.