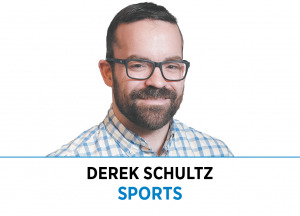 All these years later, Pete Metzelaars can still relay every painful detail of the most crushing loss of his long football career.
"It was an out route, and I caught the ball and thought my forward progress was stopped," recalls the former Wabash tight end and 16-year NFL veteran. "But I fumbled."
"It was our chance to go down the field and win the game, and I lost it."
This wasn't a vivid recollection of a critical play in the Super Bowl, where Metzelaars sadly fell short four separate times as a member of the star-crossed Buffalo Bills in the 1990s. Instead, it's from a Division III football game—the 1981 Monon Bell Classic, to be exact—a contest where bitter rival DePauw sneaked out a 21-14 victory over his Wabash squad to end the No. 2-ranked Little Giants' undefeated season, postseason hopes and Metzelaars' collegiate career.
Even after three decades and six Super Bowl appearances as an NFL player and coach—Metzelaars retired having played the most games (235) of any tight end in league history—a 42-year-old fumble on a November afternoon in Putnam County sticks with him.
State's greatest rivalry
If you're a sports fan in Indiana, chances are you already understand the magnitude and meaning of the Wabash-DePauw rivalry. Dating back to 1890, the Monon Bell Classic between the elite west central Indiana institutions, separated by just 27 miles, is the 12th-most-played series in all of college football. It precedes Michigan-Ohio State, Texas-Oklahoma and Cal-Stanford, and has been running as long as the Army-Navy game.
Whether in Crawfordsville or Greencastle, the matchup is normally contested in front of 10,000 fans, more than triple the combined enrollment of both schools. It has been featured nationally on "CBS Sunday Morning," in USA Today and the Wall Street Journal, and multiple times in Sports Illustrated. The game has spawned a song, "The Ballad of the Monon Bell," co-written by Grammy winner Jimmy Abbotson (a 1969 DePauw graduate), and even served as the inspiration for the plot of a popular Broadway play, "The College Widow," over a century ago.
High-profile heists—attempts to steal the Monon Bell by students on both sides—add a unique color to the matchup. The most famous successful caper came in 1965 with Operation Frijoles, a ruse led by Wabash student Jim Shanks, who posed as a representative of the fictious Mexican-American Cultural Institute in Mexico City and somehow was shown the Bell's secret location by DePauw officials. Whereabouts revealed, the trophy was later stolen before being returned before the 1965 game, when Wabash legally recouped the hardware after a 16-6 win.
Besides daring escapades before kickoff, the Monon Bell Classic is also known for drama on the field. In 56 instances, the game has been decided by one score. Going into the 100th meeting in 1993, the all-time series was a remarkable split: 45-45-9.
A recent run of seven straight wins for Wabash (2009-2015) now represents the razor-thin margin in the all-time series, with the Little Giants holding a 63-56-9 edge over the Tigers.
The Bell or bust
Many rivalries claim that the matchup defines the season, but it's rarely true.
The Iron Bowl between Alabama and Auburn is one of college football's most storied and heated rivalries, but some losses—like what the Tide suffered in 2017—do not resonate. A month later, that game was relegated to footnote status as Bama crushed No. 1 Clemson and capped a 13-1 season with an overtime win over Georgia in the National Championship game.
Hoops fans know the Indiana-Purdue rivalry well and might recall that IU's 1981 and 1987 teams lost to Purdue at Mackey Arena. Those setbacks weren't on any Hoosier fan's mind when their team was cutting down the nets in Philadelphia and New Orleans. All of those rivalry games were blips, holding little, if any, impact on how those seasons were ultimately remembered.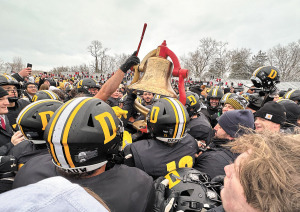 In the case of Wabash and DePauw, every other game—even in the postseason—is the blip.
From an outsider perspective, DePauw's 2021 season was a banner year. The Tigers matched a school record with nine wins, captured the North Coast Athletic Conference title and earned an automatic berth in the Division III national playoffs, where they claimed the program's first-ever postseason victory, a 26-21 win over Rose-Hulman. But a week before that triumph, DePauw surrendered a 21-0 lead in a memorable 42-35 Monon Bell loss to their bitter rivals.
"That situation was hard, to say the least," said DePauw head coach Brett Dietz. "I played in the Victory Bell game [Hanover College vs. Franklin College], and I know there are other great rivalries. But this one goes past everything else. The results stay with you forever."
A reverse situation of sorts happened two years before that. This time it was Wabash, conference championship locked up and earmarked for the national playoffs, yielding a 62-yard game-winning touchdown pass in the final minute to fall 17-13 to the Tigers. According to Little Giants head coach Don Morel, that one loss cast a shadow over all of the 2019 season's other accomplishments.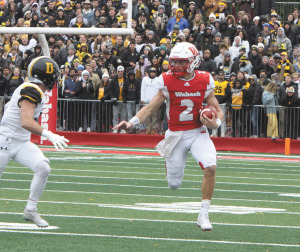 "They say you could go 1-9, but if you win that game, it makes your season," Morel said. "At Wabash, it really is true—the number one goal for us every season is to win the Bell."
"No one ever says to me, 'Hey, you won the conference!' But they'll definitely say, 'Hey, you lost the Bell!'"
This year, there will be no repeat of 2019 or 2021, because it's win or go home for DePauw (9-0, 7-0 NCAC) and Wabash (7-2, 6-1 NCAC) tomorrow. As the top two teams in the NCAC standings, Saturday's winner in Crawfordsville will claim both the Bell and the league championship, which carries an automatic berth into the national tournament along with it.
'All the emotions are there'
When Peyton Manning raised the Vince Lombardi Trophy on a soggy field in Miami in early 2007, Metzelaars finally got his Super Bowl redemption. Having narrowly missed on several opportunities as a player, he earned a ring with the Colts that year as the offensive line coach, maximizing an excellent group led by Pro Bowlers Tarik Glenn and Jeff Saturday and overseeing one of the league's best units during the middle portion of the 2000s.
"At least I got the Super Bowl in Indy," jokes Metzelaars, "So [my career] wasn't a complete washout."
Having played on the sport's biggest stage on both its largest (National Football League) and smallest (Division III) levels, it speaks to the importance of the Monon Bell Classic that Metzelaars puts it on the same pedestal as the Super Bowl. In his eyes, playing Emmit Smith, Troy Aikman and Charles Haley in Pasadena, California, was no different than opposing a bunch of future journalists, lawyers or economists in Greencastle, Indiana, all of whom undoubtedly had to buy a ticket to access an NFL stadium, much less the field itself. In the moment, the outcomes and feelings felt exactly the same.
"All the emotions are there for both," said Metzelaars, comparing the two. "The season rises and falls with that game. To end my four years at Wabash with that loss to DePauw, I was frustrated, angry and thinking over what I could've done better."
"It's just crushing."
This Saturday, the Monon Bell will toll once again, sounding forever glory for the victors and agonizing heartache for the defeated. For Pete Metzelaars and countless others on both sides of this storied rivalry, it never stops ringing.•
__________
From Peyton Manning's peak with the Colts to the Pacers' most recent roster makeover, Schultz has talked about it all as a sports personality in Indianapolis for more than 15 years. Besides his written work with IBJ, he's active in podcasting and show hosting. You can follow him on X, formerly Twitter, @Schultz975.
Please enable JavaScript to view this content.