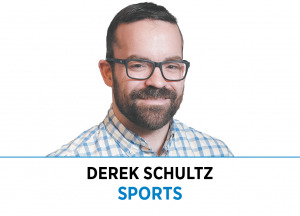 After a business-like march to 21-0, the emotions displayed after win No. 22 for unbeaten Ben Davis felt different. When the final buzzer sounded at Carmel after the Giants' one-point win over their former MIC rivals, you could tell this victory was more than just a weekend work trip.
Senior Shaun Arnold, who had secured the basketball after Sam Orme's 3-pointer harmlessly splashed through the net, gave it a firm, two-handed bounce straight into the floor. Sheridan Sharp couldn't help but flash a big smile at the Greyhound bench, before jubilantly scampering back to his teammates. Zane Doughty, recently crowned as the program's all-time rebounder, slowly walked back to the sidelines with his arms fully extended, a gesture that looked just as much like relief as it did celebration.
Beating Carmel, a team that had tripped the Giants up in 16 of the past 17 seasons, is worthy of a collective exhale from everyone on Indy's west side. But with that relief also comes the realization that perhaps the Giants had cleared their final major obstruction in their path to an undefeated regular season and, potentially, their path to Indiana basketball history.
The Giants aren't ready to talk about that, nor should they, not with still so much work in front of them. Yet, as they move closer to March sans a single blemish on their sparkling record, the "h-word" creeps closer to becoming a legitimate talking point around town, which is something only the kids wearing purple could've dreamed of when this season began.
"It was a goal for the seniors coming into this season," said Ben Davis head coach Don Carlisle. "It wasn't something I was focused on, because I'm more interested in building a winning culture and sustaining it, but I'd be lying if I said it wouldn't be sweet to accomplish."
While highly regarded heading into the 2022-2023 campaign, the Giants didn't have a blue-chip prospect like defending champion Cathedral's Xavier Booker (the No. 8 player in the class of 2023, according to 247Sports.com), nor the recent pedigree of Carmel (two 4A championships in three state-finals appearances since 2018), to lean on, but what they did have is experience, depth and a healthy dose of athleticism.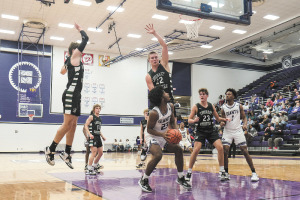 The Giants' four top seniors will all play college basketball, including the aforementioned Doughty, who is heading to Valparaiso. Mark Zackery, just a sophomore, has already pocketed offers from Duke and Purdue as a football recruit, and Lincoln Murff, a hoops reserve and standout wide receiver, will also wear cleats on Saturdays in the future. Even Jesse Faires, who is a deeper rotation player and the Giants' 10th-leading scorer, has received junior college interest.
"It's their depth that kills everybody," said Greg Rakestraw of the ISC Sports Network, who has seen the Giants a dozen times this season in his role as play-by-play man of featured MIC games. "What makes this group unique is, there's not that super-high-end guy, but every guy they put on the floor contributes."
That sum-of-its-parts dominance has led the Giants to six wins against the top 12 teams in their class (No. 2, No. 5, No. 6, No. 8, No. 11 and No. 12 in the Jan. 31 poll). Ben Davis also routed the top-ranked team in 3A, Northwood, in the Hall of Fame Classic, handed city tournament champ Crispus Attucks their most lopsided loss this season, and swept all four games of the Marion County tournament by double-digits—their first county title since 1995. With an overall average margin of victory of 17 points, they've treated opponents similarly to how Michael Jordan's Bulls treated the rest of the NBA throughout most of the 1990s.
So, why not talk about history?
Even with the rise of pro sports in Indianapolis and the single-class era now a quarter-century in the rearview mirror, an undefeated basketball championship in this state is still significant. It remains a feat that has been accomplished only 10 times (single class or 4A) in over 110 seasons on the highest level of Indiana high school basketball.
The list of those 10 teams is littered with some of the greatest names and most-heralded squads of Hoosier hoops lore, including Greg Oden's and Mike Conley's unstoppable Lawrence North group in 2006, the 29-0 Marion team that kickstarted the "Purple Reign" dynasty in 1985, and maybe the greatest team in state history—George McGinnis-led 1969 Washington.
This year's Ben Davis squad might not end up being regarded in that class of teams, but if they run the table, they'd become just the second team ever to win the Marion County tournament, Hall of Fame Classic and state championship in the same year, joining 2004 Lawrence North. If they could do so while avoiding the bye in the sectionals blind draw, Ben Davis would set the Indiana state record with most wins in a season (33).
Becoming the winningest single-season team in state history would certainly be special, but for all the earned and still-to-be-earned accolades on the court, perhaps the most important aspect of this Giants group has been how they've carried themselves off of it.
"That's what I'm most proud of," Carlisle said. "These kids have represented themselves, their families, our program and Wayne township with great character, grace, pride and this hard-nosed attitude and toughness. They're values that represent the west side of Indy, through and through."
"You'd love your sons to grow up to be like these kids," said Jon Easter, who is in his 26th year as a teacher at Ben Davis High School and is the PA announcer for the team's home games. "Even when the lights aren't on them, everyone sees how these guys interact with and treat others, and they're genuinely great young people."
The Giants are entering the final quarter of a potentially historic season—a season with plenty of pitfalls still remaining. But whether or not this unbeaten run continues on the basketball court and their legacy is cemented forever, no team can take away the pride they've given their community.
Historic? Well, that's yet to be determined.
Special? Ask any of the folks in Wayne Township, and they'll tell you the Giants have already achieved that distinction.•
__________
From Peyton Manning's peak with the Colts to the Pacers' most recent roster makeover, Schultz has talked about it all as a sports personality in Indianapolis for more than 15 years. Besides his written work with IBJ, he's active in podcasting and show hosting. You can follow him on Twitter, @Schultz975.
Please enable JavaScript to view this content.