The owner of the struggling Lafayette Square Mall on the northwest side of Indianapolis said Wednesday that it expects to spend more than $200 million to redevelop the property, with an initial plan calling for retail, dining, hospitality, education and residential uses, as well as an entertainment and sports district focused on local youth.
The renovated property will be renamed Window to the World and portions of the project could be done within the next year or so.
Sojos Capital LLC, an Indianapolis-based investment firm that owns the mall, said at a news conference it plans to revitalize the 1.2-million-square-foot mall and some adjacent shopping centers and other buildings surrounding the 113-acre site as part of a master-planned effort to boost the International Marketplace district.
Plans for the project call for senior and traditional apartments, a hotel, townhouses, a trail and canal, a 25,000-square-foot international concert center, charter school Monarca Academy, a movie theater, the northwest headquarters station for the Indianapolis Metropolitan Police Department, soccer fields, paddle courts, a sports academy, bike shop, dog park, office space and a dance studio.
Also in the plans is a linear park stretching to Indianapolis Motor Speedway.
"The mall as we know it is no longer viable," said Fabio de la Cruz, principal of Sojos Capital, who will serve as lead developer on the project. "You have to rethink the concept of a mall. I see this less as a mall than as a neighborhood."
The $200 million estimate covers the first phase of the project, which includes redevelopment of the mall, 200 apartment units, hotel, the school, movie theater, soccer training facilities.
Story continues below graphic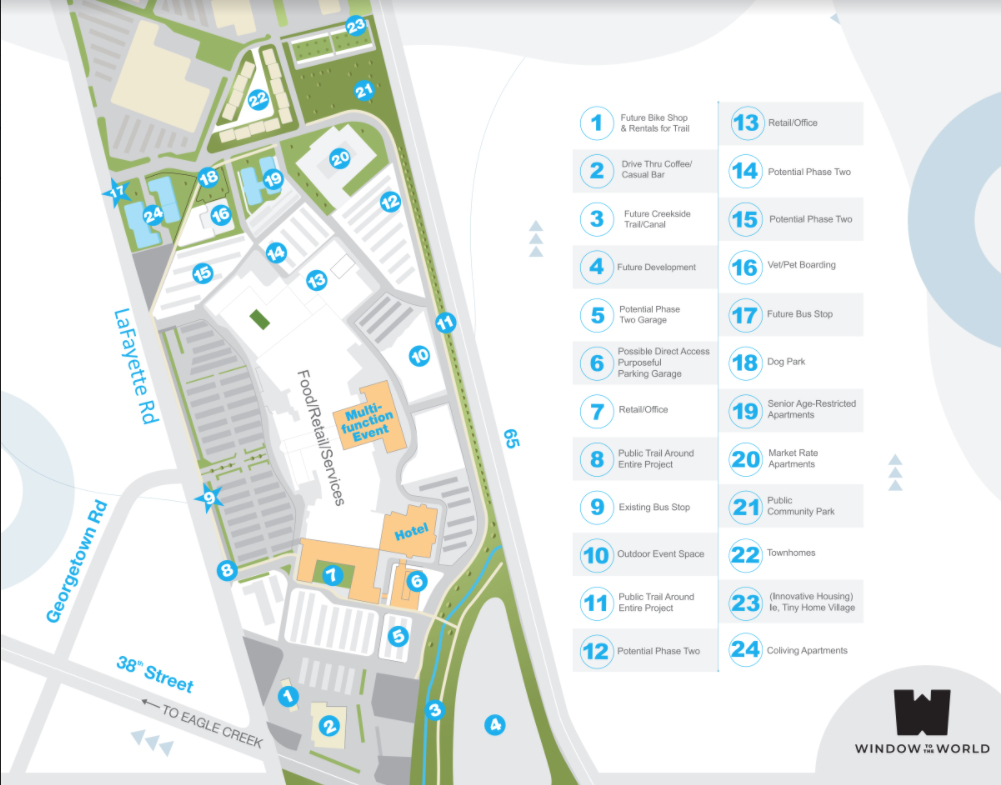 "We're ready to spend lots of money," de la Cruz said.
Construction on the movie theater and repairs to the site's parking lots are already under way. Developers say they plan to transform the mall interior into year-round indoor "streets" that recreate outdoor scenes from around the world.
The project announcement comes just under one year after Sojos Capital affiliate Perez Realty Group acquired the mall from a New York-based firm for about $20 million.
The 1.2-million-square-foot mall on the northeast corner of Lafayette Road and 38th Street is the third-largest shopping center in the Indianapolis area, trailing Castleton Square Mall and Greenwood Park Mall. Built by late developer Edward J. DeBartolo Sr., the mall opened in April 1968 as the first enclosed shopping center in the Indianapolis area.
As of early 2021, the mall was roughly 60% occupied, with about 90 tenants. Three of its four anchor spaces are vacant.
Over the years, there's been a great deal of speculation that the property could be converted into other uses, in part because of continued challenges for its brick-and-mortar retailers. 
"We've been waiting for this for a long time," said Mary Clark, executive director of the International Marketplace Coalition, which serves as a advocate for the area. "With Fabio's help, enhancing our plans for a destination … it's going to be a place where people can come and learn our differences aren't so different."
Sojos representatives said they plan to capitalize on the mall's location in an opportunity zone, a federal designation that offers substantial tax breaks to those who invest their capital gains in a real estate development or business in certain areas—oftentimes economically depressed locales. They also hope to involve other investors.
The developer said it was pursuing tax incentives for the project. "We're working on it," de la Cruz said.
Story continues below graphic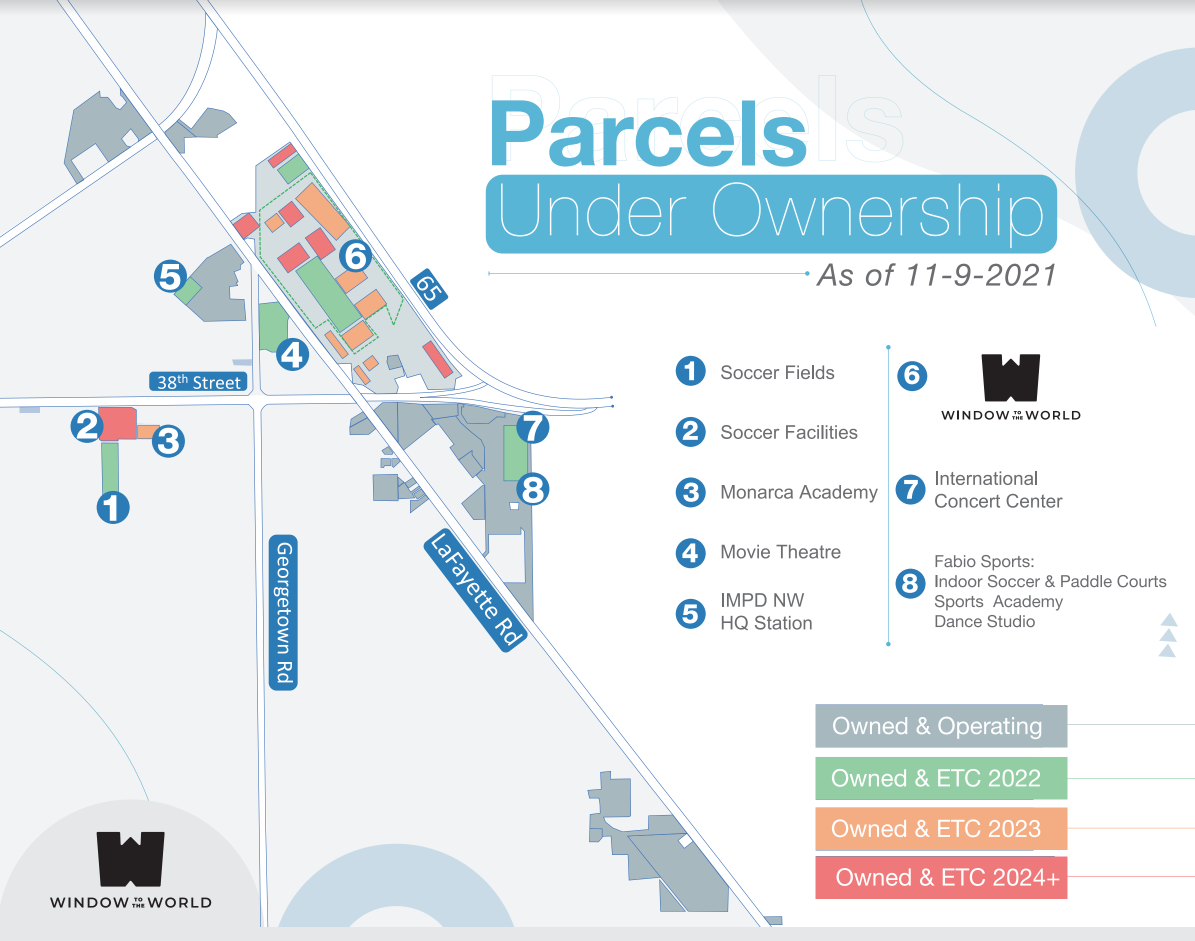 The renovation includes a full roof replacement for the mall, which will be done in phases with portions of the center closing during construction.
Monarca Academy is authorized by mayor's charter school program and will begin accepting applications next school year.
Lafayette Square has struggled amid a changing neighborhood and a loss of traditional tenants over the years.
In the 1970s, the mall featured six department stores: Sears, JC Penney, G.C. Murphy, William H. Block, Lazarus and L.S. Ayres. Today, the mall's only anchor is Shoppers World, after Burlington Coat Factory closed its store there in September 2019.
Smaller spaces are mostly occupied by a mix of local stores and restaurants, with only a handful of national chains in the mix.
Former anchors JC Penney, Sears and Macy's left in 2005, 2008 and 2009, respectively, leaving gaping holes in the once-bustling property.
A look at the proposed revitalization plan:
Over the next two years, plans call for:
Ground-up construction of approximately 200 multi-family rental units;
Renovation of a former anchor store into a boutique hotel;
Renovation of a former anchor store into innovative office space;
Renovation of a former anchor store into a multi-functional event space;
Renovation and leasing of outparcel buildings, such as veterinarian/pet boarding, bicycle sales and rentals, and coffee shop;
Construction of a new public trail and public park;
Infrastructure and street improvements
Sojos Capital said it is making exterior improvements to these nearby properties:
5046-5210 W. Pike Plaza Road (where Carniceria Guanajuato, Yummy Crab and others are located);
4351 Lafayette Road (where AT&T store, Sizzling Wok and others are located);
2802 Lafayette Road (Eagledale Plaza Shopping Center);
4002 N. High School Road (where JM Dry Cleaners, K-Arise Store and others are located).
Projects involved in the plan:
Fabio Sports (indoor soccer, paddleball courts, sports academy and dance studio) at 3695 Commercial Drive (expected to be completed by end of 2021);
International Concert Center at 3733 Commercial Drive (expected to be completed in 2022);
Trampoline park at 3708 Commercial Drive (to be completed in 2022-2023);
Ground-up construction of the new IMPD Northwest District Headquarters at 4005 Office Plaza Boulevard (expected to be completed February 2022);
New soccer fields at 5101-5111 W. 38th St. (expected to be completed in 2022);
Ground-up construction of soccer facility at 5101-5111 W. 38th St. (completion date to be determined);
Ground-up construction of Monarca Academy at 5101-5111 W. 38th St. (expected to be completed in 2023);
Renovation and reopening of movie theater at 3898 Lafayette Road (expected to be completed in 2022).
"The Department of Metropolitan Development is looking forward to collaborating with Sojos Capital and the northwest side community on the revitalization of the Lafayette Square Mall area," the DMD said in a statement issued Wednesday. "The planned, substantial investments announced today represent an enormous opportunity to accelerate momentum and boost growth in the International Marketplace, a neighborhood vital for the overall equity and prosperity of Indianapolis."
Please enable JavaScript to view this content.