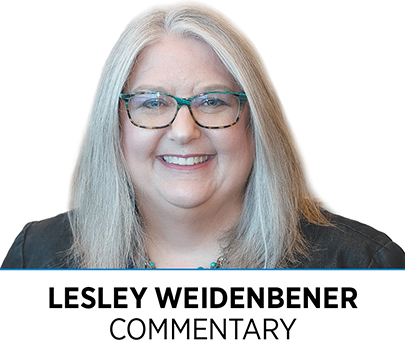 A few weeks ago here, I mentioned a book I was listening to called "Think Again: The Power of Knowing What You Don't Know," by Adam Grant, an organizational psychologist at The Wharton School at the University of Pennsylvania.
The book came up again this week as I was preparing to talk to a group at Aspire Johnson County's Women Leaders Workshop. My topic was "Confidence in Communication," an interesting assignment given that I'm not always as confident about my own communication as I'd like to be.
I have done my share of public speaking, but it's been most often as a panelist or an interviewer.
When I'm asked to give a speech or a talk, I usually offer an introduction and then take questions. The give-and-take is much more natural to me. Maybe that's because I'm a journalist. Or maybe it's because that style of discussion provides more opportunity to admit what you don't know and to acknowledge your vulnerabilities. And I have plenty of them.
A traditional speech just seems so definitive. To give a speech, I think I need to know exactly what I'm talking about. And in the past—and occasionally still today—I worry it will become obvious that I actually don't know what I'm talking about. That I'll be found out as a fraud.
If that sounds dramatic, you probably have never experienced what's often called "imposter syndrome," a label that can be many different things but that I'll describe as the feeling that, at any moment, my boss or our readers or a source will realize I don't know what I'm doing.
I've most often experienced imposter syndrome when applying for and then starting a new job. And although I felt a surge of it when I became editor of IBJ, imposter syndrome plagued me more as a reporter than as an editor. I have no idea why.
A lot has been written about imposter syndrome—about whether it's real, about whether women feel it more often than men, and mostly, about how to conquer it. The latter assumes that imposter syndrome is detrimental to a person's mental health and career, which is the way I have typically viewed it.
But "Think Again" has me, well, thinking again about imposter syndrome. In a section of the book called "The Benefits of Doubt," Grant questions whether insecurity can make us better at our jobs.
He cites recent research by Basima Tewfik, an MIT professor, who found that medical students who had imposter-related thoughts were just as likely as their more-secure peers to reach a correct diagnosis but "were rated as more empathetic, respectful and professional." Tewfik also found that investment professionals who more often felt like imposters received higher reviews from their superiors than those who were more confident.
"This evidence is new, and we still have a lot to learn about when imposter syndrome is beneficial versus when it's detrimental," Grant writes. "Still, it leaves me wondering if we've been misjudging imposter syndrome by seeing it solely as a disorder."
That idea became a part of my talk at the women's workshop. What if we use our insecurity as motivation to ask better questions, listen more intently and be more thoughtful about making decisions and taking action?
Wouldn't we be better leaders if we let our doubts drive us to what Grant calls "confident humility"?
"Arrogance leaves us blind to our weaknesses," he writes. "Humility is a reflective lens."
Now that's an idea I feel confident about.•
__________
Weidenbener is editor of IBJ. Reach her at lweidenbener@ibj.com.
Please enable JavaScript to view this content.