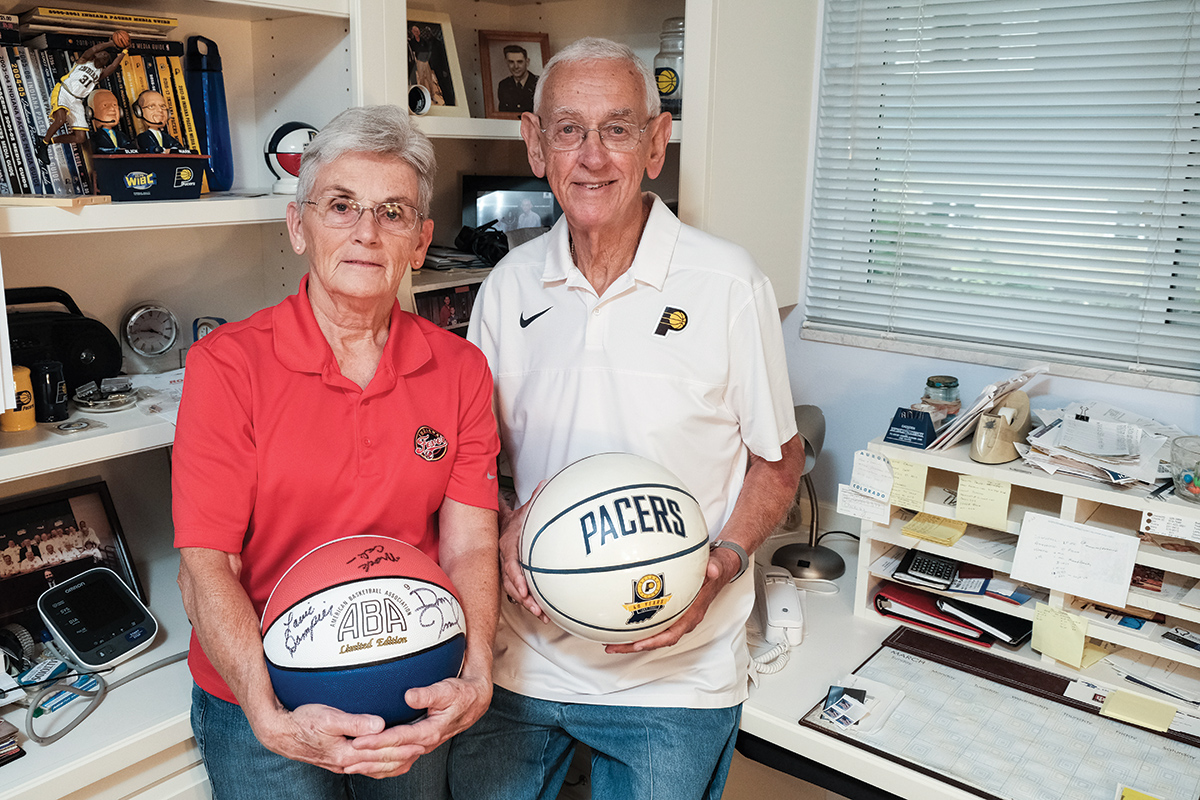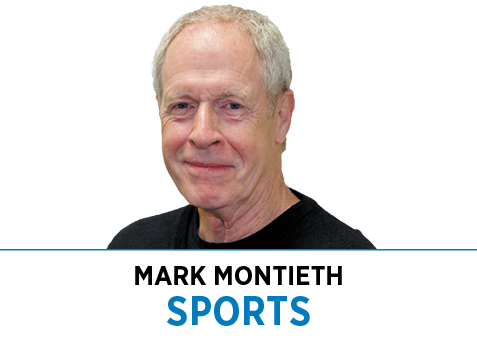 Eras pass quietly sometimes, without fanfare or even a fond farewell. Such as the chapter that turned at Gainbridge Fieldhouse last weekend when the Indiana Pacers played a home game without the presence of Bob Bernath.
He's known to many people, having lived in Indianapolis all of his 83 years, aside from military service, but not to the average fan. You've probably caught a glimpse of him on the telecast of nearly every home game for decades, but only as one of those figures sitting at the scorer's table behind standing coaches and checking-in players. His absence in Oct. 23's home opener, and for that matter, in the second home game, on Oct. 25, passed without notice by just about everyone who's not on a first-name basis with him.
That's too bad, because Bernath represented the last personal link to the Pacers' roots, a stat crew member who, until this month, had attended every one of the franchise's home openers, excluding the one last season that was shrink-wrapped by COVID and played to a virtually empty fieldhouse. The announcers called the games from a studio within the building rather than courtside throughout last season and support personnel were kept to a bare minimum.
Bernath was looking forward to resuming his familiar role this season. He had filled in the dates for home games on his calendar and had filed his proof of vaccination but was told two weeks ago his services were no longer required. He said that decision didn't come from the Pacers, but via email from a representative of Program Productions, the company that hires and pays support personnel such as statisticians for live sporting events. He was a casualty of the fieldhouse renovation that reduced the number of seats at the scorer's table and added seats to be purchased by fans.
Professional basketball is a business, in case you haven't heard.
Bernath says he's not bitter, then stops to correct himself. Yeah, he's kind of bitter that such a long-standing gig had to end so abruptly. He isn't mad at anyone about it, though. Just say he's frustrated but fatalistic.
"I can't believe they couldn't find a spot where they could put me," he said. "But there's nothing I can do about it."
You have to understand Bernath's history as a behind-the-scenes contributor to local sporting events to appreciate what Pacers games meant to him. His connection to professional basketball in Indianapolis goes back to the Olympians franchise that began as a charter member of the NBA in 1949. He was part of the Hardwood Gang, a group of kids ages 9-18 who received free admission to the games at what was then called Butler Fieldhouse as part of a program sponsored by the Indianapolis Junior Chamber of Commerce. The seats were in the thin air of the balcony, as free seats tend to be, so he sold popcorn to be able to get a closer look at the action. He caught a bus at 34th and Central to get there and caught another bus home.
He wasn't skilled enough to play on Shortridge's high school team but participated in Tabernacle Presbyterian Church's youth basketball program. He later coached Tab's fifth- and sixth-grade teams, from 1958-1991. In the summers, he kept score and manned the public address microphone for local softball leagues.
With all the connections he made, it was nearly inevitable he would be called on for help after the Pacers were founded in 1967, particularly for the preliminary games involving Tabernacle and other teams at the Coliseum. He not only served as the public address announcer, he also operated the clock and scoreboard for those games. That soon led to a position on the stat crew, which continued in one form or another until this season, apart from last year's pandemic-imposed exception.
Bernath's most recent role had been to sit next to TV play-by-play voice Chris Denari and supply statistical morsels to drop into the broadcast. He slipped notes to Denari and talked to the people in the production truck via his headset so they could post the information for viewers to see.
Pacers are on a 12-0 run over the past 3 minutes, 20 seconds.
Domantas Sabonis is two rebounds shy of his career high.
Celtics have missed their last five three-point attempts.
"The stuff you hear on TV all the time that makes you wonder how the announcer can be so smart," he said.
Bernath didn't keep doing it all those years because it was challenging or especially profitable. He was paid $125 per game two years ago but did it just as happily for $5 per game in the early '70s. It was more about the opportunity to stay close to the action and maintain relationships, some of which went as far back as the Pacers' debut against the Kentucky Colonels on Oct. 14, 1967.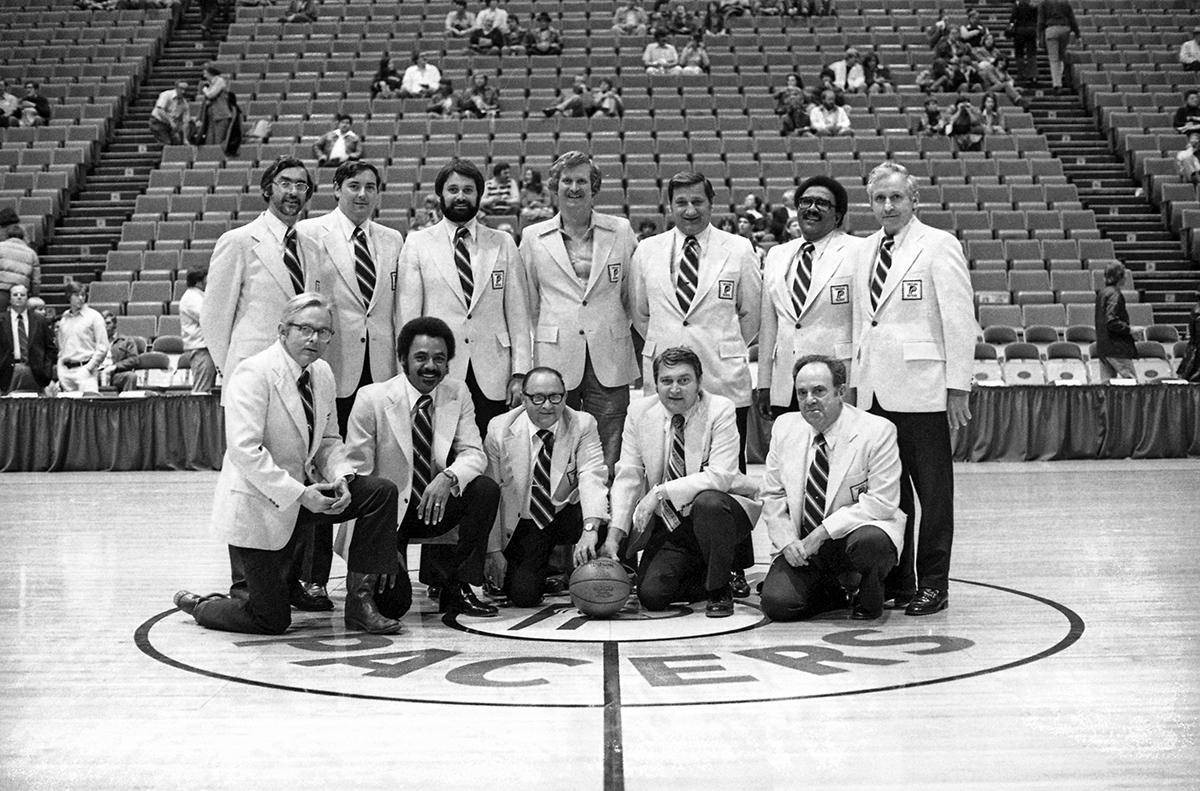 Those friendships have persisted. At Bernath's 80th birthday party, Billy Keller, who played seven ABA seasons for the Pacers, dropped by. A phone conversation with former coach Bob Leonard was arranged as well.
Bernath's wife, Trudy, also was part of the scene in the early years, although she resisted joining the collection of wives known as Murderer's Row who blistered referees from the front row of an end zone at the Coliseum. She's worked as an usher since the fieldhouse opened in 1999 and will continue in that job, which this year will pay up to $14 per hour.
She and Bob rode to the games together—she drove—and had plenty to reminisce about if they desired. Back in the day, particularly those nine ABA seasons when the league consisted of no more than 11 teams, the primary focus was on mere survival, and everyone involved in putting them on stuck together. That didn't mean they couldn't have fun, though.
Bernath has a treasure trove of stories, and most of them come from that era.
◗ Marathon Oil sponsored the Pacers and awarded coupons for free gasoline whenever a player hit a three-pointer at the Coliseum. This was when gasoline cost about 30 cents per gallon. They were shared by the players and front-office members. Playing off that, whenever a Tabernacle player would hit a three-pointer in a preliminary game, Bernath would announce, "And that's good for 20 ounces of Red Devil lighter fluid," just for laughs.
◗ Speaking of preliminary games, one time at Market Square Arena, an official didn't show up for one between Franklin College and IUPUI. Bernath had refereed Tabernacle games, so he borrowed a referee's shirt from Pacers trainer David Craig, borrowed a whistle from a police officer, and filled in.
◗ Players, coaches, stat crew members and front-office personnel often gathered in The Pub at the Coliseum, which was closed to fans after games. They also got together for New Year's Eve, Memorial Day, Fourth of July and Labor Day parties, not to mention parties for birthdays, engagements and any other excuse someone could come up with. It wasn't unheard of (but easily heard) for a player or two to shoot off guns on New Year's Eve, which inspired neighbors to call the police. To celebrate the 40th birthday of Bill York, the longtime head of the stat crew, a couple of men went to his house in Clermont, blindfolded him, put him in a casket and drove him to the Carmel home of Bob and Nancy Leonard for a party.
◗ Speaking of York, he used to sit at the press table with an old-fashioned telephone receiver in his coat pocket. He'd yell insults at referees as they ran by, then quickly pull out the unconnected piece and innocently pretend to be talking on the phone when they turned and looked. All in good fun. Referees sometimes joined the gatherings after games or on holidays. Some even stayed at the home of the Pacers' clock operator, Paul Furimsky, when in town.
◗ For games on St. Pat's Day, someone would bring food coloring to put in the beer in the cramped Coliseum press room. For games in Fort Wayne, the stat crew rode on the team bus and played cards with the players along the way. One time, the team was snowed in and had to stay over. Bernath stayed up all night playing Tonk with forward Bob Netolicky.
◗ The Pacers' public address announcer, Bernath also was the public address announcer for the summer softball games that included a team of Pacers players and staff members. He took a cooler of beer to each game, and players were known to take a can with them onto the field. One time, someone painted a grapefruit white and slipped it to the opposing pitcher to be pitched to forward Darnell Hillman. Bernath set it up by shouting, "Let's see if Darnell can hit one out!" Hillman swung hard and smashed the grapefruit.
It wasn't all fun and games, though. The Pacers faced constant financial strains in the ABA. In September 1972, after they had won their second championship, the ownership group, Indiana Professional Sports Inc., made 100,000 more shares of stock available to the public at $5 each to keep the Pacers afloat and to help finance an attempt to lure a hockey team to Indianapolis. The Bernaths put down $2,000 for 400 shares.
They got only half of their investment back when that ownership group sold out to another one in 1975, but the Bernaths weren't in it for the money. The fun and friendships always made it seem like a rich experience. Even if the business became more serious as decades passed, it remained enjoyable.
Bernath hasn't been totally retired. He's still part of the stat crew for Indianapolis Colts home games and will continue working Butler University games at Hinkle Fieldhouse and high school games at the fieldhouse. He's also been told he'll get the first call if the visiting announcers need a statistician at Pacers games.
But the link has been broken, officially now, and things will never be quite the same.•
__________
Montieth, an Indianapolis native, is a longtime newspaper reporter and freelance writer. He is the author of three books: "Passion Play: Coach Gene Keady and the Purdue Boilermakers," "Reborn: The Pacers and the Return of Pro Basketball to Indianapolis," and "Extra Innings: My Life in Baseball," with former Indianapolis Indians president Max Schumacher.
Please enable JavaScript to view this content.