A federal judge has ruled that Indiana's system for using signatures to determine the validity of absentee ballots is unconstitutional and can't be used—unless election officials notify voters their ballot has been rejected early enough that they can vote in person or correct the problem.
The decision, issued Thursday by U.S. District Judge Sarah Evans Barker, comes just months before a general election in which large numbers of Hoosiers are expected to submit absentee ballots by mail.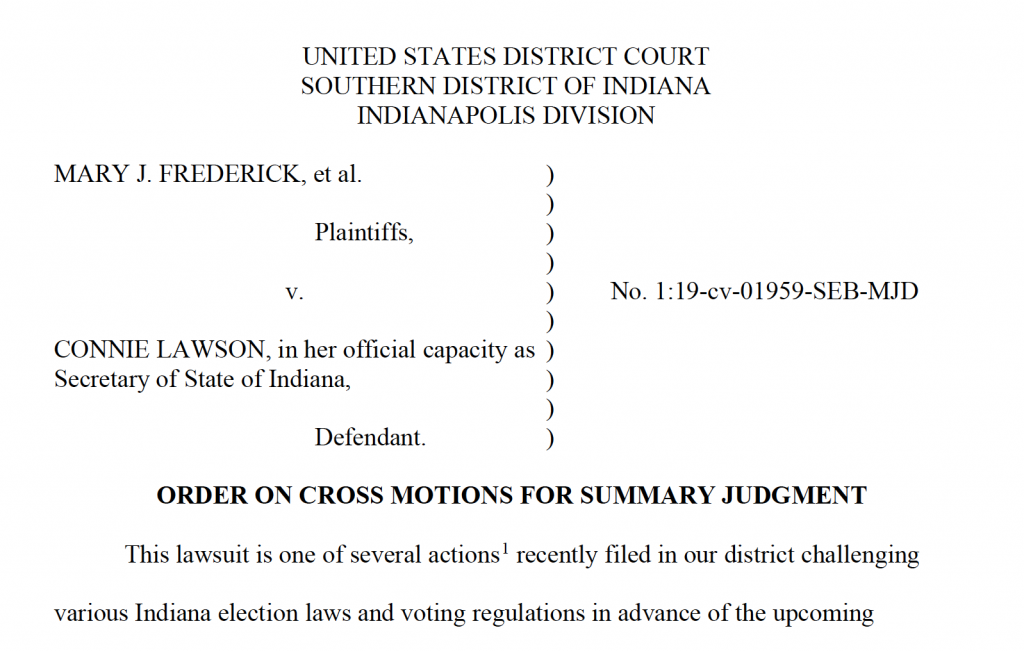 The decision does not end Indiana's system of absentee voting by mail. The ruling addresses only the method that county election officials use to determine whether the signature on the envelope containing the ballot matches the signature the local election board has on file.
Barker said a combination of factors led to her decision. Most notably, county election officials don't have the expertise to properly analyze the signatures and the law does not require voters to be notified that their ballots have been rejected. Notification before the election would allow a voter either to appeal the decision or vote in person.
The ruling said Indiana Secretary of State Connie Lawson, the state's top election official, and county officials are "permanently enjoined from rejecting any mail-in absentee ballot on the basis of a signature mismatch absent adequate notice and cure procedures to the affected voter."
And it orders Lawson to create procedures by the Nov. 3 election that require voter notification of rejected ballots as well as procedures that allow the voters to resolve the problem in time for their ballots to count.
"This is a historic win for Indiana voters," said Julia Vaughn, policy director of Common Cause Indiana, which brought the lawsuit on behalf of several registered voters.
"This victory helps ensure no Hoosier voting by mail will be disenfranchised by Indiana's flawed signature matching law," she said in a statement. "Election laws should protect people's right to vote and the integrity of our election system."
Lawson's office declined to comment on the decision.
Common Cause reviewed public records from 18 counties and found that, during the 2018 general election, 10 of them did not reject any ballots due to mismatched signatures. However, eight of the counties rejected a total of 177 ballots and had no system for notifying the voters before the election that their ballots had been scrapped.
Lake County, which rejected 32 ballots in that election, notified voters following the election.  The others had no process of notification at all—and state law does not require it.
Marion County rejected 73 ballots cast by mail in the 2018 general election, Common Cause said. Among them was a ballot cast by Marion County Auditor Billie Breaux, who did not learn about the problem until 2020, the court said.
The court also found that county officials did not have the appropriate expertise to determine whether signatures matched, especially given that voters have aged since they submitted their original signature.
"Based on this evidence, we find that, while the overall number of voters disenfranchised by the signature verification is not overwhelmingly large, there is nonetheless a real risk of erroneous rejection … ," Barker wrote in her decision.
Please enable JavaScript to view this content.