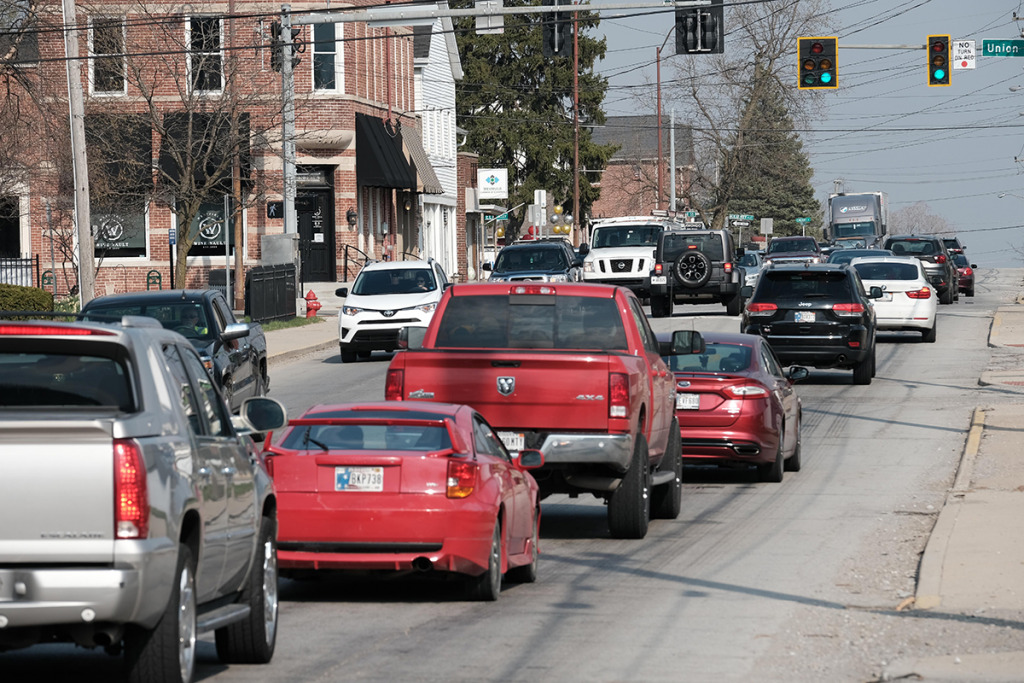 The Westfield City Council president is questioning whether to move forward with a major road-widening project more than a decade in the making over concerns that the project will exceed its budget.
And beyond money matters, there's renewed and mounting community concern about four historic downtown buildings that are to be demolished to make way for the project.
Expanding State Road 32 from two lanes to four through Westfield's downtown is slated to begin in 2023. The $15 million project has been on the books since 2018, when the Indiana Department of Transportation and the city of Westfield agreed to split the cost.
Now, some city councilors say they're concerned the project will cost too much. They're considering an ordinance that would terminate the agreement, prolonging attempts to redevelop the busy corridor the city has long eyed for improvements.
Westfield City Council President Mike Johns said, based on overruns seen on other local road projects, the State Road 32 upgrade might cost the city twice as much as predicted, if not more.
"The reality is, we asked for a full detail of what the costs would be and—at this point in time—the city has yet to provide us with any documentation of any cost," Johns said. "We believe it would be significantly more than what they said it would be."
Westfield Mayor Andy Cook said he remains confident the city's share of the project won't rise above the $7.5 million it has earmarked. But a clear picture won't come until the project is put out for bid in December 2022. If bids come in "unacceptably over budget," the city doesn't have to move forward, Cook said.
"I have firm faith in these figures," he said. "They've been confirmed by both INDOT and our original—and current—engineer, American Structurepoint. I'm going to stand by the estimate. I have no other reason to doubt them."
Richard Hedgecock, president of Indianapolis-based Indiana Constructors Inc., a statewide trade organization with more than 200 member companies, keeps a close eye on highway construction projects throughout the state.
While he wouldn't comment specifically on the S.R. 32 project, he said members statewide have noticed an uptick in the cost of road materials, including steel and paint.
But those increases are likely just temporary, he said.
"My phone isn't ringing off the wall every morning with people saying the sky is falling," Hedgecock said. "We recognize that what we do—as much as we bid the cost of a project—we're also bidding, primarily, risk. Risk factors are always going to be things that impact price, whether that's insurance, lawsuits, unforeseen delays—all of those things have to be figured into the prices that we bid."
A red light on reconstruction?
The route the state and city prefer would widen and reconstruct S.R. 32 from just east of the Poplar Street roundabout to just east of Timberbrook Run. The stretch serving as Westfield's Main Street has just one eastbound and one westbound lane with on-street parking.
If the project proceeds as planned, the reconstruction is expected to reduce congestion by widening the road to four lanes with a raised median and dedicated turn lanes.
Mallory Duncan, a communications director for INDOT, said traffic in the area continues to worsen.
A July 2020 count found traffic had increased 2.6% since 2019, even though estimates had projected only a 1% annual growth rate. Even during the pandemic, traffic counts have logged more than 19,000 vehicles traveling through the corridor daily.
Leaving the road as is would likely lead to additional deterioration of the road surface, as nearby recreational, commercial and residential developments introduce new traffic.
"We are already seeing unacceptable level of service in this stretch of S.R. 32 today, so it is only going to get worse as time progresses," Duncan said.
If the city chooses to delay the project, it could be years before more funding becomes available, she said. INDOT has already programmed its spending through fiscal year 2026.
"The next available year to fund any type of project in this area would be [fiscal 2027], and there is no guarantee that this stretch of roadway would receive funding in the earliest possible year, as it would be scored against all needs throughout the state," Duncan said.
And an end to that agreement would affect more than just Westfield.
Duncan said INDOT has already established funding for a $35 million project that adds lanes to S.R. 32, from East Street in Westfield to River Road in Noblesville, for fiscal 2025 and 2026. That project was planned based on the assumption that the downtown Westfield segment will be constructed by the end of 2024.
Besides that, Westfield has already invested money in the project. Cook called the council's proposal "financially irresponsible" and "reckless," saying the city would be throwing away $1 million already spent on engineering costs, plus $450,000 that would have to be repaid to INDOT for consultant contracts and in-house services.
Historic and streetscape considerations
The current plan would impact 13 buildings, including some that are part of the Westfield Historic District.
The district was listed in the National Register of Historic Places in January 2019—after the project was announced. That designation is now threatened by the S.R. 32 project as well as by a neighboring redevelopment project.
Marla Ailor, vice president of the Fiscal Conservatives of Hamilton County and member of the Westfield Preservation Alliance, has started a petition—not to stop the road project, but to oppose demolition of those buildings. As of press time, more than 200 people had signed it.
Her plan is to present that petition at the Indiana Historic Preservation Review Board's April 14 meeting, when the board is set to consider the city's request for a certificate of approval for the project.
"We fervently believe there are other alternatives which can create a symbiosis that will alleviate the corridor mobility problems without destroying our historic resources, which will ultimately cause the removal of Westfield's Historic Downtown from the National Register of Historic Places," the petition states.
Ailor said she hopes the city and state will redesign the project into a two-lane boulevard with an emphasis on pedestrian features to mitigate impacts on the surrounding area.
"There's no reason you can't continue to grow an economy, build new buildings and incorporate what's old," she said.
The city and state have already picked a route that spares a number of homes on the north side of the street from being demolished to try to mitigate concerns over historic buildings being razed or moved.
City Councilor Troy Patton said he has concerns about the project's cost that have him questioning whether to move forward, but he's not willing to upend the project over historic buildings being demolished.
"Making history shouldn't be forgotten for looking back at history," he said.
Story continues below graphic.
Developing a downtown
The road project is expected to be a catalyst for other redevelopment in the area.
Carmel-based developer Old Town Cos. is planning to invest $80 million in Westfield's downtown with an expanded mixed-use project just south of the highway.
The proposed Union Square at Grand Junction, between South Union and Mill streets, has grown from about 180 apartments and 30,000 square feet of commercial space to a $65 million project with 250-300 apartments, an approximately 300-space parking garage, about 50,000 square feet of office space and up to 30,000 square feet of retail space.
Additionally, Old Town is planning to build a $15 million neighborhood with 40 to 50 town houses—called Midland South—just south of that expansion. Old Town representatives did not respond to requests for an interview for this story.
Curt Whitesell, the owner of Westfield-based WKRP Indy Real Estate, said the proposed development is happening in spite of S.R. 32's current status as a "really ugly, depressed corridor."
Whitesell has been heavily involved in the downtown's redevelopment efforts. Not just a commercial real estate agent, Whitesell has served on the Downtown Westfield Association Board, the Westfield Chamber of Commerce Board and the Grand Junction Task Force.
He's worried that a move to end Westfield's agreement with the state for S.R. 32 will kill the energy building downtown. Already, he said, he has near-weekly conversations with developers and businesses who choose to go to Carmel or Fishers for their willingness to move projects forward.
"I get a lot of responses that we're hard to work with and we can't get anything done," he said.
Whitesell said he would support moving forward on the road project even if it's over budget, as long as it improves the commercial base downtown and doesn't incur too much debt.
"I do want a real number and a budget, though," he said. "I think we've made that mistake in the past."
Rebuilding trust
Johns and Whitesell say residents don't have to look far to see a Westfield project that ran over budget, leaving the city to scale it back or pony up extra funds.
Last year, city officials were forced to redesign the $35 million Grand Junction Park and Plaza project to avoid spending an extra $13 million after bids came in higher than expected.
"We saw the administration make an arbitrary decision to reengineer it," Johns said. "We're getting a plaza with a foundation and no buildings. That's frustrating."
Cook said that's not a fair comparison. The plaza had a lot of room for surprises, he said, because the buildings, which have been slated for later construction, had unique and complicated architecture.
"It's comparing apples to oranges," Cook said. "The Grand Junction project is a very, very complicated six-acre project that is redeveloping 100-year-old land in the middle of our downtown. Most engineering firms are very familiar with roadway projects."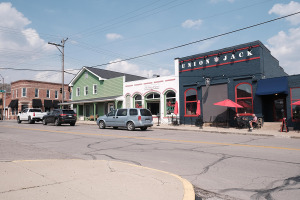 Should any aspect of the S.R. 32 project require spending beyond the $7.5 million already earmarked by the city, Westfield spokeswoman Vicki Duncan Gardner said, those costs would be paid using road-impact fees developers pay the city whenever they launch a project.
Johns said he and other council members look at the cost overruns Fishers and Hamilton County are now confronting on their State Road 37 project as further evidence of potentially rising costs. That project will run about $47 million over budget.
Patton said, despite what the mayor says, he remains skeptical the S.R. 32 expansion will stay within its $15 million budget.
"It's not that we're against these things. I just believe the transparency issue is a major problem with these guys," he said. "Plan what you can plan and get a real cost estimate for those things, then look to see what we can do to get a return on investment."
Westfield has $9 million in cash reserves. It has already spent $1 million on engineering costs and would have to repay INDOT another $450,000 for consultant contracts and in-house services. But Johns said that's a small amount compared with possible cost overruns.
"I expect there to be a slight financial hit," Johns said. "However, would I rather lose a couple million dollars than lose what could be $20 million? That's an easy decision for me."
Council member Scott Willis said he's worried the project could be more expensive than anticipated but doesn't support Johns' proposal to terminate the agreement at this time. There's no telling how much the project will actually cost until the historic mitigation and other bids are brought back to the council. For now, Willis said, he plans to "trust but verify" the mayor's claims that the estimate will hold true.
"It's premature for me to say anything other than, the jury is out," Willis said. "I'm concerned the project will come in over budget, but let's deal with it at the appropriate time. Killing it now would set our city back 10 years. Let's see where it comes in at before we cut off our nose to spite ourselves here."•
Please enable JavaScript to view this content.