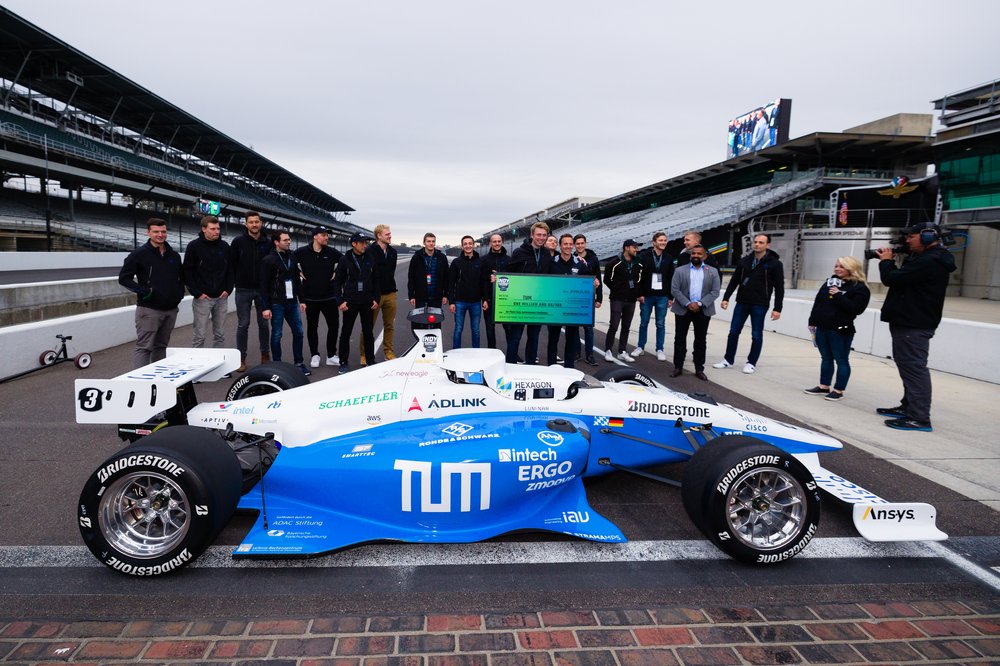 A team from Germany won the $1 million grand prize in the inaugural Indy Autonomous Challenge on Saturday at Indianapolis Motor Speedway.
TUM Autonomous Motorsport from the Technische Universität München recorded the fastest two-lap average of just under 136 mph in their driverless vehicle on the 2.5-mile oval track.
Nine teams composed of researchers and students from 21 universities spanning nine countries competed in the event, which showcased their work in automated vehicle technology. Many of those teams have spent the past several months meticulously working on their vehicles at IMS and Lucas Oil Raceway in Brownsburg, a designated test facility for the challenge.
The event was backed by major players in the tech industry including Cisco, Intel, Aptiv and Microsoft, along with individuals with direct ties to firms that have made major strides in autonomous technologies. The Indiana Economic Development Corp. is also a major backer of the initiative.
The event required each team to compete in a fastest lap competition that included an obstacle avoidance component.
"Participating in the Indy Autonomous Challenge allowed our team to advance autonomous driving technologies, and being able to take first place after two years of hard work acknowledges that we had an outstanding team," said Alex Wischnewski, team leader of TUM Autonomous Motorsport. "Our next goal is to win a high-speed autonomous head-to-head race."
Energy Systems Network CEO Paul Mitchell said the prize money will go toward the university's efforts to further autonomous technology research and development.
"We know that the achievements of our IAC teams, alongside some of the best companies in the world, will certainly lead to the acceleration of Indiana's AI and automation industries well into the future," said Mitchell.
ESN said thousands of people attended the competition, included 350 high school STEM students. A livestream of the competition also saw more than 20,000 viewers.
Please enable JavaScript to view this content.