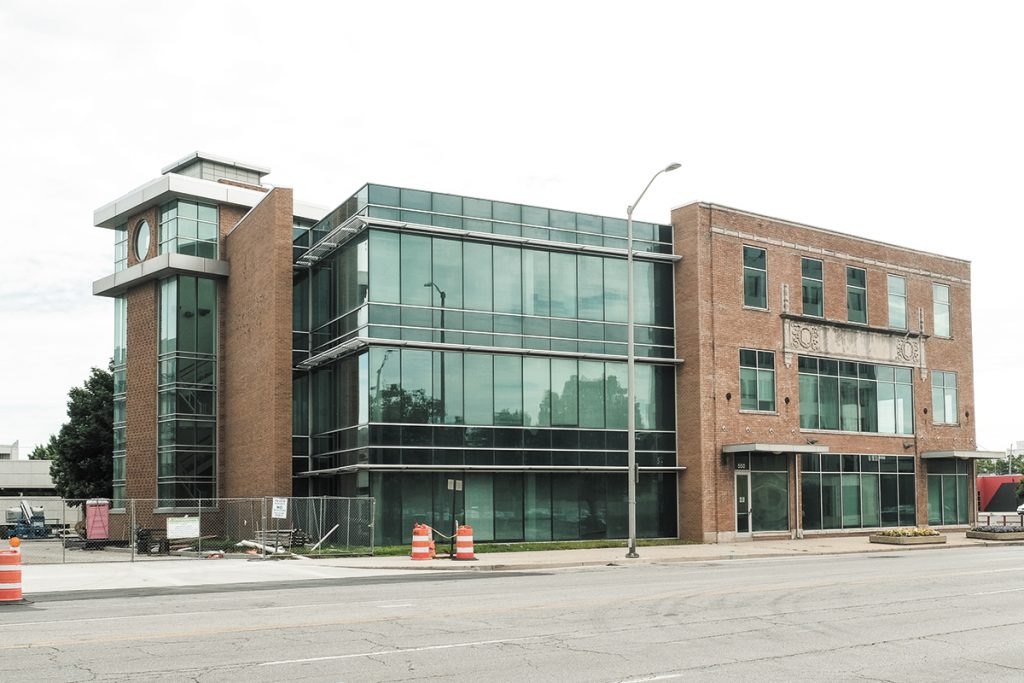 IndyGo is investigating whether to purchase the former Harrison College site at 550 E. Washington St. for millions of dollars to use as additional office space—but some of the transit agency's board members are not convinced doing so is a good idea.
IndyGo says it's bursting at the seams at its current headquarters at 1501 W. Washington St., just west of the Indianapolis Zoo. With the 2019 launch of the Red Line and other route improvements, IndyGo has swelled its staff from 627 in 2017 to 897 today.
Now, with the pandemic, IndyGo says the only way its administrative staff can practice social distancing at work is if some of them work from home.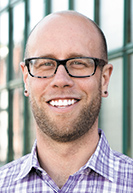 "COVID just kind of accelerated and brought to light some things that already needed to be addressed," IndyGo spokesman Bryan Luellen said.
IndyGo's staff identified the former Harrison College site, just east of the IndyGo transit center, as a potential expansion location.
The property, which consists of a vacant 50,000-square-foot building on a 0.92-acre lot, is listed at $7.5 million—though the price IndyGo would pay has yet to be determined.
In a 4-3 vote at its May 28 board meeting, IndyGo's board narrowly approved securing appraisals for the property—a necessary step in the property acquisition process.
As a public entity, IndyGo is prohibited from paying more than the appraised value if it acquires real estate. IndyGo must secure two independent appraisals, and the average of the two appraisals becomes the purchase price.
The property's current owner, Indianapolis-based developer Milhaus, bought the site in 2018 and built apartments on an adjacent surface parking lot. The apartment project, called Grid, is expected to be complete this month.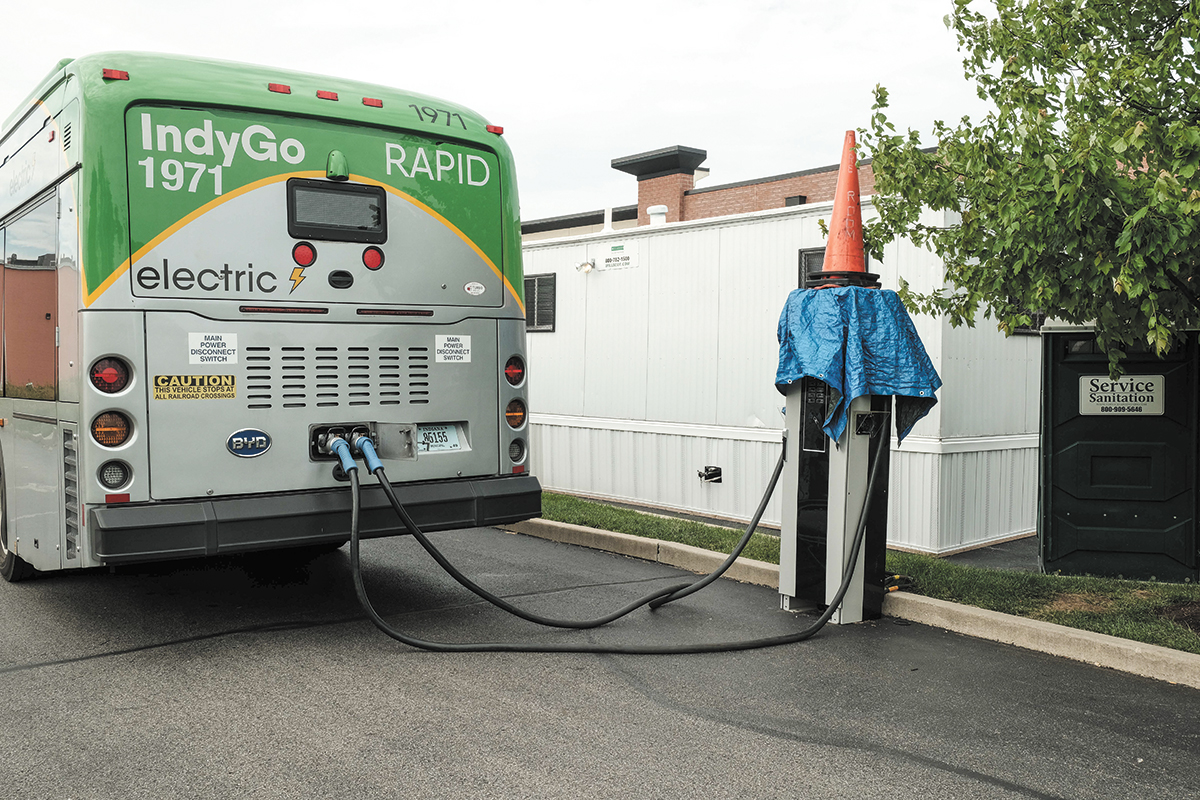 Harrison College went out of business in 2018, shortly after Milhaus acquired the property, and the developer has been looking for a new occupant for the space since.
IndyGo also is considering buying two other parcels for use as in-route charging stations for the Red Line's electric buses, and the agency's board did not express concern about those sites.
At last month's meeting, IndyGo's board unanimously approved the securing of appraisals for those two sites: a former Key Bank branch office on 0.54 acre at 6410 N. College Ave., and a 1.08-acre site with a 9,234-square-foot mostly vacant retail center at 8925 S. Madison Ave. on the far-south side.
The asking prices are $1 million for the College Avenue site and $2.3 million for the Madison Avenue site, though the amount IndyGo would pay would be based on appraised values.
At last month's board meeting, board members Juan Gonzalez, Tommie Jones and Lise Pace all voted against securing appraisals for the former Harrison College site.
"This is a much bigger investment than the other two [College Avenue and Madison Avenue sites]. There's a much bigger analysis that I think needs to be done," Gonzalez said as a way of explaining his vote.
One of the "yes" votes, from Indy Chamber Chief Policy Officer Mark Fisher, came with a caveat. Fisher said he is willing to proceed with securing appraisals but isn't convinced IndyGo should follow through on purchasing the site.
"I think we need to have a lot more discussion and analysis done" before making a purchase decision, Fisher said as he cast his vote.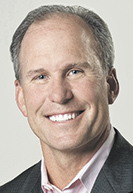 Needs assessment
Indeed, one real estate expert said office-space considerations have gotten trickier because of COVID-19.
In the Indianapolis market, "we're about to go through a major change in how we use office space," said Bill Ehret, managing director of real estate company Avison Young's Indianapolis office.
The pandemic, Ehret said, has put the work-from-home trend "into hyperdrive," with the result that employers are already starting to rethink how much office space they need.
"I'm an optimist, and I'm a big-time believer in downtown Indianapolis, but people are seriously going to look at their business models and ask, 'Why do I have this much space?'" Ehret told IBJ.
Ehret is on the board of the Central Indiana Regional Transportation Authority, or CIRTA, though he is not involved in the real-estate decisions IndyGo is facing.
As a rule, Ehret said, he advises clients that they should have a good idea what their organization is going to look like in seven years if they plan to buy office space. If the client is uncertain about this, he said, leasing might be the better option.

Jones said she voted "no" because she's not convinced the former Harrison College site will meet IndyGo's needs.
"I really wasn't interested in spending money for an appraisal for something we might not be getting," Jones told IBJ this week. "I'm not sure that's the amount of land that we need."
The site is mostly taken up by the building itself, and Jones said IndyGo should look for more of a campus-type space that includes both land and buildings.
Currently, IndyGo's administrative offices and operational facilities—bus storage and maintenance—are housed at its West Washington Street headquarters. Driver training and IndyGo's Open Door service for riders with disabilities are handled from separate locations.
As of late 2018, IndyGo planned to build a 3,500-square-foot training center at 1100 W. 21st St., near the 16 Tech campus. But the organization shelved those plans when cost estimates came in well over the $4 million it expected. IndyGo hasn't decided whether driver training might move to its existing headquarters or somewhere else.
Luellen said IndyGo is working through details on how it might use the former Harrison College space, though he said bus storage and maintenance would stay at their current location.
Jones said she favors a different idea—moving IndyGo's operational facilities to a new site and keeping the administrative offices where they are. She also said she's open to other ideas. "None of this is set in stone with me."
The third "no" vote on the property appraisals came from board member Lise Pace, who did not offer a reason for her vote. Pace did not respond to a phone message and email from IBJ this week.
The four board members who voted "yes" were Chairman Greg Hahn, Vice Chairman Adairius Gardner, Fisher and Richard Harry Wilson.
"As a steward of taxpayers' money, it just makes more sense to me to invest in something that can grow with the corporation," Wilson said.
Agreement
Board members were unified on IndyGo's plans to acquire the College Avenue and Madison Avenue sites.
Currently, IndyGo has temporary Red Line charging stations set up at the Madison Avenue location and at the intersection of East 91st Street and College Avenue.
As part of a deal it reached last year with the Red Line buses' manufacturer, BYD, the manufacturer has agreed to pay for in-route charging stations at a cost of $2 million to $3 million per station because the buses' charging falls short of expectations during cold weather.
Those charging stations will consist of inductive charging equipment that is buried underground, allowing buses to pull up and recharge wirelessly during Red Line drivers' scheduled breaks. That equipment has not yet been installed.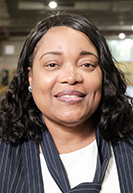 At last month's meeting, IndyGo CEO Inez Evans said it makes sense for IndyGo to own the charging sites before the permanent equipment is installed. Currently, IndyGo has a seven-year lease on the Madison Avenue property, but it also includes a 30-day removal clause.
If IndyGo were asked to vacate the site, Evans said, it would be forced to find a new location and relocate the charging infrastructure at its own expense. Purchasing the property would also allow IndyGo to add restroom and break-room facilities drivers can use while their buses are charging.
Down the road, IndyGo is also eyeing other uses for the College Avenue and Madison Avenue sites, Luellen said, including adding mobility services. The sites could, for instance, become designated Uber or Lyft pickup points.
The properties don't offer enough parking to serve as park-and-ride spots for the Red Line, but they could potentially serve as "kiss and ride" spots where spouses or friends could drop off riders, Luellen said.
The Madison Avenue site, which is just north of County Line Road, could link IndyGo riders with Johnson County's transportation service, Access Johnson County.
"How do we marry up these different functions," Luellen said, "and really make the most of IndyGo's investment in transportation assets?"•
Please enable JavaScript to view this content.