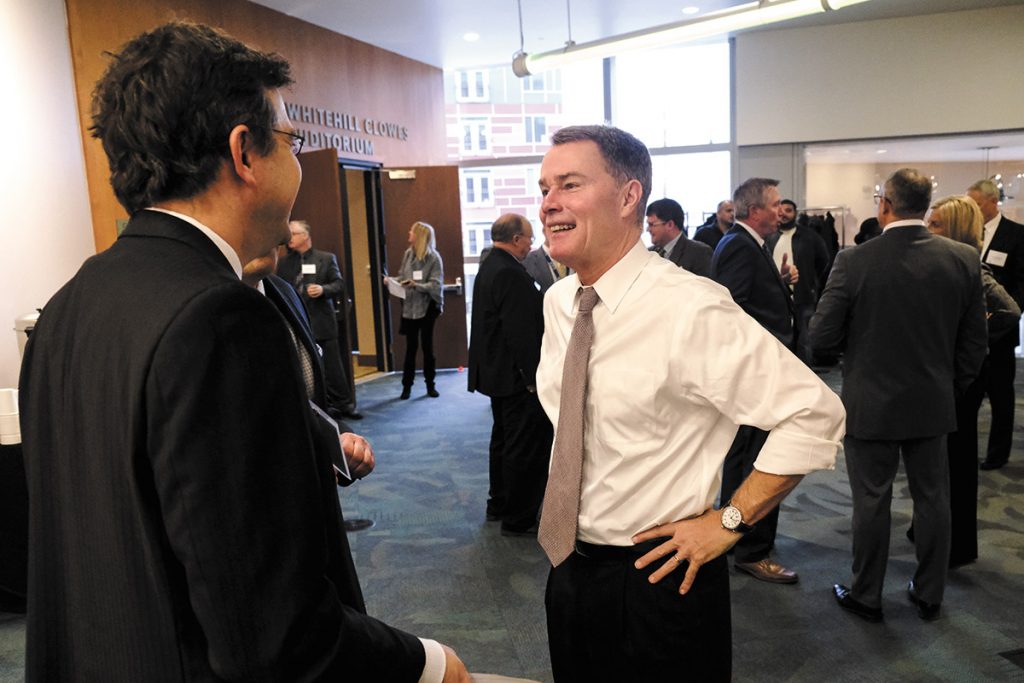 Incumbent Mayor Joe Hogsett can rattle off a list of programs he's proud to have created during his first term, things like Project Indy, a summer jobs program for youth, and Indy Achieves, which helps send kids to college.
But the Democrat is seeking a second term to work on the larger idea that he says drove those programs: that only through inclusive growth—meaning economic achievement for all sectors of the city—can Indianapolis thrive.
The goal is "that prosperity can be shared by more people in Marion County than has been the case in the past," he said.
Here's what he told IBJ about how he'd like to get there:
As you're heading into these last weeks, what is your elevator pitch for why voters should give you another four years?
It'd be something along the lines of: We've accomplished a lot in the first four years, but there is still more work to do, and sometimes important projects take time.
A good example of that is the Community Justice Campus. I think that's a transformative effort that we are making to holistically change the way criminal justice is dispensed in Marion County. I would like to have the opportunity to see the Community Justice Campus come out of the ground and be in at least some complete stage before I turn over the leadership of the city to somebody else.
How do you think the city is stronger now than it was four years ago when you took over as mayor?
First and foremost, we have righted the fiscal ship for our city. That's not meant as a criticism of any of my predecessors. The cost of the circuit breaker that we inherited as a result of property tax caps on an annual basis could be anywhere from $40 [million] to $55 million, if I remember correctly.
And so, within the first year, by the end of 2016, we'd cut that deficit in half, and then since, we've offered to the council for its consideration three honestly balanced budgets. You have seen the response to that effort—very, very broad bipartisan support. That's an important accomplishment, because, when you put the city in a much more comfortable fiscal position, you can really start making investments, whereas, as long as you're chasing debt most of the year, you're not able to do that.
I'm proud that we have, I think, meaningfully addressed what I consider to be probably the two most important issues that voters want this campaign to talk about. That's the investments that we've made for three or four years in public safety and the investments in the short term and the long term that we're making in the infrastructure of our city.
We've come a long way, but there's more work to do on both of those fronts.
Are there any big fiscal cliffs on the horizon or are you ready to start making the investments you talked about?
Probably a little bit of both. You're never going to let your foot up off the accelerator in terms of the way you can find new and more creative ways to provide the city with the revenue that it needs. … [But] I feel confident enough that in future budgets … we as a community can really start to double down on a lot of the investments that we make and issues that affect the quality of life, the quality in place, and provide more economic opportunity for our citizens and better educational opportunity for our kids.
Crime continues to be a problem. Where do you think you've made the most progress in addressing the issue, and what needs to happen next?
I do think that we are making progress. Is it as fast as I want? No, of course not. I wish I could wave a magic wand and basically prevent homicides altogether in our community. But I have reason to believe that, given the present trends, we may very well experience for the first time since, I think 2012, the first year-over-year decrease in the number of homicides in Marion County.
I really think the investments that the council has supported, that we're making in community and neighborhood organizations, faith-based groups, the other forms of crime prevention, crime intervention and crime-reduction grants … will continue to increase the safety and the peace on our streets.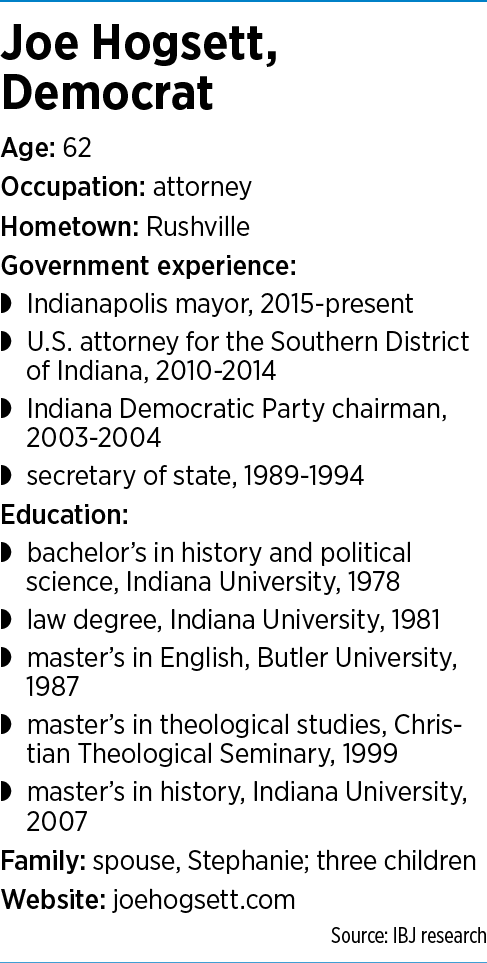 You mentioned the criminal justice center. The mental health and addictions unit will be the first part of that to open. How important will that be in addressing criminal activity?
It's an essential part of being equitable, eliminating racial disparities, keeping people in treatment and out of jail. All of those benefits are derived from an emphasis on, an acknowledgement of and an understanding about the fact that 30% or maybe more of those who are incarcerated in the Marion County Jail suffer from some kind of mental health challenge or diagnosed mental illness.
Many, many more—maybe as high as 70% to 75%—are suffering from some form of addictions or substance abuse. And until you get that right, you're going to continue to have crime that is in no small measure driven by not a criminal [mentality] on the part of low-level offenders. They're just trying to deal with the challenges that they face.
That's why I asked the task force that we put together to oversee criminal justice reform to think about a community justice campus where the operative question is not, how many jail beds do we need to build? But, how many jail beds can we avoid building? And I think that that type of approach, that type of attitude, that type of spirit will go a long way toward helping us resolve the outstanding issues that we have in terms of crime and criminal acts generally.
Criminal justice obviously is a big issue in the African American community, which has been significantly more invested in the political process this year. What did you learn in your conversations with black leaders this fall?
It's probably fair to say that there are more leaders in the African American community that have come forward in this cycle. I think that's a good thing … in the sense that we want to be one city. And while we're not there yet, that doesn't mean that we shouldn't spend a sizable portion of every day trying to get to the point where we can come together and truly and meaningfully see all of the different aspects of Indianapolis as part of our strengths, rather than continue to be exploited by others as ways of dividing us one against the other.
Is there anything you will do differently based on those conversations with black leaders?
We'll double down on the investments that we are making in our economic well-being—investments that we are making in educational opportunity for not just our kids but for adults as well. Also, the inclusive growth strategy, the Indy Achieves initiative, which piggybacks on 21st Century Scholars and, frankly, I'd be remiss if I didn't mention using the blueprint for this incredible success that we've enjoyed downtown and leveraging that success back out into our neighborhoods.
So, more economic opportunity and prosperity for more residents, more educational opportunity. … And then leveraging the assets that we enjoy downtown back into our neighborhoods.
If you think about the investment being made in Bottleworks, the investment being made at 16 Tech, the Community Justice Campus, and what I think is an incredible opportunity for investment in Sherman Park, out there at Sherman and Michigan. All four of those sites are outside the Mile Square. … This gets back to the question, why am I running for a second term? I just see the development of 16 Tech and how that will transform not only the Riverside community but the near-west side, partnering with all of the community assets that exist up there. When you think about Sherman Park and the development that could be made out there on the near-east side. When you think of the southeast side and the Community Justice Campus. All of those are transformative.
In these neighborhood developments, there's always fear of gentrification that will drive out people who have lived in neighborhoods for a long time. How do you tackle that issue?
The mantra of our Department of Metropolitan Development and everybody here at the city who thinks about those things is development without displacement. And I suppose the best example that I can give you is our Lift Indy investments that we have made for three years now. First at 16th and Monon, the second on the Old Southside and the third just announced on the near-east side. I think all of those are proceeding with great care and thoughtfulness about how you protect multi-generational homeowners in those neighborhoods, while at the same time make the types of investment—whether it be in residential or retail or commercial investments—that will improve the quality of life in those neighborhoods.
That's why I'm supportive of the legislation that for the last couple of years has been introduced into the General Assembly by Reps. Cherrish Pryor and Robin Shackleford that would, if passed, allow local units of government to have more tools available to them to do [more] in terms of property tax relief. If assessed values start shooting up and property taxes start to become prohibitive … we have more tools available for us to protect and preserve those who already are homeowners.
One of the big moves you made as mayor was changing the economic development incentives to require companies offer an $18-an-hour wage. How do you hope to build on that?
We're kind of at an interesting point. There's historically low unemployment, but … since the Great Recession, what we are experiencing in too many neighborhoods throughout our community is underemployment. It's not that people aren't working; it's that people just aren't making as much money as they did in previous job opportunities.
That's why the Indy Chamber and the city, along with some of our other community partners, joined together to chart this new strategy for inclusive economic incentives. I think it'll be a new road map for our city's economic development and whether those types of incentives raise the hourly wage; whether they provide for child care for families who need it; whether they make more opportunities for cost-effective, efficient transportation to and from work, we simply want to use our inclusive growth strategy as a way to make sure that more of the residents of our city are enjoying the prosperity of our city.
What do you think you've learned about yourself over the past four years?
I think I've learned that the best-laid plans sometimes don't work out the way you want them to. So you have to focus on identifying a problem, identifying solutions, figuring out how to pay for it, and then have the confidence to make adjustments if adjustments need to be made.
It's more important when you have a comprehensive set of responsibilities like a mayor has that you are willing to dare to fail, because that's the only way you're ever going to succeed. If things don't work out exactly the way you had planned, you have to be willing to make adjustments and ensure that you're getting the best benefit out of the investments that you're making and moving the city forward.
What one or two words would you use to describe the kind of leader you would be in a second term?
Passionate about neighborhoods and children.
Do you have any pets?
Yes, we have two cats. I have to get the names right or my spouse will kill me. Harvey Duncan Hogsett and Milo Von Hogstetevich.
What's the last movie you saw?
"Rocketman," with my daughter.
What was the last book you read?
It would have to be The Encyclopedia of Indianapolis. We refer to it frequently.
What's your favorite Indianapolis restaurant?
Working Man's Friend•
Please enable JavaScript to view this content.