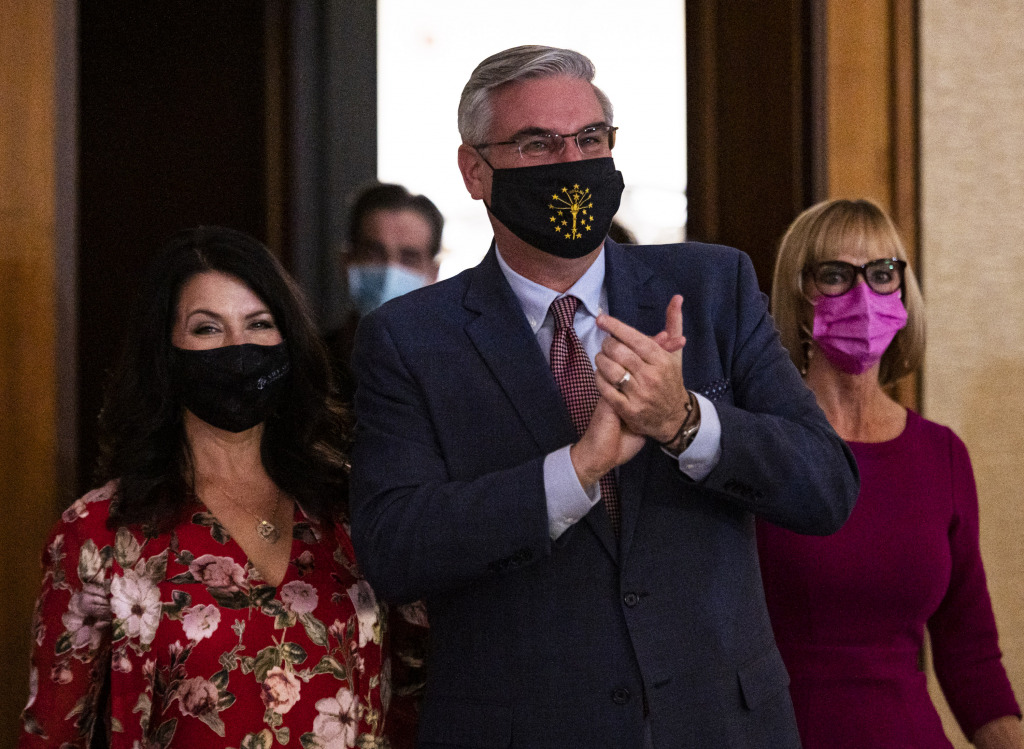 Indiana Gov. Eric Holcomb on Tuesday signed an extension of the state's public health emergency through Dec. 31, a step under which he has issued the statewide mask order and limits on crowd sizes.
Holcomb's action Tuesday was his ninth 30-day extension of the statewide public health emergency he first issued in early March on the day of Indiana's first coronavirus infection was confirmed. Holcomb reinstated crowd size limits based on a county's risk level of coronavirus spread but has largely left enforcement to local officials.
Health officials across the state are worried about hospitals being overwhelmed by the quickly growing number of severely ill COVID-19 patients and a possible new surge tied to Thanksgiving gatherings.
About 30% of the patients arriving at Johnson Memorial Health's hospital in the Indianapolis suburb of Franklin have been testing positive for COVID-19 infections, leaving it struggling to find the space and staff to care for new patients.
"In a lot of ways this is what we feared. We are on the brink right now," said Dr. David Dunkle, Johnson Memorial's CEO. "If you get a post-Thanksgiving surge, I am not sure we have the resources to really deal with it."
Indiana hospitals were treating 3,460 COVID-19 patients as of Monday—about a 350% increase since late September when the state's steep increase in hospitalizations and deaths began.
Officials in northern Indiana's Elkhart County cited the strain on the county's hospitals and more than 80 coronavirus deaths in November as they approved Monday allowing fines of up to $5,000 against businesses for multiple violations of rules such as failing to post signs about mask requirements or holding an improper gathering or meeting.
"None of us came to this spot lightly. If we had thought there was any other way, we wouldn't be considering this ordinance," County Commissioner Suzie Weirick said. "It is beyond COVID. It's the ripple effect into the community that has put us into this position. We really just hope … that people understand masks work, distance works and sanitization works when all used together."
Republican state Sen. Blake Doriot, whose district covers most of Elkhart County, questioned the authority of local health officials to conduct such inspections, saying "It just slams in the face of property rights."
"I guess I just don't agree with this walking right through somebody's door and saying, 'Here we are, we're going to inspect you,'" Doriot said.
County officials said the public health orders need to be reinforced like any other worker safety issue.
"Our main goal is not the fines, although they are there for repeat offenders," County Health Officer Dr. Lydia Mertz said. "Our goal is education, helping businesses work through any problems that may be preventing them from being in compliance."
Please enable JavaScript to view this content.