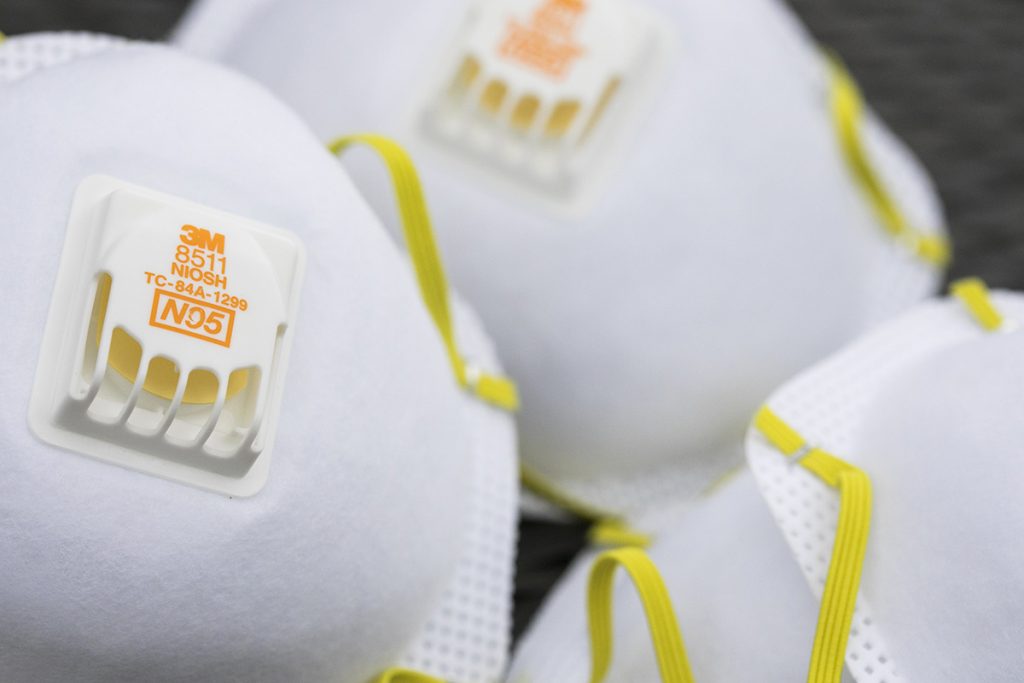 Indiana Gov. Eric Holcomb on Wednesday said he would issue a statewide mask mandate because of a recent rise in the COVID-19 positivity rate.
The executive order would become effective on Monday, July 27, he said.
The order would apply to anyone 8 years and older in indoor public places commercial entitles, transportation services, or in outside public spaces when social distancing isn't possible.
Mask use also will be required in schools in grades 3 and up. The school requirement applies to co-curricular and extra-curricular activities, with exceptions for strenuous physical activity.
The governor said exceptions will be made for medical purposes, strenuous physical activity, eating and drinking.
Holcomb acknowledge that not everyone will be supportive of the face covering mandate.
"This is nothing that I wanted to do," Holcomb said. "This is not about what I want to do or wished would be. This is what the reality is. I would just ask people to recognize that the sooner that we get through this, the better."
Indiana will join nearly 30 other states that have already mandated the use of masks, including Ohio, which announced its statewide requirement earlier Wednesday. Ohio's mandate begins Thursday. Every other state surrounding Indiana has already issued a mask mandate.
Several locations in Indiana previously issued mask requirements, including Marion, Elkhart, LaGrange, Monroe and St. Joseph counties, plus the cities of Fishers, Evansville and West Lafayette. Local orders and school policies will be allowed to be more restrictive, a spokesperson for the governor confirmed to IBJ.
Not only are COVID-19 cases rising in Indiana, but hospitalizations are up. In addition, a larger percentage of those being tested are being found positive, the governor said.
Coronavirus hospitalizations jumped by 66 people, to 869, as of Tuesday—a figure that had plunged since peaking in mid-April but has curved back up since late June, according to the state health department. Indiana's ICU cases for COVID-19 grew by 61 people, to 328, on Tuesday, up from the low-200s two weeks earlier.
Holcomb said was implementing the mask order because he wanted to avoid having to bring back business restrictions that have already been lifted, which is something other states have been forced to do.
"Face coverings can and will help us blunt this increase," Holcomb said. "It has in other places."
Holcomb mentioned seeing recent newspaper photos that showed large crowds of people not wearing masks.
"Pictures speak 1,000 words," Holcomb said. "So, when you see those pictures aligned with the numbers, I've seen this movie before. I've seen it around the country. I know how it ends, and we're trying to change the ending for real people."
Holcomb said there won't be any "mask police," but violations will be considered a Class B misdemeanor, which can result in up to 180 days in jail and a fine of up to $1,000.
The Indiana Chamber of Commerce said the mask order is "a necessary step at this time in continuing to reopen Indiana safely."
"Too many Indiana companies, employees and their families are in their fifth month of financial turmoil," Indiana Chamber of Commerce President and CEO Kevin Brinegar said in a written statement. "That will not change and our economy will not be on the full road to recovery until some certainty is brought to this uncontrolled pandemic. The wearing of masks is a proven strategy for protecting others and enhancing our health–both physical and economic."
Democrats, including gubernatorial candidate Woody Myers, have for weeks been urging Holcomb, a Republican, to issue a statewide mandate.
"Governor Eric Holcomb stalled for months, caving to the anti-science conservatives—taking action only when every single state surrounding us implemented a mask order," Myers said in a statement Wednesday afternoon.
Please enable JavaScript to view this content.