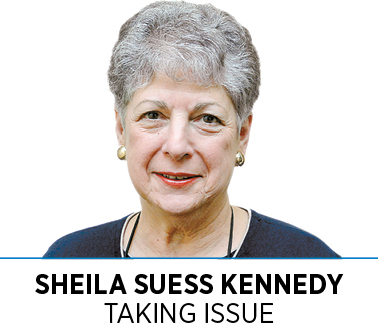 My last column focused on the Indiana General Assembly's wrongheaded assault on public education. But ill-conceived voucher legislation is just one of the revealing features of a session rife with ethical transgressions, destructive policies and petulant efforts to kill the Indianapolis goose that lays the state's golden eggs.
Lawmakers overturned Indianapolis' efforts to give renters some minimal rights, tried to remove city oversight of its own police department, and continued their vendetta against Indianapolis mass transit, spitting on a city referendum that showed overwhelming support for transit expansion. They've intruded into local planning and zoning.
They demonstrated their animus against urban legislators of color in a particularly ugly episode during which "the usual subjects" jeered and booed colleagues expressing concerns about the discriminatory effects of a bill altering school boundaries.
Lawmakers' statewide efforts haven't exactly been defensible, either.
Legislators who are real estate developers are trying to eliminate protections for wetlands. Eliminating them will save developers money, so who cares if Hoosier drinking water is compromised? (Conflict of interest much?) Republican lawmakers are trying to limit vote by mail. And the usual suspects want to do away with gun permits entirely (costing the state the substantial sums those permits generate) despite law enforcement warnings that Hoosiers will be less safe when any nut can pack heat.
It goes on and on.
A recent article in Governing Magazine, "Why Cities Have More People But Less Clout," focused on what most of us know: The majority of the nation's economic growth has been concentrated in major cities that are the primary economic engines of their states. You would think that would make us deserving of support, but state officials pretty consistently opt to keep money flowing from those cities to rural, less-prosperous areas of the state. Cities send far more tax dollars to the state than they receive back in spending.
As cities are prospering (at least before COVID), they have been moving in an increasingly progressive direction. Only three of the nation's 25 largest cities have Republican mayors. Meanwhile, a majority of state legislatures are controlled by the GOP. As the article notes, this isn't just a partisan political gap; the urban-rural divide "reflects and is reinforced by other overlapping differences, including cultural attitudes, education levels, class and race."
In a country that is increasingly removed from anything resembling actual democracy, people who live in the nation's cities have demonstrably less political voice than do their country cousins. Most states don't really have "one person one vote," and the result is that rural voters are vastly overrepresented. (The recent U.S. Senate Republican "majority," which refused to rein in Trump's abuses after his first impeachment, was elected with 20 million fewer votes than the Democratic "minority.") State taxes paid by city dwellers go disproportionately to rural areas, and the people who populate state legislatures have gerrymandered voting districts to keep things that way.
The Governing Magazine article acknowledges a long tradition of outstate resentment of states' dominant cities.
Legislators don't see any reason to take the interests or welfare of the urban population into account, and the country's culture wars make them unwilling to do so. The article quotes a University of Virginia law professor on the proposition that state legislators resist giving cities home-rule powers because their rural constituents oppose even policies that don't affect them, if those policies are contrary to their conservative positions.
How we give America's urban majority at least an equal say with its rural minority is an increasingly critical question.•
__________
Kennedy recently retired as professor of law and public policy at the Paul H. O'Neill School of Public and Environmental Affairs at IUPUI.
Please enable JavaScript to view this content.