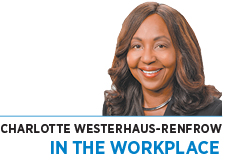 Are job seekers reading your job postings?
Perhaps you think, "Why, of course they are!" But don't be too sure.
Job-search site TheLadders conducted research into how those people looking for work read and evaluate job postings. Their research showed the average time to "decide on the suitability of a position was 49.7 seconds when the job was not a fit, and 76.7 seconds when it was."
Clearly, you want your company to remain competitive and thrive. Moreover, you are mindful that your job posting might be a first reflection of your brand as an employer. First impressions can be lasting impressions.
Plus, if you consider yourself a cutting-edge leader, you are keenly aware that the new normal of global business and competition necessitates supporting and fostering inclusion as a competitive advantage. Research from Deloitte supports this assessment and found that inclusive workplaces "are six times more likely to be innovative … and twice as likely to meet or exceed financial targets." Deloitte research also showed "companies with inclusive talent practices in hiring, promotion, development, leadership and team management generate up to 30% higher revenue per employee" than their competitors.
With numbers like these, it is always a good idea to review your company's job postings and make tweaks to enhance inclusivity. Some things to remember:
Include salary or benefits information.
When advertising a position, your company can broaden the applicant pool by listing the perks of working in your organization. A recent study by SimplyHired showed the most common red flag preventing nearly 60% of people surveyed from applying for a job was that the posting didn't include salary or benefits information.
Benefits are also more important than ever since so many have been working from home during the pandemic—will you offer flexible hours, and how much paid time off will the employee get? Do you offer help with child care or domestic partner coverage? What else do you offer that sets you apart from other workplaces?
Avoid non-inclusive keywords and cultural proxies.
To attract the best talent and avoid scaring away potential candidates, don't use keywords and references that might act as a substitute for class ("top-tier university") and/or age ("recent college graduate"). Race should never be mentioned in job postings.
In addition, the descriptions of specific job functions might have an adverse impact on creating a diverse and inclusive pool of candidates. Some words and qualities are gendered or will make others click away from your posting.
Be careful of referrals.
You have probably heard the adage of, "It's not what you know, but who you know," and this might ring true within the realm of professional networking. However, be aware that people can unintentionally be influenced with an affinity bias of hiring individuals they know and like (or who are similar to themselves), instead of the best person for the job. Thus, hiring mostly from referrals could potentially decrease the inclusion of a wider group of candidates. To avoid this dilemma, consider recruiting within a myriad of diverse professional platforms to enhance the inclusion of top talent.
Provide information about your company's values and diversity and inclusivity goals.
Your company's job posting can create a more inclusive applicant pool by highlighting a section that directly addresses that candidates from a wealth of backgrounds and experiences are welcome and encouraged to apply. But remember—nothing hurts a corporate brand of inclusion more than a lack of credibility. Once your job posting emphasizes diversity and inclusion, your company must "practice what it preaches" for all its employees and the applicants you are attempting to recruit and hire.
An inclusive workplace is one where diverse employees feel welcomed and valued. Your job posting can reflect this by emphasizing not only the requirements of employment but also the things the company can offer that will positively impact and attract all potential employees.
Include diverse perspectives in reviewing all job postings.
Finally, it is always a good idea to incorporate diverse perspectives and constructive feedback from hiring managers and search committees about what the job posting might or might not "look like" within the realm of inclusion. If necessary, be open to revising the posting. This, in turn, will serve as a viable example of your commitment to inclusion in the workplace.•
__________
Charlotte Westerhaus-Renfrow is a clinical assistant professor of business law and management at the Indiana University Kelley School of Business at IUPUI.
Please enable JavaScript to view this content.