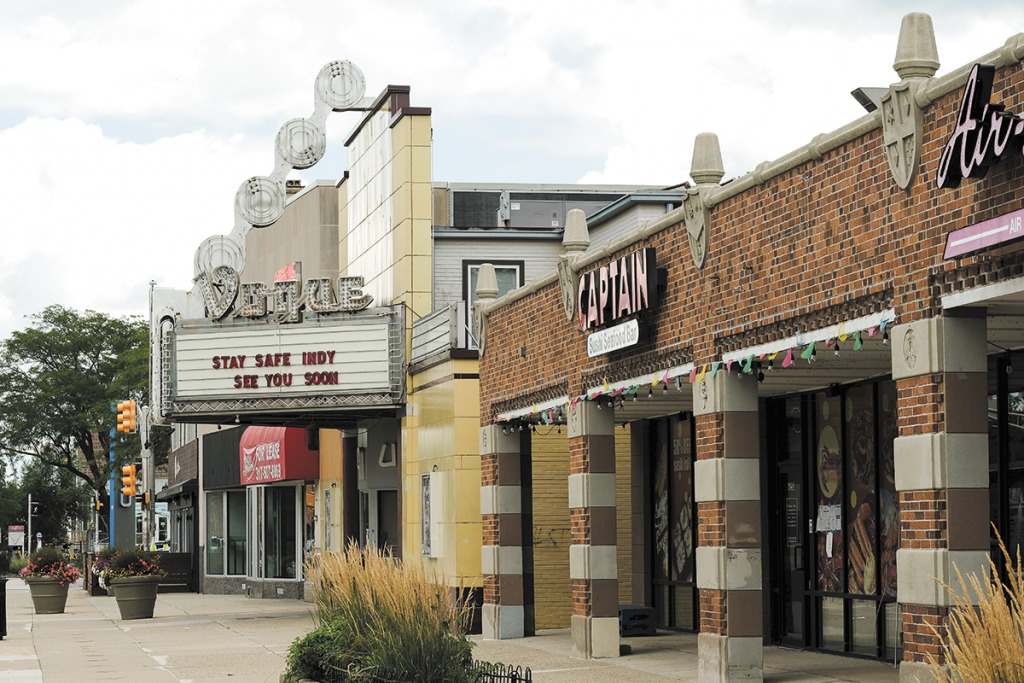 For nearly a year, central Indiana residents and businesses have reeled from the chaos the coronavirus pandemic has wrought.
The virus arrived in Marion County the first week of March and never let up. It already has cost the region hundreds of millions of dollars, tens of thousands of jobs and more than 1,800 lives. Those losses are all but certain to grow as the calendar turns to 2021, amid an international effort to roll out an effective vaccine.
The stay-at-home, social-distancing and face-mask orders also led to a shift in how people interact, in some cases creating a chasm—both physical and political—between family members, friends, neighbors and co-workers.
The first domino fell March 6, when Indianapolis health officials announced a local man had contracted the virus. That same day, a trade show expected to draw 10,000 people to the city later that month pulled the plug on its event, with hopes of rescheduling later in the year.
Within a week, dozens more COVID-19 cases arose, and conventions and events fled the calendar dates they'd carved out months or years in advance.
That included the Big Ten men's basketball tournament—which canceled shortly before tip-off on its second day of competition—and the NCAA tournament, which first said games would go on without fans but then opted to cancel the tournament for the first time ever. Major sports leagues also hit pause on their seasons.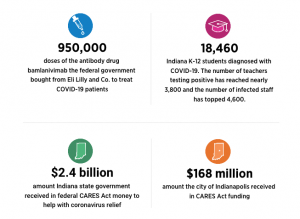 On March 12, Gov. Eric Holcomb issued the first of many statewide executive orders intended to combat the virus. The order restricted the size of gatherings and gave schools leeway to close. The first fatality from the virus in Indiana came March 15.
Two weeks later, as new cases spiraled, Holcomb and Indianapolis Mayor Joe Hogsett each issued stay-at-home orders.
The orders shuttered all non-essential businesses, including bars, gyms and movie theaters, and limited restaurants to takeout and delivery only. Most offices were required to have employees work from home, leading to videoconferencing snafus—even for public officials—and other growing pains.
"The next two weeks are critical if we are to slow the spread of COVID-19, and we must slow the spread," Holcomb said during a March 23 news conference. "You must be part of the solution, not the problem."
But the spread didn't slow.
In fact, the weeks that followed saw a rapid spike in cases and hospitalizations, testing the capacities of the state's health care facilities. On March 28, the state broke the 1,000-case threshold. Five days later, the count exceeded 3,000. The outbreak led to dozens of makeshift virus test sites across the state.
Indiana's state and local economies were devastated by the loss of conventions and business travelers, and the Indianapolis International Airport spent April and May mostly empty as airlines cut back on flights because of widespread travel restrictions.
Hundreds of restaurants and retailers closed, many permanently. Art and entertainment venues—including the Indiana Repertory Theatre, Indianapolis Symphony Orchestra and Newfields—temporarily shut down.
Likewise, some of the city's most esteemed hotels—including the JW Marriott, the Indianapolis Marriott Downtown and the Conrad Indianapolis—all temporarily closed, as occupancy fell as low as 5% downtown by early April. The state's death toll hit 1,000 later that month.
Bright spots in dark days
The pandemic actually benefited some industries and brought out the best in others that had R&D wherewithal to fight the virus.
The local warehousing sector, driven by a swell in demand for home deliveries, saw massive growth. Health care giants Eli Lilly and Co. and Roche took to the front lines to research and develop testing and treatment options.
Nearly 80,000 businesses and organizations across the state received short-term financial aid through the federal CARES Act's Paycheck Protection Program. Almost 12,000 businesses received more than $150,000 each, while two dozen received at least $5 million each. Local foundations donated millions of dollars to organizations and businesses that couldn't secure loans through the program.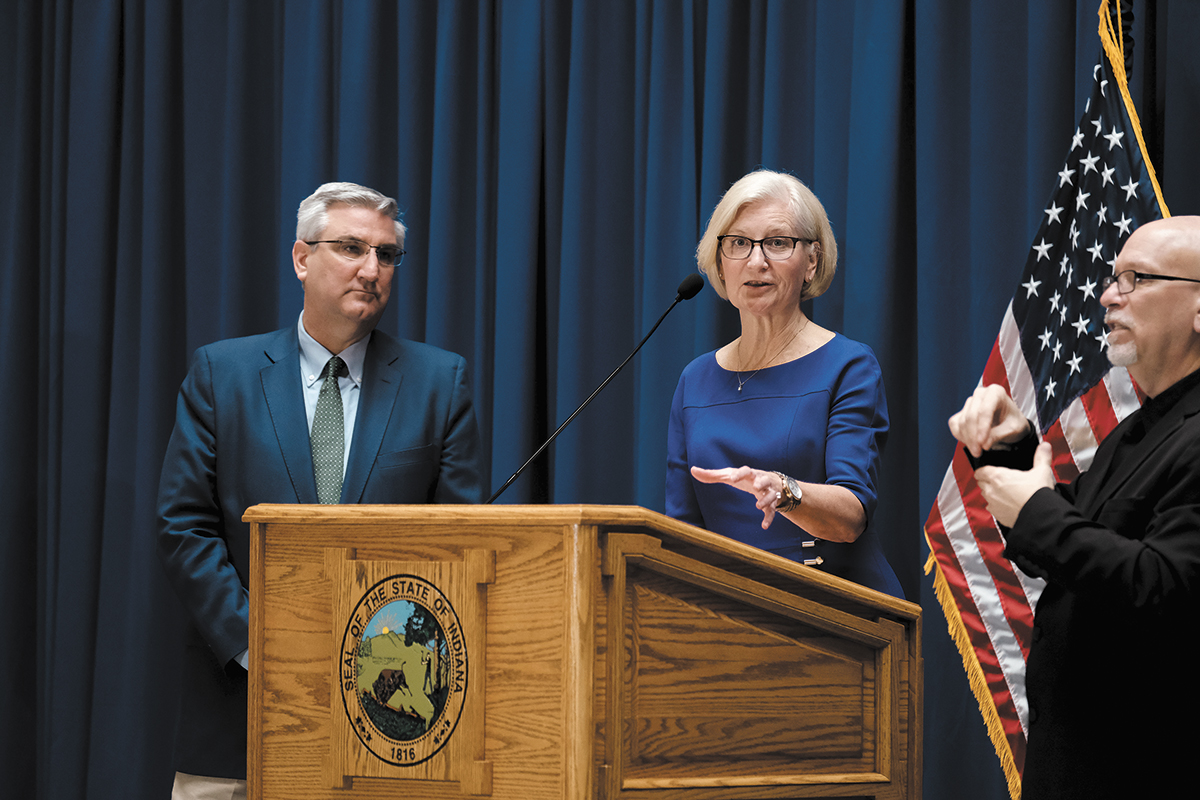 The city of Indianapolis secured $168 million in CARES Act funds to support government, residents and businesses through grant programs, rental assistance and other mechanisms.
But the struggles continued.
Businesses received leeway to reopen across the state in early May, as part of Holcomb's five-phase Back On Track plan, although Marion County reopened at a slower pace because of its higher case counts.
Those case counts continued to drive away conventions and left many residents hesitant to resume dining in at restaurants.
Gen Con, which normally draws 70,000 people to Indianapolis, announced it wouldn't host its August event because of the virus, and for the first time in a century, May came and went without a 500-mile race at the Indianapolis Motor Speedway.
Dozens of businesses sued their insurers for denial of claims tied to the pandemic, a push that legal observers say is unlikely to succeed except in rare circumstances.
Efforts to draw businesses and visitors back downtown suffered another blow at month's end, when protestors flooded the Mile Square after the fatal police shooting of Dreasjon Reed in Indianapolis and the death in police custody of George Floyd in Minneapolis.
For three consecutive days, the peaceful protests gave way to late-night rioting and clashes with police—leaving downtown buildings with more than $7 million in damage.
"Downtown is being destroyed," Patrick Tamm, president of the Indiana Restaurant & Lodging Association, told IBJ in a text message on May 31, as he and other central Indiana residents watched the chaos unfold on local news. The protests continued for several more days, but with curfews in place, the violence dissipated.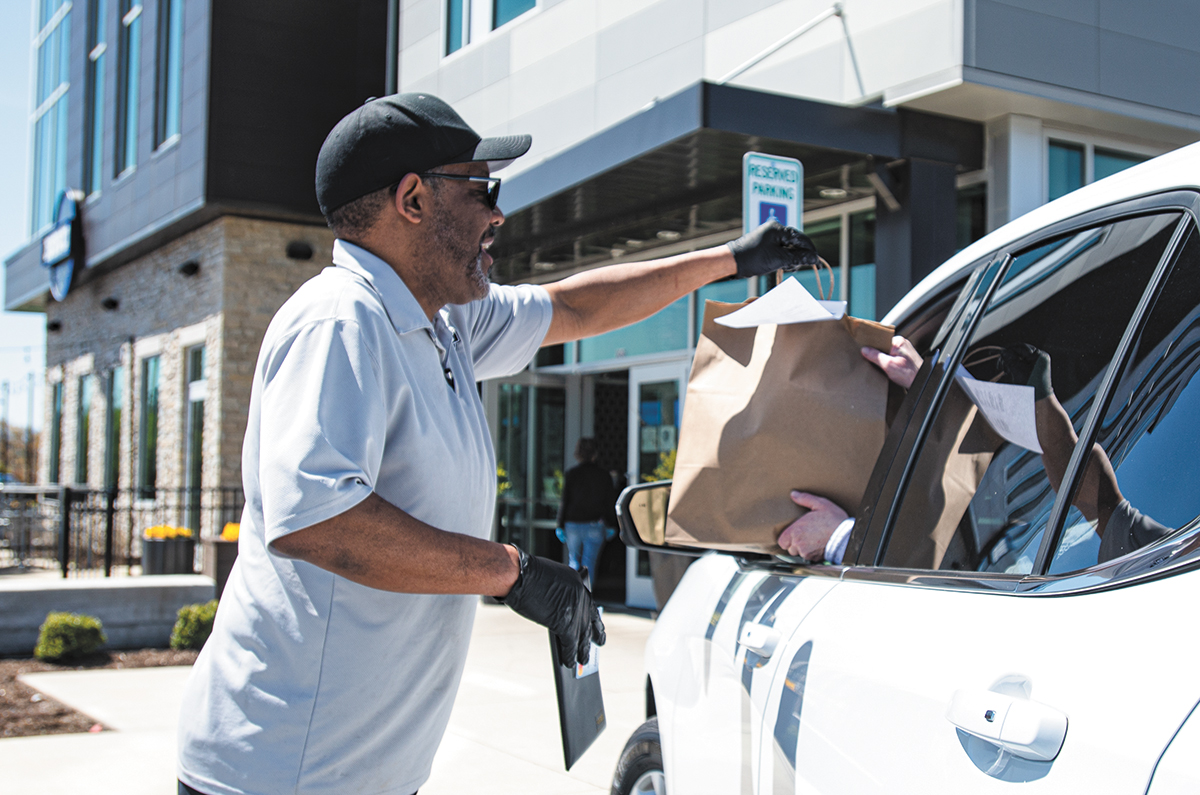 Up-and-down summer
New COVID-19 cases dwindled in June, leading some downtown businesses to reopen and more office users to start welcoming back staff.
But anxiety remained high. On June 26, another massive event, the National FFA, called off its October convention, which had been expected to have a $40 million economic impact.
In early July, Indianapolis became the first city in the country to host a major gathering in more than two months, with the Nike Tournament of Champions girls basketball tournament bringing 9,000 people to the Indiana Convention Center for dozens of games across the facility's exhibition halls.
The basketball tournament was part of a larger strategy devised by city officials to bring convention crowds back to the city. Through late August, the city would host another 20 outside conventions and sporting events, bringing in about 50,000 people.
Professional sports also geared back up in the summer, with the Indy Eleven returning to action, followed soon after by the Indianapolis Colts. Limited fans were permitted at both teams' games at Lucas Oil Stadium, after the clubs worked closely with the Marion County Public Health Department on safety plans.
The city also spent $1 million to entice visitors to stay at downtown hotels and visit local attractions like The Children's Museum of Indianapolis, the Indianapolis Zoo and the Eiteljorg Museum of American Indians and Western Art—a marketing campaign it credits with bringing tens of thousands of visitors to the area for weekend getaways over the summer.
But despite all the efforts by local and state leaders to rein in the virus, cases began to rise again in August. Late that month, the statewide death count from the virus surpassed 3,000.
Music venues in central Indiana pleaded for congressional help—to no avail, so far—although 17 Indianapolis venues shared $121,000 divvied out by Mayor Joe Hogsett's Music Cities Strategy Recovery Program.
The city's Capital Improvement Board, which operates the convention center, absorbed repeated body blows. It projected in August that it would suffer a $41 million budget deficit in 2021.
The Big Ten canceled—then later reinstated—its football season, and the NBA called off the All-Star Weekend scheduled for Indianapolis in February.
For the first time in four years, the Indianapolis Motor Speedway lifted the blackout for the Indianapolis 500, as the race ran without fans in the stands for the first time ever, on the final Sunday in August.
High-profile cases
September and October brought tens of thousands of new cases to the state, and deaths rose to more than 4,000. Indiana garnered national attention when National Institute of Allergy and Infectious Diseases Director Dr. Anthony Fauci listed the state as among those at risk of case spikes tied to the Labor Day weekend holiday.
Colleges and universities began pushing back on the possibility of refunds for classes moving online, and many college towns were put to a stiff test as students received strict guidance for conduct to limit the risk of infection.
In mid-September, Bryan Fonseca, founder of the Phoenix Theatre, died of coronavirus complications.
Around the same time, bar owners sued the city and the health department for what they called "arbitrary and unreasonable" pandemic rules of operation, including severely limited operating hours, capacities and behaviors—including the prohibition of dancing.
"I promise you that Dr. [Virginia] Caine and her [health department] team will go full footloose on your business if you're operating as a dance club," Hogsett said Sept. 8.
On Oct. 1, President Donald Trump and the first lady tested positive for COVID-19. The same month, so did University of Notre Dame President Rev. John Jenkins and Indiana State Health Commissioner Dr. Kristina Box.
Also in October, the CIB furloughed several staffers and made sweeping pay cuts. And the state deployed more than 1,300 members of the Indiana National Guard to nursing homes—which have accounted for more than half of the state's COVID deaths—to assist with routine health screenings, data entry and paperwork for patients, allowing staff members to tend to patients.
Skyrocketing numbers
In November, cases soared, swelling to more than 6,000 per day halfway through the month. By Dec. 22, more than 7,200 Hoosiers had died from the virus.
One week after the election, Holcomb announced new restrictions, after more than two months in Stage 5 of the Back On Track plan. The restrictions included limiting the number of people permitted at gatherings, depending on the severity of the virus in respective counties.
On Nov. 12, the Marion County health department ordered all schools—many of which had been providing in-person classes, or a combination of in-person and virtual classes—to move to all-virtual learning by Nov 30 and continue that format into the new year.
The same day, the Indiana General Assembly determined it would not require legislators to wear masks at the Statehouse.
The recovery for businesses across the city and state is likely to be arduous, as the Indiana Restaurant and Lodging Association estimates more than 40% of the state's restaurants might close within six months.
An estimated 340 groups canceled their conventions in 2020, accounting for the loss of nearly 1 million visitors and almost $536 million in economic impact.
Already for 2021, 11 groups representing 144,000 attendees have canceled events because of fears the pandemic won't subside by then. Those groups account for $166 million in business for the city. Another 71 conventions have rebooked for later dates, some as far out as 2026.
Recent weeks have shown some promise, with Eli Lilly receiving emergency authorization for its drug that treats mild cases of COVID-19 and Pfizer and Moderna receiving approvals for vaccines.
Yet vaccine distribution is a monumentally complex undertaking. Economists say how well the United States and other nations manage that process will go a long way toward determining how soon central Indiana and communities across the globe will return to some sense of normalcy.
In a new report, Moody's Investors Service said it "expects pandemic management will continue to improve over time, thereby reducing fear of contagion and allowing for a steady normalization of social and economic activity.
"As a result, the virus is expected to become a less important macroeconomic concern throughout 2021 and 2022."•
Please enable JavaScript to view this content.