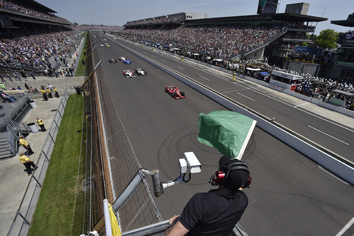 IndyCar announced a contract extension with NTT as its title sponsor on Monday, continuing an agreement that began in 2019.
NTT is a global technology giant that became title sponsor of the IndyCar Series four years ago. The company extended the agreement in 2021.
Financial terms of the deal were not disclosed, but the parties said it involved a multi-year extension that begins in 2024.
As part of the agreement, NTT and affiliate NTT Data will continue as the official technology partners of IndyCar, Indianapolis Motor Speedway, the Indianapolis 500 and NASCAR's Brickyard weekend.
Tokyo-based NTT, founded as Nippon Telegraph and Telephone Corp. in 1952, is the fourth-largest telecommunications company in the world in terms of revenue and the third largest publicly traded company in Japan after Toyota and Sony.
"NTT is an excellent partner across our enterprise with strong expertise and a deep commitment to our sport," said Roger Penske, owner of the IndyCar Series and Indianapolis Motor Speedway, in written remarks. "From Smart Venue technology at the Racing Capital of the World to the reimagined series mobile application, NTT is transforming the fan experience in new and innovative ways. We look forward to a bright future together."
As tech partner, NTT helps IndyCar with its digital transformations. Its Smart Solutions product uses proprietary technology to consume,
analyze and transform massive amounts of data and deliver insights.
"IndyCar is a great partner for NTT DATA because of our shared commitment to driving innovation, increasing sustainability and delivering amazing experiences," said Kaz Nishihata, chief executive of NTT Data Inc. "We also appreciate how IndyCar is so diverse, with drivers from 15 different countries, and races that range from short ovals and superspeedways to road and street courses. It's both an incredible sport and a wonderful example for our world."
Please enable JavaScript to view this content.