Justin Stuehrenberg, the chief planner for IndyGo's Red Line project, has left the transit agency for a new job. On Monday, IndyGo announced it has hired Jennifer Pyrz as his successor.
Pyrz, 46, began her new job Monday as IndyGo's chief development officer and vice president of infrastructure, strategy and innovation. In this role, she will lead IndyGo's capital plan projects, including its planned Purple Line and Blue Line bus rapid-transit projects.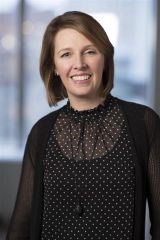 Stuehrenberg, 38, who left IndyGo on March 20, is moving to Madison, Wisconsin, to serve as the general manager of the Madison Metro Transit System. He is set to begin that job May 4.
Pyrz is an engineer with more than 20 years of experience in transportation consulting. Most recently, she was planning group director at the Indianapolis office of Kansas City, Missouri-based engineering consulting firm HNTB Corp.
In 2016, IndyGo awarded HNTB a $5 million contract to serve as the Red Line's construction manager. Pyrz has served as HNTB's Red Line project manager since January 2019.
"We are extremely grateful to have Jennifer as a new leader at IndyGo," IndyGo CEO Inez Evans said in a prepared statement. "Her talent, dedication, and direction in leading the construction management team for the Red Line not only showed how knowledgeable and dedicated she is to the city but to our organization. We are thrilled to have a leader like Jennifer to continue to build on our successes."
Pyrz's job title, and the scope of her duties, has shifted somewhat from her predecessor's.
Stuehrenberg's job title at IndyGo had been vice president of planning and capital projects. He had been at IndyGo since December 2014.
Please enable JavaScript to view this content.