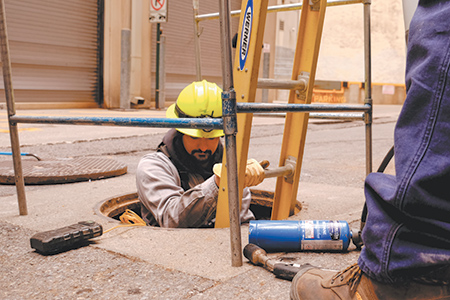 Indianapolis Power & Light Co. has received state permission to spend $1.2 billion to upgrade its local energy grid, a move that sets the stage for seven straight years of rate increases to pay for the improvements.
The Indiana Utility Regulatory Commission issued an order Wednesday that will allow IPL to recover the costs through special fees, called trackers, added onto customer bills. However, IPL will have to get permission from state regulators for each round of increases.
The utility said it plans to file its first rate-increase request by July 1. The company said a typical household would likely pay an extra $1.50 a month in the first year. That monthly amount would increase by $1.50 each year, or by a total of $10.50 a month by the seventh year.
IPL said the project would mean fewer outages and the ability to isolate problems and re-route power, "reducing the customer impact and duration of service interruptions."
The company plans to replace old equipment and with newer technology, including "smart meters," new transformers, breakers and batteries.
"We are pleased with the IURC's order because it allows us to modernize our electric system to continue meeting the rapidly changing needs of our customers throughout the Indianapolis area," Vincent Parisi, IPL president and CEO, said in a written statement.
The move comes less than two years after IPL got permission to raise rates to pay for an assortment of capital improvements and environmental programs. In July 2018, IPL reached an agreement with consumer groups to raise monthly rates by about $5 on a typical residential customer, bringing the average monthly bill to $118.
Citizens Action Coalition of Indiana, a utility watchdog group, said it was "disappointed but not surprised" that state regulators approved the plan. Kerwin Olson, the group's executive director, blamed the state Legislature for passing a law last year that allowed utilities to more quickly recover the cost of transmission and distribution by raising rates. He also criticized Gov. Eric Holcomb for signing the bill into law.
"It's time that the blame for these ridiculous rate increases is directed at those truly responsible for bringing harm to Hoosier consumers," he said.
IPL, a unit of Virginia-based AES Corp. has 490,000 customers in central Indiana.
Please enable JavaScript to view this content.