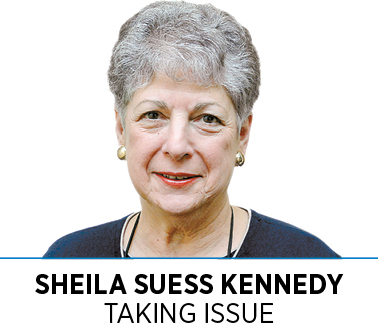 Unlike many countries, the United States vests states with administration of elections, a situation that makes it harder—rather than easier—to vote in many of those states. In Indiana, for example, polls close at 6, making it difficult for working people, especially those with small children who must be collected from day care, to cast a ballot. We are one of the two earliest states to close.
Voters face many unnecessary barriers. Despite advocacy from "good government" organizations, Election Day isn't a holiday, and, in many states, early voting has encountered stiff opposition. In some states—including Florida, Georgia, Ohio and Tennessee—legislators moved to cut back early voting periods. Several states impose arbitrary limits on who can cast an absentee ballot; recently, in Texas, a court held that fear of the coronavirus wasn't a sufficient "health risk."
Thanks largely to that COVID-19 pandemic, however, we are finally having an overdue national conversation about a proposal that would save states money while eliminating most of the barriers voters encounter: universal vote-by-mail.
Washington, Oregon and Colorado have already been voting by mail—Oregon and Washington for many years—and several other states have recently followed suit. Sixteen states at the very least allow certain designated elections to be conducted entirely by mail. The state mails ballots in bar-coded envelopes to every registered voter several weeks before the election—the voter doesn't need to request it. Thanks to the bar coding, ballots can be tracked.
Vote-by-mail is less cumbersome and expensive to administer, and it allows voters time to research candidates and ballot initiatives before returning ballots either by mail or by depositing them in drop boxes. (Most use a drop box, which is why it's not entirely accurate to call it vote-by-mail.) Some states allow voters to track the progress of their ballots electronically.
To no surprise, home-voting states have high turnout. Between the midterm elections in 2014 and 2018, Utah rolled out home voting and had the greatest increase in turnout of any state. Five California counties that switched to home voting in 2018 saw their turnout rise more than the rest of the state.
More citizen participation in the political process is obviously good for democracy. So why is the GOP hysterically claiming—despite overwhelming evidence to the contrary—that encouraging vote-by-mail will enable fraud and "rig" election results?
As a lawyer friend recently pointed out, vote-by-mail will actually deter the kinds of voter fraud and voter suppression that partisans have engaged in for years. When people mail in their votes, robocalls telling voters the election has been rescheduled or their polling place changed no longer work. When people are mailing their ballots, or placing them in drop boxes, posting police cars around minority polling places, closing polling places in minority neighborhoods, or establishing "random" roadblocks near minority neighborhoods no longer keeps "those people" from the polls.
It's actually much harder to "rig" an election when the vote is by mail. There is a paper trail, for one thing—and paper ballots, unlike (expensive) electronic voting machines, can't be hacked.
Let's cut through the disinformation and bombast. Politicians either want people to vote because they believe most voters favor them, or they're afraid that, if everyone entitled to vote is encouraged to cast a ballot, they'll lose.
In a democratic system, political parties are supposed to make their best case to We the People—all of us—then abide by the results. It's called a fair fight.•
__________
Kennedy is a professor of law and public policy at the Paul H. O'Neill School of Public and Environmental Affairs at IUPUI.
Please enable JavaScript to view this content.