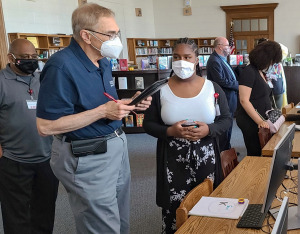 About 20 teens from across Indianapolis Public Schools spent a week this summer learning about entrepreneurship and business development, guided by professors and small-business owners who helped them conceive products and services as well as business plans to execute them.
The BOSS Summer Entrepreneurship camps (BOSS stands for Business Opportunities for Self-Starters) were hosted by the IUPUI Office of Community Engagement and the Indiana University Kelley School of Business at IUPUI and were open to students from four IPS high schools—Arsenal Tech, Crispus Attucks, George Washington and Shortridge.
The school district piloted the program—which was created by Tim Scales, director of the Center for Entrepreneurship and the Center for Economic Education at IU East—in 2019 and received a grant from the Governor's Workforce Cabinet to host more kids over the next three years.
Last year was supposed to be the first of the three-year program, until the pandemic scuttled those plans. This year, IUPUI went to Crispus Attucks and Shortridge to host one-week sessions that culminated with a pitch competition.
Teresa Bennett, assistant vice chancellor for the Office of Community Engagement at IUPUI, and Peggy Daniels Lee, a clinical associate professor emeritus at the Kelley School of Business, oversaw this year's camps. And although Lee has retired from full-time teaching and moved to Pennsylvania, she still plans to travel back each year to oversee the BOSS camps.

What appealed to you about the program that led you to introduce it at IUPUI?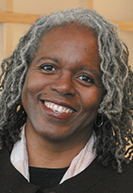 Lee: We did the first one in 2019. I don't want to say it was intended to be a pilot, but that's what it turned out to be. And Tim had 17 students at George Washington High School. I was the chair of the undergraduate program at [IU] Kelley—Indianapolis at the time. And he just asked me to come over, and just say hello to the students, introduce myself and welcome them to the program.
And I just got sucked into it, to be perfectly honest. And I stayed the entire week and helped out. And next thing you know, I'm running the show—me and Teresa.
I have felt my entire life that I have a responsibility, because I have been very fortunate. I grew up in Detroit, Michigan, with two parents. My father worked two jobs for as long as I can remember, and we never thought we were poor, but everybody else did. And so, I ended up going to college on scholarship and did all the typical poor-kid things. And so, I feel like I've been very fortunate, and I owe a lot to other people.
So this is my way of helping others, helping students, especially African American and Hispanic American students. They don't have as many role models as other kids do—and I've been told I could be one, so I thought, "Well, why not?"
And [at BOSS Camp], I really was energized by the enthusiasm and how hard they worked. And the transformation from that first day of the 17 kids who had no idea why they were there.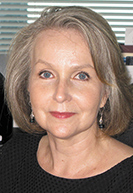 Bennett: What Peggy didn't know is that I always knew I could hook her. I knew from talking with Peggy that she loves this kind of teaching. She loves entrepreneurial thinking, and she loves gamifying things, and thinking about how to create systems to move this sort of information.
Traditional teaching is good. But this is different, this hands-on sort of thing. And so I knew she'd get excited about it. And then once she saw it, as she said, she stayed.

What is the week like for the students?
Lee: So, the first day is the idea-generation day. That's when we talk about what entrepreneurship is, and what's your role in it?
I think that the beauty of this program is that it introduces young people to the concept that they can be entrepreneurs, that a business can be a career, and running their own business can be a career. And I don't think that often comes across.
They think of entrepreneurs as people like Mark Cuban and Elon Musk and people like that. They don't think of the folks who are in their neighborhoods who run the barbershops and the restaurants as being entrepreneurs. So, we talk to them about that and they come up with an idea that they would like to develop throughout the week.
So, every day, there are speakers who come in, and then we talk about different aspects of entrepreneurship. We talk about leadership; we talk about what it's like to run a business, all the different functions. That leads up to the last day, which is the pitch day.
And by Thursday, they've done their business plans. … It's not a full-blown plan with all the financials and everything, but it's what a high-schooler would be able to put together. And they've probably—they hopefully, knock on wood—finished their posters that demonstrate their idea, and they're encouraged to create an artifact that represents that idea. And this year we did 3D printing.
Bennett: We got the manager of Cleo's Bodega to come and talk to them about a quasi-business/nonprofit. We had … the director of the Small Business Development Center. We had two women who own their own hair salons but have different models. One of them has a boutique in her home, in her garage. She's built out a very professional boutique. And one has a multi-seat business where she has employees.
And then we had [someone] from Cliff's Construction. [Dwight Cliff] is great because he talks to them about the model, how his father had the business first, he went to college, he then joined the business, and he talks about what he brought to the business that moved it to that next level … but how it's still a family business.
So, we try to give them different examples of businesses, and we really try hard to find businesses that are accessible, that maybe are in their community, and business owners who are solving a problem in a lot of cases, for their community.
Lee: That goes back to the ideation stage on the first day. Sometimes, there are students who don't come in with an idea. Many do. But we use this prompt: What are you missing in your neighborhood that you think needs to be there? And that gets them thinking about, "Well, you know, we really could use a day care center in my neighborhood," or, "We really could use a restaurant in my neighborhood," or, "I'm a good cook. My mom's a good cook. We could start a restaurant."
One of the young ladies at Crispus Attucks, her mom's very high on vegan, and she decided she wanted to write a business plan on opening a vegan restaurant. So a lot of it comes from personal experience. … Their ideas come out of what they're passionate about, what they see is lacking in their neighborhoods, and so we talk a lot about how business and philanthropy—I don't think we ever used the word philanthropy, but that's what it really boils down to—and how the companies and the small businesses that are in your neighborhood really are contributing to your well-being, as a [resident] in that neighborhood.
It's fun. It's multifaceted. You don't think about the things that you're actually teaching until you see the presentations and then you go, "Oh, they really were listening." That's the encouraging thing for me as an instructor is that you see that the things you've talked about come out in what they say and do.

Why is it important to have a program like this in those schools, in those neighborhoods?
Bennett: We think it's very important that the students have access to this information and that it creates for them an early awareness of the possibility that they might own their own business. We talk a lot about creating your own job. Pick your own route, affect your own community by creating your own job.
I'll tell you my own story. I grew up with a dad who was always kind of trying a new side job, a new side gig. He was a police officer, but he was always trying to find that extra something. And I think over the years, he probably tried 10 different things, but he never had the information to take them to something that he could have sustained. And so, I think that's a big part of it … providing information.
Next year, we'll actually be hosting [the camps] at IUPUI, where we can put them in direct contact with the various schools that they might be interested in learning more about. So, while we thought it was really important to come to the students this year, we're going to also bring them to campus as well. They can tour, they can meet faculty.
And I will tell you, we had a hard time with transportation and it was really difficult, and technology in the schools, it's very different. Each school has different resources, and so that was challenging. So we think if we have it at IUPUI, we're a little more central, and we're right on bus lines, and we know how the technology works, and we know how the food systems work and how the catering systems work, all those kinds of things.

How are the kids chosen?
Bennett: They choose. So, we put the word out through the schools, and we asked them to promote it far and wide to groups and just general population, and the students apply.

What do you think is the most important thing that they take away from this experience?
Bennett: Confidence.
Lee: Yeah, that's exactly what I'd say.
Bennett: And they talked about that. We did interviews with some of them, and every single one of them said things like: "People told us, 'No matter what happens, you just keep trying. You just keep working at it. You start again.'" And I think it's that sense of resilience, and confidence and the ability to work through a problem, I believe that's what they get—as well as the business fundamentals that I don't want to undervalue at all.
Lee: They are confident in their abilities, and you can see that when they do their presentations at the end, which aren't formal presentations, but we have judges—this year. We had three IUPUI faculty and Tim Scales comes in. And [the students] were very knowledgeable about what they were doing. They were articulate in explaining it. Some are shy and some are very outgoing, but they all showed passion for what they were doing.

Are there any pitches you think might turn into a real business?
Bennett: The winner this year [Raki Dem, a sophomore at Crispus Attucks] wanted to create a clothing shop to sell Halal clothing for the Muslim community. And then from Shortridge, we had a student whose idea was natural hair for wigs, for people who had cancer.
Lee: She had natural-hair wigs for young people. I think she was targeting young people, because they're the ones that tend not to be able to get wigs.
Bennett: We're excited about this and the good works that we believe we're doing through this. It's not just another university program for us. It is a university program, and we're proud of that fact, and we're proud of our partners at the university, but we're really excited to provide this opportunity to these young people.•
Please enable JavaScript to view this content.