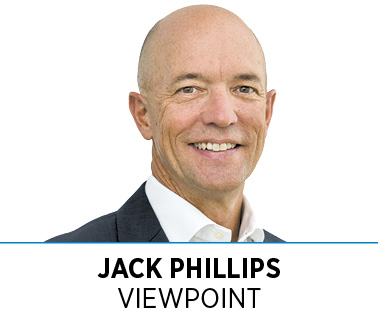 A place on the map can be a home, a job location, or a spot you go for fun. Central Indiana has been all those things to me. But it's also been a teacher, shaping my outlook.
I was born two hours away, in Kentucky. In the 1990s, my first sales territory in health care included central Indiana. I got to know the great health care systems here, which became the heart of our life sciences hub alongside home-grown businesses such as Eli Lilly, Cook Group and Bio-Dynamics, Roche Diagnostics' predecessor.
Later, I lived all over the United States, until I returned here in 2010 as CEO of Roche Diagnostics North America. In a few days, my professional life will take me away, to help lead a young public company in Arizona and realize a dream. But I won't leave without reflecting on what I learned here.
◗ Commitment is key. Central Indiana's web of civic and philanthropic organizations is an asset. What matters, though, is not the web itself but rather the commitment of the volunteers who form it. When I needed help getting something done here, it was forthcoming from leaders in philanthropies, government and other businesses.
For so many in central Indiana, volunteer engagement is not a box-check of "community involvement" but actually a second career, spanning lifetimes.
That commitment explains breakthroughs such as the Cultural Trail, Indiana Biosciences Research Institute, and 16Tech innovation district—changes that help us attract investment and talent like bigger, supposedly "cooler" places.
◗ Culture matters. I'm fond of quoting the late management guru Peter Drucker that "culture eats strategy for breakfast." I made the creation of a healthy culture a priority at Roche. It's just as vital in communities.
Our central Indiana culture is pragmatic: We build on strong structures—amateur sports and logistics are examples—to make them better. Our culture is connected: We don't invent every idea but we bring ideas together—creating something new. And our culture is inclusive: We've had moments of tension, but central Indiana has avoided today's tribalism—moving forward collaboratively.
That culture gives me confidence that central Indiana will meet the looming challenge of building the critical mass of talent in artificial intelligence, machine learning and data analytics demanded across industries.
◗ Insecurity is an edge. We don't take success for granted here. In fact, we often doubt that we can hold on to what we have. In my early years here as CEO, I kept getting the question, "Is Roche leaving?" from people worried the company might relocate.
It could have happened; consulting reports to that effect crossed my desk. Part of the reason it didn't happen is that leaders in central Indiana worked hard with us to address the concerns—from talent to amenities to infrastructure—that might have caused Roche to look elsewhere.
Now, after rising from third to first in U.S. market share for in vitro diagnostics, recruiting colleagues who love the region, and investing $300 million in its physical plant, Roche needs little convincing.
So why am I leaving this special place, where I work in an amazing company poised on the leading edge of personalized health care? It's the commitment I feel to personal career goals. It's my desire to build a high-functioning culture in a new organization. And it's my need for insecurity in the fourth quarter of my professional life, to try a little bit harder.
Thanks, central Indiana, for teaching me this stuff. And thanks to my Roche family. As a result, in the ways that count, I will never really leave this place.•
__________
Phillips is CEO of Roche Diagnostics North America and chair of the Central Indiana Corporate Partnership.
Please enable JavaScript to view this content.