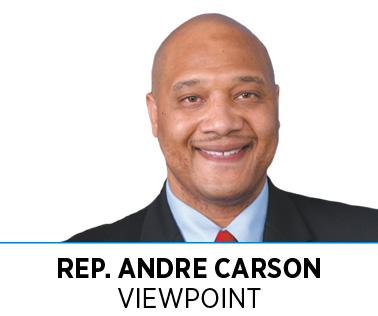 The tragic murders of George Floyd in Minneapolis, Dreasjon Reed and Aaron Bailey here in Indianapolis, Rayshard Brooks in Atlanta, Breonna Taylor in Louisville and many others have shone a bright light on America's deep wound of racism, police brutality and oppression. Hoosiers, and all Americans, are becoming more attuned to the fact that black people do not have equal justice under the law.
Every black person in America has at one time or another felt the anger, pain, sadness and unfairness brought about by this inequality. I certainly have. At the age of 17, I was unjustly arrested outside a mosque. Thankfully, I was bailed out of jail and left the incident relatively unscathed, but many have not.
When I became a law enforcement officer, I witnessed firsthand the culture of white supremacy that can thrive in these organizations. While I believe most officers have the best of intentions, many are motivated by racist attitudes or fall victim to the corrupting forces behind the blue wall of silence.
Understanding both sides of this divide drives my work to improve our criminal justice system and help create better relationships between law enforcement and the communities they serve. To fully achieve this, we must dramatically reimagine and reconstruct policing. The Justice in Policing Act, introduced this month in Congress, is a good start. This legislation seeks to demilitarize police forces, ensure greater accountability for officers who violate people's rights, make lynching a federal crime, and much more.
It's a solid bill. I hope it can be passed with bipartisan support. However, it's just one piece of the puzzle. Everybody has a role to play in solving this crisis, and it needs to start from the ground up.
That's why I have been extremely proud of the massive display of support for the Black Lives Matter movement. Record numbers have shown up to protest police brutality in Indianapolis, and I have been honored to attend several of these protests. In addition, I also thank those who have donated money and supplies, used their platforms to create change, and engaged in courageous conversations with loved ones about racism.
I also want to commend the local businesses who have shown tangible support for these efforts. Even in the midst of dire economic straits, many in our business community have done a great deal to help justice prevail.
The recent successful battle against Indiana's anti-LGBTQ so-called Religious Freedom Restoration Act legislation shows how much can be achieved when business owners put their money where their mouth is. I urge Indianapolis businesses to work with our activists to pressure local, state and federal leaders to challenge systemic racism in our criminal justice system, as well as the educational and economic disparities that have resulted in a lack of equal opportunities across generations.
One encouraging outcome of the protests is a commitment of many large retailers to participate in the '15 Percent Pledge,' which encourages stores to provide more shelf space to black-owned brands. As Dr. King said about the need for economic justice, "It is much easier to integrate a lunch counter than it is to guarantee a livable income and a good solid job." We need both—equal justice under the law and equal economic opportunities for every American.
Though we still have a long way to go to achieve a more equal and just society, I believe we will make progress. If we all do our part, we can ensure that this movement results in real, lasting and life-saving change.•
__________
Carson is the representative for Indiana's 7th Congressional District.
Please enable JavaScript to view this content.