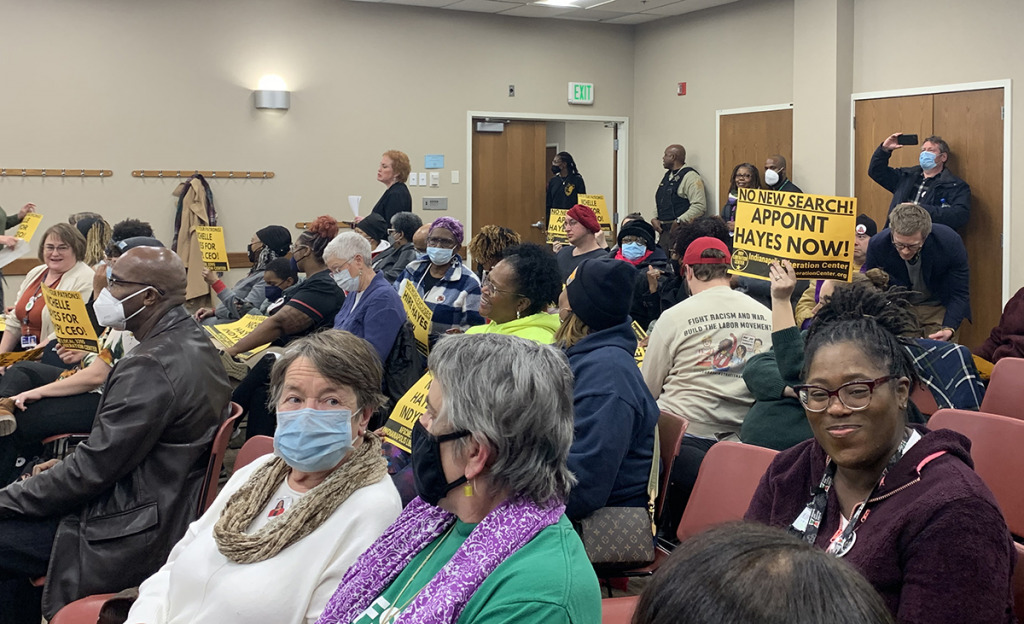 The Indianapolis Public Library Board of Trustees meeting on Monday night—the first since Dec. 8, when the body received fierce public criticism for offering the library's CEO job to an outside candidate instead of its interim chief executive—brought a large and sometimes raucous crowd looking for answers and even board members' resignations.
The seven-member board's decision to offer the job to Gabriel Morley, a white former director of libraries in New Orleans and Atlanta, over Nichelle Hayes, a Black woman and longtime IndyPL employee, prompted concerns of racial discrimination.
Many in attendance at the meeting came to ask, "Why not Nichelle?" Some demanded that the board offer the role to Hayes, since Morley declined the offer after public backlash. Others called for the resignation of board members—barring Patricia Payne and Khaula Murtadha, who voted against Morley and have been supportive of Hayes.
Nearly 100 people attended the meeting, many holding large printed signs on yellow cardboard supporting Hayes for CEO. Murtadha introduced a resolution to appoint Hayes as CEO, but it didn't garner enough support to be added to the meeting agenda.
Meeting attendees broke decorum many times, causing Board President Jose Salinas to attempt to bring the room back to order by threatening to end the meeting.
Board members held the public comment session as a standing feature of their meetings and did not respond to testimony except to call for quiet or to tell speakers that their time limit was up. Before adjournment, Murtadha thanked those who gave public comments, which she does frequently at library board meetings.
Earlier Monday, the board announced in a press release that a new interim CEO would be appointed in early 2023 and the search for a new library CEO would restart. 
The initial search led by Bradbury Miller Associates cost the group $27,000. In the press release, the board says that a confidentiality breach late in the process compromised the search process and may have caused an unnamed third candidate to resign.
"We examined every aspect of the CEO search to be certain our process met patrons' expectations as well as our own," incoming board of trustees president Hope Tribble said in a statement. "Ultimately, what we discovered met neither group's expectations. The only fair thing to do is learn everything we can from this experience and start over."
The interim CEO would be a community leader not affiliated with the library and would not be included in the renewed search for a CEO. Former candidates would be able to be included in the next selection process.
Morley was the former director of the New Orleans Public Library and the Atlanta-Fulton Public Library. He abruptly resigned from the New Orleans Public Library system in November 2021—less than two years after taking the job—when local media found out he was still living in his home in Hattiesburg, Mississippi, instead of taking up residency in New Orleans, a requirement of the job under city ordinances. 
Many of the 18 individuals who gave public comment on Monday night told the board to save the money and resources for a new search by hiring Hayes. The Indianapolis Party for Socialism and Liberation presented a petition that received nearly 2,000 signatures calling for Hayes to be given the job.
Flanner House CEO Brandon Cosby was among those in support of Hayes.
"You have decided to arbitrarily and capriciously undermine, yet again, the value of a Black woman in our community," Cosby said.
Branch manager Judy Gray said that the past several years—which included former CEO Jackie Nytes' resignation over allegations of discrimination—have been racially troubled and painful for the library.
"We've been working to change this. Interim CEO Nichelle Hayes has been instrumental in this process," Gray told the board.
"I want to ask you: What were you thinking?" she said.
Derek Ford, an advocate with the Party for Socialism and Liberation, said that the number of people against the boards' decisions has only grown.
"We're not going away. You can't wait us out," Ford said.
Several advocates said they planned to take action to remove members from the board, including reaching out to their appointing authorities. IndyPL board members are chosen by the Indianapolis City-County Council, Indianapolis Public Schools, and the Marion County Board of Commissioners.
The library is currently led by interim Chief Public Services Officer Gregory Hill. Hayes' tenure as interim CEO was ended when the board offered the CEO job to Morley.
In the new year, board member Tribble will take the role of board president from Salinas.
Please enable JavaScript to view this content.